A Fruit A Month (AFAM) was started by dear Maheswari to appreciate the goodness of fruits. Every month a different fruit is chosen by the blogger who is hosting the event. This month I have got the golden opportunity of showcasing a vibrant colored fruit. Inspired by my friend DK (for those who don't know her, she is the "Riddle Queen"), I have come up with a riddle for others to identify the fruit. This is my first ever riddle and I have to agree it's not as good as her's.
I'm orange in color
Relative to zucchini and cucumber.
I also come in red, blue and green
I'm full of lutein and alpha-beta carotene.
Rich in Vitamin A, I have no cholesterol
So good for you and I'll come in the Fall.
I'm famous for soups and a mathematical calculation
I'm not stating the obvious just for a reason.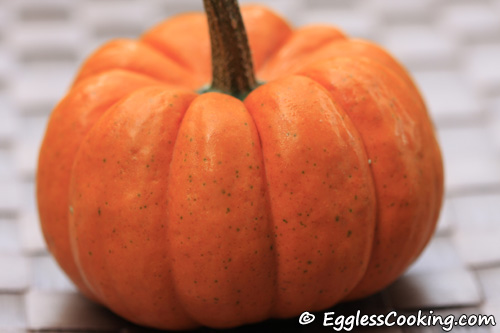 Yes, Pumpkin is a fruit, botanically speaking. It is the fruit of the species Cucurbita pepo or Cucurbita mixta.
Pumpkin is loaded with Vitamin A and antioxidant carotenoids. Carotenes are the source of the brilliant red, yellow and orange colors found in many fruits and vegetables. 1 cup of canned pumpkin has 11.7mg alpha carotene and 17.0mg beta carotene. These carotenes are converted by the body to Vitamin A, which is necessary for normal growth and development, a robust immune system and good vision. Also studies suggest that eating foods with high amounts of carotenes helps ward off the development of certain cancers, macular degeneration, and cataracts, among other diseases. Pumpkin is also a good source of vitamins, C, K and E and lots of minerals, including magnesium, potassium and iron.
Pumpkin Seeds (called Pepitas) are also worth latching on. It is a great source of omega-3 essential fatty acids and protein. It's also loaded with minerals and also seem to have anti-inflammatory effect. A quarter cup of seeds has 5gms of effective carbohydrates and 1.5gm fiber.
Now that we know how healthy pumpkins are, shall we welcome this beautiful Fall cooking with this wonderful fruit?
Rules of the event: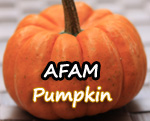 1. Prepare a vegetarian dish (of course it must be eggless!) using pumpkin (fresh or canned) or pumpkin seeds or any edible part of pumpkin. Post the recipe with a picture in your blog, in the month of October. You may also add any other facts/tips about pumpkin, which you would like to share with the rest of us.
2. Link it to this post as well as Maheswari's blog.
3. You are welcome to submit more than one entry.
4. Send in your entries by Oct 31st with the following details to afam(at)egglesscooking(dot)com:
Your Name
Your Blog
Name of the Recipe
Recipe URL
Picture of the dish URL(150w x 100h pixel)
5. Non-bloggers welcome as well. Send your recipe and a picture if possible to the above email ID.
Let's begin the Pumpkinfest!