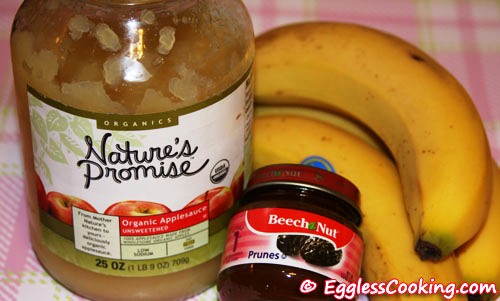 I have mentioned in my earlier post that eggs act as either binders, leaveners or moisturizers. In the past 2 months we experimented substituting silken tofu and flax seed meal for eggs in a recipe, both being binders. Pureed fruit can either be a binder or a moisturizer. For detailed explanation on egg substitutes I recommend reading Carol Fenster's book, Cooking Free: 200 Flavorful Recipes for People with Food Allergies and Multiple Food Sensitivities.
The following information about pureed fruit as an egg substitute is from Carol's book.

When Pureed Fruit is a binder?
When a recipe has only one egg but contains a fair amount of baking powder or baking soda, pureed fruit like apples, pears can be used to replace the egg.
How much to use? 3 tablespoons to replace each egg. Also increase liquid in recipe by 1 tablespoon.
When to use? Baked goods where puree flavor complements or doesn't detract from dish's flavor.
When Pureed Fruit is a moisturizer? The egg's purpose is to add moisture if there are leavening agents in the recipe, but not much water or other liquid.
How much to use? 1/4 cup per egg. Increase leavening by 25-50%. Bake items slightly longer, if necessary.
When to use? Baked goods where the fruit's flavor complements the overall dish such as applesauce in spice cakes, banana in banana bread, apricots and pears in mild flavored dishes, and prunes in dark, heavily flavored dishes such as chocolate cake or spice cake. The natural pectin in fruits, especially prunes, traps air, which helps "lighten" baked good.
For ease of use store bought baby food without fillers, unsweetened applesauce can be used. While buying applesauce check the ingredients, because most of the brands contain high fructose corn syrup. Either go for organic applesauce (like Nature's promise) or prepare your own at home. It's simply cooking apples in enough water and pureeing it in a food processor or a blender.
Now for the rules of the event:
1. Bake/cook anything from cookies, cakes, cupcakes, muffins, breads, tarts, pies, pancakes, waffles etc using pureed fruit (bananas, applesauce, apricots, pears, prunes) and post about it in your blog between
Nov 18th 2008 and Dec 31st 2008.
2. Post the recipe in your blog, with a picture and link back to this post. Also feel free to share your experiences and tips while using the substitute regardless of the outcome. This would provide the much needed insight about that particular egg substitute.
3. Since the idea behind the event is to help those who are searching for tried and tested eggless baking recipes, you can also send me the recipes which you have posted earlier in your blog using pureed fruit as an egg substitute. Re-posting of the old post is not necessary, but definitely link it to this announcement. That being said, I would really appreciate if you could try new recipes too and post it, because eggless recipes are never enough.
4. Also multiple entries are welcome more than ever for this event.
5. Email me your name, name of the recipe, recipe URL, photo in 150wx120h size to ere(at)egglesscooking.com with Pureed Fruit as the subject.
6. Non bloggers are also welcome to send your recipes, tips and picture of your creation and I will include it in the round up.
7. Last date to send your entries is the 31st of Dec 2008 and the round up will be posted in the first week of January 2009.
Check here for the round up of recipes using pureed fruit as an egg substitute.