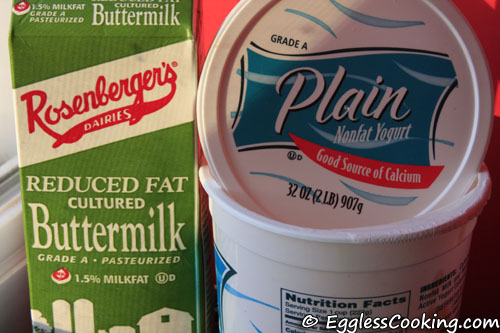 Like always I have received a lot of entries for the Vinegar event too. This time I have also received recipes from 2 visitors who are not food bloggers. I will post their recipes this week and do the round up next week.
I have chosen yogurt as this month's theme. Buttermilk is also included. Vegans can use soy yogurt. I think this will be the last substitute in this series. I see that lecithin, gelatin, arrowroot powder, soy flour etc are also mentioned as egg substitutes, but I think that they are not as versatile as the ones which we have covered already. One of the visitor here (Sadhana) mentioned about Chia seeds as egg substitute. I found out that it is similar to that of flax seed powder substitution. You have to powder the chia seeds and blend it with water. So I'm going to take a pass on that. If anybody has any other egg substitute in mind, please let me know.
I've not used either yogurt or buttermilk as an egg substitute. From various sources I understand that if there are no other ingredients to make the baked item rise, then one of these can be used in place of the egg. Replace the liquid in the recipe with same amount of buttermilk or thinned yogurt. But I'm also going to try using 1/4 cup of yogurt/buttermilk in place of 1 egg. Let's wait and see which one works.
Now for the rules of the event:
1. Bake anything from cookies, cakes, cupcakes, muffins, breads, tarts, pies, etc using yogurt/buttermilk/soy yogurt and post about it in your blog between
March 18th and April 18th 2009
.
2. Post the recipe in your blog, with a picture and link back to this post. Also feel free to share your experiences and tips while using the substitute regardless of the outcome. This would provide the much needed insight about that particular egg substitute.
3. Since the idea behind the event is to help those who are searching for tried and tested eggless baking recipes, you can also send me the recipes which you have posted earlier in your blog using yogurt/buttermik/soy yogurt as an egg substitute. Reposting is not necessary, but link it to this event. That being said, I would really appreciate if you could try new recipes too and post it, because eggless recipes are never enough.
4. Also multiple entries are welcome more than ever for this event.
5. Email me your name, blog URL, name of the recipe, recipe URL, photo in 150wx120h size to ere(at)egglesscooking(dot)com with Yogurt as the subject.
6. Non bloggers are also welcome to send your recipes, tips and picture of your creation and I will include it in the round up.
Check here for recipes using yogurt/buttermilk as egg substitute.