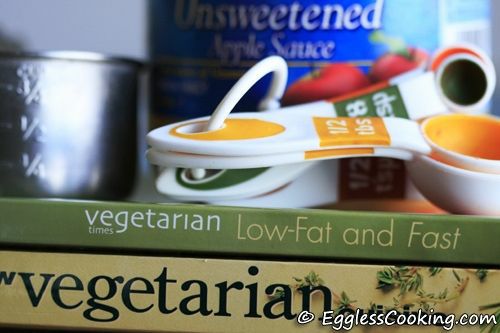 First I would like to thank each and every one of you for stopping by and congratulating us.
Now coming to the event announcement. Usually I take care to see that I cook healthy, which includes using less oil/fat, including whole grains, going for clear soups instead of creamy ones, steaming/baking instead of deep frying in oil to mention a few. But do I bake healthy? The answer will be "not always". It's not that I like to dump sticks of butter but it so happens that baking is something new to me relatively. Like most of us from India the concept of baking was so foreign while growing up and even after coming here. I was not confident enough to change the proportions and experiment. So I always try to stick to the original recipe while making few healthy changes here and there. I have been baking for the past 1 year and I think I'm sort of ready to experiment a little further and I would also like everybody to join me and give Low Fat (Eggless) Baking a shot.
At first I wanted to go with Fat Free Baking after seeing the amazing fat free vegan baking recipes by Susan. Already there is the challenge of baking eggless, so I want to make it easy for everybody to participate in the event and hence Low Fat (Eggless) Baking it is! But I'm more than happy to receive Fat Free baking recipes too.
By low fat I mean using less oil/butter/margarine, using low-fat/non-fat milk/cheese/yogurt, using pureed fruits instead of fat. Try to limit the fat content to 2-3 tablespoons. It's okay to use nuts because they contain good fat.
Now for the rules of the event.
1. Bake anything eggless which is either low in fat or fat free and post it in your blog between
June 4th 2009 and July 3rd 2009
. It can be anything sweet, salty or spicy. The recipes must be either vegetarian and eggless or vegan.
Update: Recipes already low in fat from books/blogs/websites are most welcome too. But please link back/mention the original source.
2. Also multiple entries are welcome more than ever for this event.
3. Email me your name, blog URL, name of the recipe, recipe URL, photo in 150wx120h size to lfb(at)egglesscooking.com with Low Fat Baking as the subject.
4. Non bloggers are also welcome to send your recipes, tips and picture of your creation and I will include it in the round up.
Now here comes the interesting part. Since I want to gear more people towards low fat (eggless) baking, we have decided to make this event a Giveaway Contest. One entry will be selected at random to receive a small gift.
What are you waiting for? Bake something healthy and send it to me!