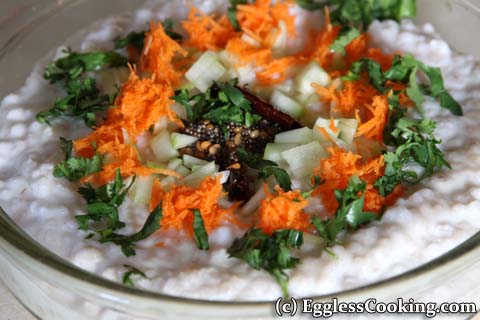 Yesterday we had lunch in an Indian Restaurant.  Whenever we have lunch buffet, the following evening, we just have either oatmeal,  cracked wheat kanji (porridge) or plain yogurt rice for dinner.  This time I wanted to try something else and was browsing Jai and Bee's blog.  I'm very glad I did that,  because I found an excellent recipe for Barley Thayirchadam.  It's pretty much the regular South Indian yogurt rice, but prepared with barley instead.  This was totally new to me.  I use barley only in soups.  My husband is a big fan of barley.  Whenever I make soup he keeps telling that I should have increased the quantity of barley.  So I wanted to try this recipe atleast for his sake.
The beauty of this recipe is it has 2 uses.  With the pressure cooked barley we can prepare the main dish and with the excess water we can prepare a refreshing lemonade.  Jai and Bee had used 1 cup of pearl barley in their recipe. I thought I will try with half a cup.  When I measured the barley I had, there was only 3/4th of a cup left in the packet, so I decided to cook it.  The taste was excellent.  It was a very satisfying meal.  This measurement was perfect for both of us.  Half a cup would have been less and 1 cup would have been more. 
My Notes:
1.  I cooked the barley directly in a small copper bottomed pressure cooker and left it for 3 whistles.
2.  Whenever I prepare curd rice, I cut a maavadu (south indian style mango pickle, where small mangoes are pickled as a whole without cutting them) into small pieces and mix it with the rice along with the carrots and cucumber.  Since my husband doesn't eat anything spicy, I lightly wash the maavadu and then cut it.  This gives a nice surprising crunch and tanginess.  So I did the same with this recipe. 
3.  I also prepared the barley lemonade.  In addition to the ingredients mentioned, I also added grated ginger.  I kept it in the fridge overnight, so that the lemonade would absorb the flavors of the lemon zest and grated ginger.  The next day morning I strained the juice before drinking.  It was so cool and refreshing.  I think people in India should definitely try it this summer.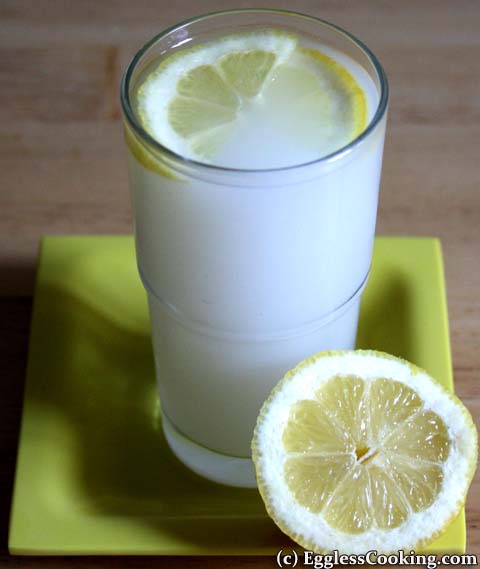 Thank you very much for the recipe Jai and Bee.  This is going to be a regular in our house.  Your recipe rocks!