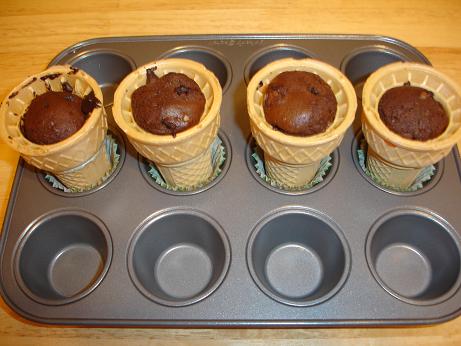 I wanted to bake something very quick and simple to satisfy my chocolate cravings. (The truth is I wanted to bake to post in my blog). So I was going through my recipe collection and found this recipe for Chocolate and Nuts Muffins by Mandira of Ahaar. The first things I look in a recipe are its ingredients. I at least should have the main ingredients to proceed with the recipe, nuts and other decorating stuff are optional. I try to modify the original recipe if I'm short of any of the additional stuff. In this case, I added mini chocolate chips instead of raisins, Dutch processed cocoa instead of bittersweet chocolate and omitted almonds. I also check the comments section to get an idea what other people are telling about the recipe. If there is a lot of positive feedback I proceed with the recipe. The comments for this showed that 5 of them had tried this one and it had come out very well. So I knew this was the one and followed the recipe as it is. Click here.
As usual I wanted to give a twist to this recipe. It flashed, why not use ice cream cones to fill the batter instead of regular muffin tins. I remember seeing such a recipe on the of Keebler cones' box. I had the fudge dipped ice cream cones, where the top has a covering of chocolate. I didn't have the plain ones. I prepared the muffin batter, it was a breeze. Filled 2 cones and rest of the batter in regular size muffin pan. This is where I learnt a lesson. "DON'T BE OVER CONFIDENT". I should have tried with one cone and one muffin to see the outcome and baked the rest. But no, I was thinking, "I have  baked muffins twice and both the times the result was good, let me not waste time and electricity, so I will bake everything right away". I was eagerly seeing how the muffins were baking. The kitchen was filled with a very good aroma of chocolate and vanilla, the muffins were puffing up (even the cones, it looked like a perfect scoop of chocolate ice cream) as they should. See, baking is very easy. I told ya earlier! Wait, no, no, no!!!. My screaming couldn't stop the muffins from becoming flat with a dent in the center. I was restless and watching the timer. It beeped and immediately took out the pan and inserted a skewer, none of them were done. Moreover the cones slided while removing the tin out and the batter poured out a little bit. Then only I realized that I had overfilled the cones and the muffin tins. So I put back the tin in the oven for another 3 minutes. This time the muffins were done, but it did not look like muffins, the classic tomb shape was missing. And as for the cones, because it was chocolate dipped, that chocolate burnt because of excess heat and so was having a weird smell. So another lesson, use plain ones for baking. The muffins had become dry due to excessive baking and the tops became very hard and it just came off. But the bottom was very very moist and tasty. Wow! eggless and so moist, unbelievable. So I separated the tops and the bottoms. The heavy cream added in the recipe gives it the moist texture. That's what Mandira has mentioned. One thing I want to tell is, THERE IS NOTHING WRONG WITH THE RECIPE. THE TASTE WAS VERY VERY GOOD. It was my wrong calculation.
I learnt the following from this experience:
1. Unless and otherwise you are very sure what you are doing, don't do bake everything in one go, test one muffin first. See how it bakes and do the alterations accordingly for the rest. I think with experience I'll be able to bake muffins perfectly in the first attempt itself.
2. Fill the batter covering half the tin. Don't scrape the mixing bowl and add them to the muffin tins. This is how I overfilled, thinking that I should not waste the batter. It's ok if there is little batter sticking to the bowl. You can eat it just like that, because it does not have eggs.
3. Use only plain cones. If using cones to fill the batter, place the cones in a mini muffin tin, instead of the regular ones. This fits right.      
    
I did take pictures of the muffins, but I don't want to post it because it will give a bad opinion about the recipe. I don't want people to skip this recipe just by seeing the picture without reading my above ramblings.
I was feeling very bad about how this turned out. I was thinking maybe I will try it sometime later and post it. But I couldn't wait until I can try it again. The "new baker's excitement" was catching me. I wanted to bake the muffins again immediately, but I didn't know what do with the ones which I have already baked. Then I got an idea to use every bit of it, both the moist bottoms and dry tops. I will write about it later. Suspense!!!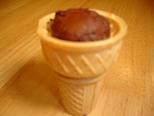 Now ready to bake again. I asked my husband to get the plain cones. The instructions called for wrapping the bottom of the cones with aluminum foil, that's what I did in my first try, but that was making it to wobble. So this time I lined the mini muffin pan with liners and placed the cone. Tried one cone first. Filled it less then half and baked for 20 minutes. It did not puff up perfectly. But I got an idea how much to fill for the remaining. So filled 5 more cones and kept them all in lined mini muffin tin and baked for 20 minutes. And wow! this time I got the perfect scoop like tops on my cones. Now you can ice it  like cupcakes and decorate with sprinkles or top a scoop of your favorite ice cream. We did the latter. It was very delicious. Be sure to check if it's baked through the bottom inserting a bamboo skewer. I feel that these should be consumed on the same day itself. We have some remaining, I stored it in the fridge and it has become a little hard. I'm thinking of keeping it in the microwave for few seconds before eating. That should soften it. I've tried this with my carrot cake also. I store it in the fridge and before eating I microwave it for 5-10 seconds it becomes soft again like fresh out of the oven.
Subscribe To Eggless Cooking
Don't miss our new eggless recipe updates in your email inbox! Sign up now.