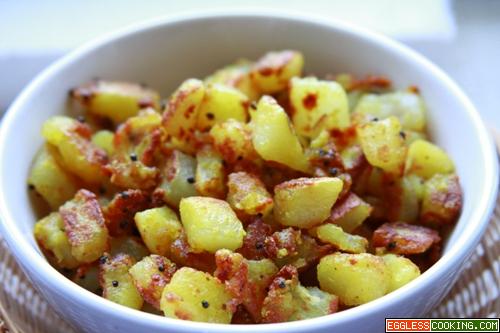 Food blogging has given me a lot of new friends.  One such very special person is Dee.  Sometime (actually very longtime) back she had sent me a BIG package for the Arusuvai Friendship Chain.  She had sent her delicious home made granola, koora podi, aam papad and a gorgeous Kitchen Aid Recipe Box.
The granola tasted unbelievably good, I was munching it on throughout the day and did not have anything left to prepare a dish using it. Sorry Dee it was not my fault that the granola was so delicious.  The koora podi is also so good, it enhances the flavor of any dish it's added to.  It also tastes good by itself as a side dish for Idli/Dosa.  I use it in all my curries.  Above is the picture of the Potato Roast and and below is the Coconut Rice that I prepared using the podi.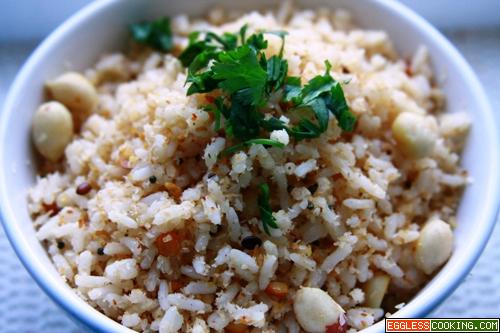 Recently I also prepared her Broccoli Patoli/Usli.  It's something I have never tried before, so I was really skeptical about the taste.  But I tried it anyhow because it's my husband's favorite vegetable.  We were not at all disappointed, because it tasted very good and I'm going to make this one regularly.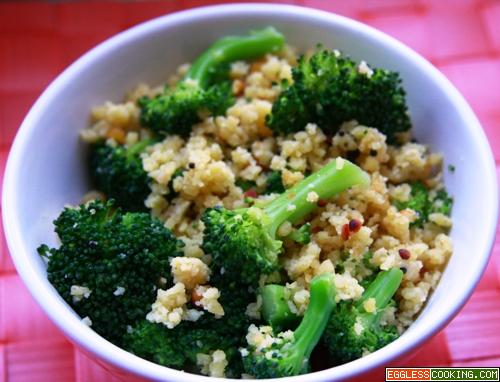 Thank you so much Dee for your recipes, friendship and more!
Recently I also tried 2 other recipes from other blogs and this is going to be a regular in our house.  
Kalva's Gongura Pachadi: It was my first try with gongura leaves and we loved the chutney very much.  Thank you Kalva.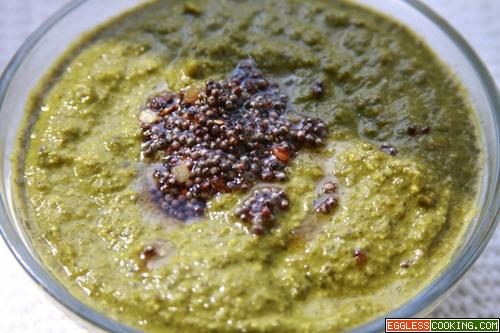 Laavanya's Bhindi Masala: Although I have prepared bhindi masala a lot of times earlier, the tip which Laavanya has given to microwave the okra for 5-7 minutes before sauteeing it is such a wonderful idea.  Try it out ladies, the okra does not get slimy at all.  Thank you very much Laavanya.  Can't wait to try your oven baked Idli Manchurians.