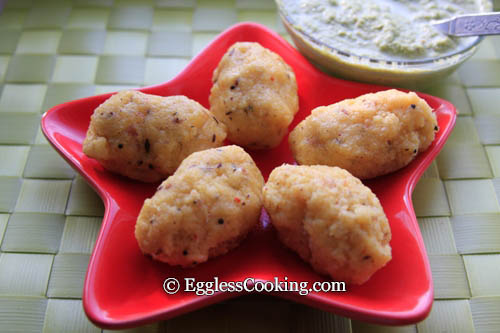 When Jayasree posted Cornmeal Kozhukattais, I had to try it out because I always like the idea of using American ingredients in our Indian cooking. (Example: Zucchini Daal, Grits Pongal, Grits Adai).  I had bought cornmeal to prepare bread, but somehow did not even get close to finding an eggless cornmeal bread recipe.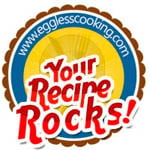 I tried the recipe with 1 cup of yellow cornmeal, which is available in the baking aisle in the US.  I got 12 dumplings for this measurement.  Next time I'll be sure to use another cup of cornmeal, because it was so tasty.  Thank you very much for the recipe Jayasree, your recipe rocks!
My Notes
1.  It's exactly the arisi upma kozhukattai recipe which is very famous in all South Indian households, but we are just substituting cornmeal instead of coarse raw rice and toor daal powder.  So you can either follow her method of making these or use any other method which you are already aware of. 
For instance, I don't add whole red chillies and green chillies while seasoning.  Instead I grind coconut, cumin seeds, green chillies and red chillies (as per taste) into a coarse powder and add it while the water is boiling.  This gives a nice aroma and flavor to the steamed balls.  For this kozhukattai you can also omit the toor daal and use cornmeal only.
2.  Another point to be noted, cornmeal tends to lump quickly while adding it to the boiling water.  So I had to mash it with a potato masher after removing the pan from the stove and then shaped them into oval shaped dumplings to steam it.  I think we can avoid this by adding some water to the cornmeal, whisking it and then pouring this mixture in the boiling water (like preparing ragi kanji).