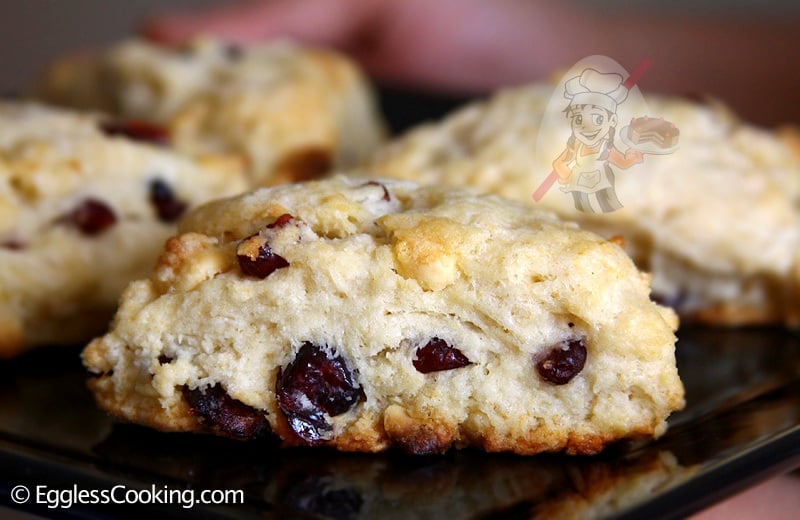 Place the oven rack in the middle. Preheat oven for 15 minutes at 400F/200C. Line a baking sheet with parchment paper.
Mix together the flour, sugar, baking powder, baking soda and salt in a large bowl.
Cut the butter into small pieces and blend it together with the flour. Use a pastry blender or two forks to mix in the butter. The mixture should look like coarse crumbs. You could also do this in a food processor, pulsing it a couple of times. Stir in the chocolate chips and dried craberries.
Add the vanilla extract to the flour mix. Then add the buttermilk as needed, until the dough comes together. Be careful not to over-mix. I used the entire 3/4th cup of buttermilk.
Transfer the dough to a floured surface and knead lightly a couple of times.
Flatten the dough into a 7 inch round circle and about 1 and 1/2 inches in thickness.
Cut this circle in half and then cut each circle into 4 triangles.
Place the scones on the prepared baking sheet and brush the tops of the scones with little milk.
Bake for about 15 to 20 minutes, until golden brown or when a toothpick inserted in the middle of the scone comes out clean. Mine was done in about 16 minutes. I did the toothpick test and it came out clean but the scones did not turn golden brown as shown in the picture of the original recipe.
Enjoy these scones when it is still warm for the best experience. It's crispy around the edges and flaky in the middle.