This page specifically describes how to use
silken tofu
as an egg substitute in baking. Check out other possible
egg substitute
ingredients, quantity, and best suitable baking recipes here.
When I first started this blog I knew that there were people searching for eggless baking recipes just like me, but I did not even imagine how big that community can be. Now after seeing the statistics and comments especially from parents of kids with egg allergy, I have come to understand that "we" are a big group indeed, whatever the reasons might be for baking eggless. For some it's cultural, for some it's allergies, for vegans it's a principle and so on.
I think everybody would agree that baking eggless is more challenging than regular baking. For eggless baking, we have to find a recipe which is originally eggless or substitute something else for the eggs in the recipe. In case of the former you would have to get books on baking and go page by page, hunting for eggless recipes, which I'm actually doing. I go to the library, borrow books and pour over pages finding eggless recipes, copy them and try them out one by one.
With growing request for more eggless recipes, I thought why not create an event for eggless baking using each of the above substitutions. I have used a couple of egg substitutes myself and would love to hear others' take on it too. All these recipes and information would be very helpful for many bakers.
The rules of the event are:
1. Each month we will be experimenting one of the above egg substitutes. I will announce the egg substitute on the 10th of every month and you can
send your entries within the 15th of the following month
.
2. Bake anything from cookies, cakes, cupcakes, muffins, breads, tarts, pies, etc using the egg substitute of the month and post about it in your blog. It can be anything sweet, salty or spicy.
3. The only exception for not baking is if you want to try an eggless ice cream or eggless pudding or any other dessert which originally uses eggs but you want to make it eggless using the egg substitute.
4. Post the recipe in your blog, with a picture and link back to this post. Also feel free to share your experiences and tips while using the substitute regardless of the outcome. This would provide the much needed insight about that particular egg substitute.
5. Since the idea behind the event is to help those who are searching for tried and tested eggless baking recipes, you can also send me the recipes which you have posted earlier in your blog using the egg substitute. Reposting is not necessary. That being said, I would really appreciate if you could try new recipes too and post it, because eggless recipes are never enough.
6. Also multiple entries are welcome more than ever for this event.
7. Email me your name, blog URL, name of the recipe, recipe URL, photo in 150wx120h size to ere(at)egglesscooking.com with the name of the Egg substitute of that month as the subject.
8. Non bloggers are also welcome to send your recipes, tips and picture of your creation and I will include it in the round up.
9. The round up will be posted after the 15th of every month.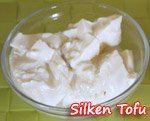 I would like to start this event with "Silken Tofu". As far as I know, tofu is the most sought out egg substitute. Recently I used it for the first time while baking a chocolate cake for my son's birthday and the result was unbelievably good. Nobody could guess that it was an eggless chocolate cake made with silken tofu.
The general rule of thumb while baking with tofu is using 1/4 cup for each egg replaced and it has to be blended until very smooth. I read that it can be used in cakes, cookies and breads. Baked goods won't brown as they do while baking with eggs and the end product will be very moist and heavy.
Hope all of you would make this event a grand success by sending as many entries as possible.
Check HERE for the recipes using silken tofu as an egg substitute.