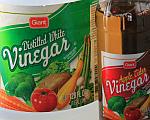 My food blogging buddies have whipped up some delicious treats using vinegar/lemon juice as an egg substitute. This time I have received an entry from a non-food blogger (Deepali) too.
Thank you everybody for making this event a success and thanks Deepali for sending the chocolate cake recipe and awesome pictures to the event.
This page specifically describes how to use different types of vinegar as an egg substitute in various baking recipes. Check out other possible egg substitute ingredients, quantity, and best suitable baking recipes here.
White Vinegar
Image

Narration

Learn more about White Vinegar from this source.

Sweatha's Vegan Cinnamon Breakfast Cake


This cake is for cinnamon lovers. Perk up your morning coffee with a warm slice of this cinnamon goodness.
Priya's Eggless Apricot and Orange Muffins
Yet another healthy muffin recipe from Priya. She uses whole wheat pastry flour, orange juice, apricots and only 2 tablespoons butter.
Cham's Eggless Savory Cheese Muffins
Are you in for a healthy savory treat? Then check out Cham's cheese muffins made with whole wheat pastry flour, oats and very less oil. Also if you are looking for a small batch recipe, this one will be perfect because it makes only 7 muffins.
Uma's Vegan Apricot and Nuts Cake
Check out Uma's recipe for a wholesome cake studded with dried apricots and walnuts, flavored with orange juice and cinnamon.
Debra's Egg Free Chocolate Muffins
Debra has come up with this amazing recipe which yields very moist and rich muffins, it's hard to believe that it's egg free. Added bonus she also uses equal parts of white wheat flour making it healthy as well.
Priya's Vegan Mini Chocolate Cupcakes with blueberry glaze
She has transformed the whacky chocolate cake into something very cute and elegant by topping it with a blueberry glaze to celebrate her son's 2nd month birthday.
Sumathi's Eggless Chocolate Cake
Sumathi has baked a moist chocolate cake. The recipe is as simple as boiling water so nobody can go wrong.
Ankita's Eggless Sponge Cake
I think my search for an eggless white cake has ended. Ankita has the recipe for it. Check it out.
Debra's Egg Free Chocolate Fudge Cake
Debra has been daring enough to replace 2 eggs with vinegar and she has succeeded too. Check out this fudgy chocolate layer cake recipe.
Renuka's Eggless Carrot Muffins
Renuka's carrot muffin recipe is a nice healthy alternative to the usual carrot cake recipe. I'm sure children would love it.
Priya's Vegan Pineapple Cake
Priya always amazes me with her healthy and easy to bake recipes. This is one such recipe and is vegan too!
Madhuram's Whacky Vegan Chocolate Cake
This is the age old chocolate and vinegar cake recipe. What's new is the frosting which I made from a box of instant oreo cookies pudding mix.
Madhuram's Vegan Strawberry Cupcake
This is another simple and healthy recipe too with a cup of strawberry puree. These cupcakes have a mild strawberry flavor and can be devoured even without frosting.
Priya's (India) Eggless Chocolate Cake
Priya has used a combination of condensed milk and vinegar to bake this super moist and utterly delicious cake.
RedChillies' Vegan Chocolate Cake
This is another version of the very famous chocolate-vinegar cake. Baking virgins, you have to try this recipe to realize how easy baking is!
Apple Cider Vinegar
Image

Narration

Learn more about Apple Cider Vinegar from this source.
Priya's Eggless Chocolate and Pear Cake
Priya always tries to include healthy ingredients like fruits, nuts in her baking creations. This recipe is no exception to that. She uses dark chocolate pieces and fresh pears to bake this interesting cake.
Uma's Vegan Black Forest Cake
Uma creates wonders in her vegan kitchen. Who doesn't love black forest cake? Check out her healthier version. She uses whole wheat pastry flour, applesauce instead of butter/oil, tofu and cashews for the icing. It's definitely a sinless indulgence.
Priya's Eggless Chocolate Orange Loaf
Chocolate and orange is always a terrific combination. Priya has come up with a loaf recipe with that combination. She also uses equal parts of whole wheat flour and all purpose flour, dark chocolate pieces and a cup of orange juice to make this quick bread.
Priya's Eggless Banana and Chocolate Chips Cake
Banana and chocolate chip muffin is a classic. Priya has managed to bake that into a cake using vinegar and also has spiked up the flavor with cinnamon.
Madhuram's Vegan Blueberry Muffins
This muffin recipe yields very light and spongy muffins that it's unbelievable that it's eggless. Be prepared to bake a big batch because it will disappear in no time.
Balsamic Vinegar
Image

Narration

Learn more about Balsamic Vinegar from this source.
SunshineMom's Strawberry Coconut Bundt Cake
SunshineMom has used balsamic vinegar to bake this vegan strawberry cake. This cute looking cake has a lot of flavors going in. Strawberry puree, freshly grated coconut and coconut milk. I'm sure it would make an excellent layer cake for your princess' birthday.
Lemon Juice
Deepali Kallidai from UK has sent her favorite Black Velvet Chocolate Cake recipe using lemon juice.
BLACK VELVET CAKE
Makes two 8″ sandwich tins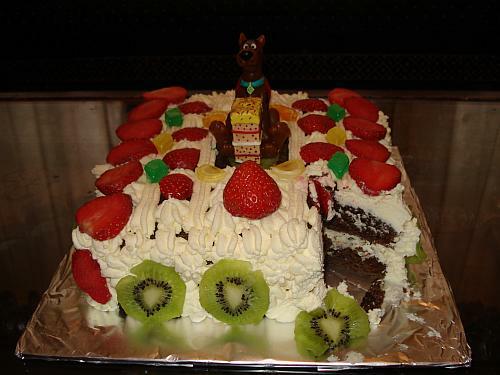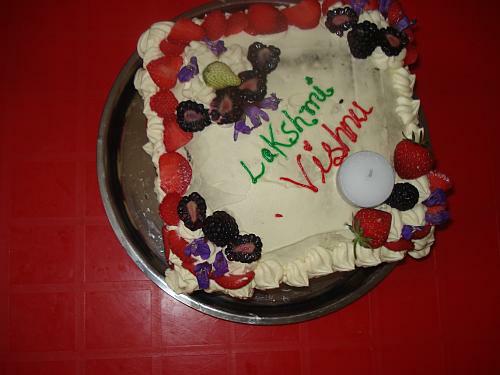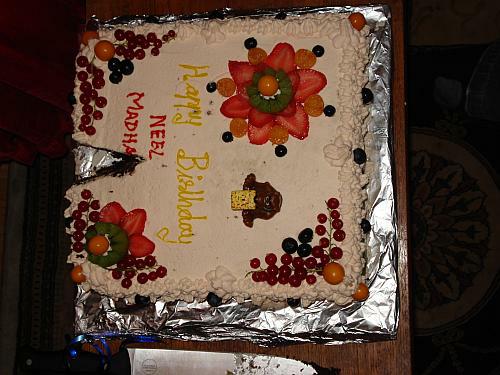 Ingredients
2 2/3 cups Plain Flour
1 1/3 cups Caster Sugar
2 tsp Soda-bi-carb
2 tsp Baking Powder
6 tbsp Cocoa Powder
2 tbsp Lemon Juice
1 tsp Vanilla essence
2/3 cup Oil
1 1/4 – 1 1/2 cups Cold water
Method
1. Mix dry ingredients and seive few times to incorporate air.
2. Mix wet ingredients (mix only 1 cup water at this point as more can be added later, if needed)
3. Mix wet ingredients gradually with dry ingredients (preferably electric beater).
4. Bake in preheated oven at Gas Mark 4/160C for about 30 minutes.
I have decorated this cake with fresh whipped cream and fresh fruits.
This recipe is very simple and easy to make.