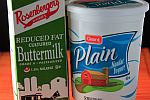 When I announced this event I was not sure if yogurt and buttermilk would work out as good egg substitutes while baking. But I was surprised that it does work and many food bloggers and two non bloggers have also tried it and have sent in their entries as well. So thank you everybody for participating in this event. As I mentioned in the event announcement I think we have covered all the major egg substitutes. Others not covered are agar-agar, lecithin, soy flour etc. PG and Zankhna (a visitor) suggested conducting an event for agar-agar, which I plan to announce in a month or two. Thank you once again for making this Egg Substitution series a grand success.

This page specifically describes how to use yogurt or buttermilk as an egg substitute in various baking recipes. Check out other possible egg substitute ingredients, quantity, and best suitable baking recipes here.
Buttermilk
Image

Narration

Sumathi's Eggless Vanilla Cake
If you are looking for a plain vanilla eggless cake recipe, check out Sumathi's recipe. She has used buttermilk instead of eggs to bake this single layer cake.
Maya's Eggless Olive Quick Bread
Even though I bake a lot of sweet treats, I prefer savory snacks and especially savory breads. If you are like me check out Maya's appetizing bread recipe which is flavored with Italian herbs and olives.
Priya's Chocolate Oatmeal Bread
I guess for Priya baking is like brushing for us. It's a daily routine. She has whipped up this quick bread using whole wheat flour, oatmeal and dark cocoa powder. Oil can be reduced to make it even more healthy
Priya's Chocolate Chip Scones
Start your day with Priya's eggless chocolate chip scones which is made with equal portion of whole wheat flour and all purpose flour and also includes oatmeal.
Ramya's Buttermilk Scones
Ramya has baked two types of scones using the same dough. Both look very flaky and absolutely delicious.
Madhuram's Eggless Fruit and Nuts Bars
If there is a book named Baking for Beginners, this recipe should be the first one. It's simply mixing the ingredients, spreading it in a pan and baking it. For such a simple process the taste is beyond phenomenal.
Divya's Eggless Whole Wheat Pancakes
Want to start your day with something filling, tasty as well as sweet. Then try these pancakes by Divya which is made with whole wheat flour, buttermilk and jaggery
Bharti's Eggless Banana Bread
This is yet another healthy and tasty bread which can be had for breakfast. Bharti uses 1/4 cup of flax seed powder along with whole wheat flour and almonds.
Arundathi's Eggless Double Chocolate Muffins
This recipe is for absolute cocoa addicts like me. The muffins look so moist in spite of the fact that it requires very little oil.
Priya's Eggless Chocolate Pancakes
Another healthy and eggless breakfast recipe from Priya. These (no added sugar) pancakes are made with whole wheat flour and get their sweetness from bananas and date syrup.
Madhuram's Eggless Banana Muffins
When life gives you lemons make lemonade and when life gives you very ripe bananas make these banana muffins.
Yogurt
Image

Narration

Debra's Egg Free Lemon Scones
Citrus lovers, check out Debra's recipe for egg free scones using lemon juice and lemon yogurt. This recipe also requires only 4 tablespoons butter and very simple to bake.
Asha's Banana Chocolate Muffin Half Loaf
Check out Asha's page for a very simple eggless banana muffin recipe and also to see the cute little half loaf pan. This recipe can be easily veganized using soy yogurt instead of dairy yogurt.
Parita's Eggless Strawberry Muffins
Fresh strawberries dipped in chocolate is such a delicious combination. Parita has smartly used that combination in a muffin recipe.
Sweatha's Eggless Pumpkin Quick Bread
Sweatha has whipped together this easy and eggless pumpkin quick bread using white whole wheat flour, olive oil, yogurt and cardamom.
Madhuram's Eggless Chocolate and Bottle Gourd Cake
Zucchini in chocolate cake is quite common in the Western countries. Those who can't find zucchini, don't worry anymore, use bottlegourd instead and bake this healthy, low fat and delicious chocolate cake.
Stefanie's Eggless Buckwheat Pancakes
Breakfast being the very important meal, Stefanie uses buckwheat flour, white whole wheat flour, honey and yogurt to prepare these stunning eggless pancakes.
Priya's Eggless Brownies
Priya (India) has tried this brownie recipe from the Joy of Baking website by replacing eggs with yogurt.
Priya's Eggless Chocolate and Zucchini Bread
Another quick bread creation from Priya using whole wheat flour, corn flour, zucchini and almonds. The bread looks very moist and rich resembling a brownie.
Madhuram's Eggless Fudge Brownies
If you don't have the time to bake from scratch, then check this recipe to bake brownies using store bought brownie mix. Egg replacement works in mixes too.
Ashwini's Eggless Chocolate Praline Buttons.
These cookies sent by Ashwini are name rightly as buttons because they do look cute as buttons. Made with butter, cocoa and pecans no doubt that they taste good too.
Priya's Eggless Chocolate Chips and Orange Cake
Chocolate and orange is a classic combination and Priya brings together that in a cake using orange juice and chocolate chips.
Non Blogger Entries
Mukta's Eggless Oatmeal Cookie Bars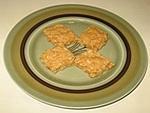 This is my favorite homemade cookie/granola bar recipe. I have been baking them with egg substitutes for quite a long time and thought it was an appropriate recipe for Madhuram's Egg Substitute Event-Yogurt/Buttermilk. Check out the original recipe here.
I have made the following few changes to the above recipe:
1. The recipe mentions the use of 2 eggs. I always substitute it with 1/2 a cup of fat free milk and 2 tsp of vinegar (which is actually a substitute for buttermilk as well). I am sure Vegans can use Soy Milk/Rice Milk/Almond Milk. I got to know that each egg can be substituted by ¼ th cup milk and 1 tsp of vinegar (Courtesy: Chef Niru Gupta.
2. I have tried Lime Juice as well in the same amount (after confirming from Chef Niru Gupta via emails) and it works fine. However recently I came to know that if you need to use lime juice instead of vinegar, the ratio of lime juice to vinegar must be 2:1. Hence next time I plan try this recipe with 4 tsp of lime juice instead of 2 tsp of vinegar.
3. I prefer 'King Arthur Unbleached White Whole Wheat Flour' for all my baking and cooking.
4. Oatmeal of Generic Brand can be used. I use old fashioned oats. I have observed that bars made with old fashioned oats become more crispy (the way my friends like it) than those made with quick oats.
5. I use 1 ¼ cup of white sugar.
6. I usually avoid salt.
7. I use ¾ th cup of vegetable (or canola) oil instead of the 1 cup of unsalted butter. (Refer here for fat substitutions) It has been mentioned that 4 parts of solid fat can be substituted by 3 parts of oil.
8. Though the recipe mentions raisins, I have tried using chopped almonds. I believe any variety of chopped nuts and/or chocolate chips can be added. They also taste really good without any nuts or dried fruits as well.
9. I prefer them to be crispy and hence I bake them on a greased cookie sheet for 25-30 minutes on the top rack in a conventional oven (please refer to the original recipe for baking time). I let them cool for 5 minutes outside the oven, cut them into small size pieces and then again let them cool completely for an hour before storing.
Zankhna's Eggless Glazed Lemon Cake
Ingredients
For the cake:
1-1/4th sticks unsalted room temperature butter
1 cup granulated sugar
1 tablespoon vinegar (I used white vinegar)
1/6th Cup grated lemon zest
1 ½ cups flour
¾ teaspoon baking powder
¼ teaspoon baking soda
½ teaspoon salt
1 tablespoon freshly squeezed lemon juice
6 tablespoons yogurt (I used fresh homemade one)
½ teaspoon vanilla extract
For the syrup:
1/4th cup granulated sugar
1/4th cup freshly squeezed lemon juice
For the glaze:
1 cup confectioner's sugar sifted
1 3/4th tablespoons freshly squeezed lemon juice
Preheat the oven to 350 degrees F. Grease and flour 1 8/12 by ¼ by 2/12 inch loaf pan that could make 4 mini loaves and this recipe yielded 3 mini loaves)
Directions
For the Cake: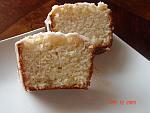 1. Cream the butter and sugar together with an electric mixer or by hand until it is light and fluffy. Mix the lemon zest to this and keep aside.
2. Sift the flour, baking powder, baking soda and salt together.
3. In another bowl combine the lemon juice, yogurt and vanilla.
4. Add the flour mixture from 2 and yogurt mixture from 3 above, alternatively to the creamed butter.
5. Lastly add vinegar to this and pour it in the pan and bake for about 45 minutes to an hour until a cake tester comes out clean (I had to bake mine only for about 30-33 minutes as the same amount of batter was spread over a larger surface area.)
6. Cool the cakes for about 10-15 minutes. Remove them from the pan and set them on a rack.
For the syrup:
1. Combine granulated sugar with lemon juice and cook over low heat until the sugar dissolves.
2. Pour this syrup over the cake that has cooled for about 10-15 minutes.(Remember to set your cooling rack over a plate to catch the syrup that runs down the cakes)
3. After this allow the cakes to cool completely (I cooled mine overnight).
For the glaze:
1. Combine the confectioner's sugar and the lemon juice until smooth. Pour over the cakes and set aside (covered) until the glaze sets.
Notes
I love the taste of lemon or orange in a cake and was always looking for an eggless recipe for it. I found this recipe on food network by Ina Garten but it was for 2 big loaves. So I scaled it down to make one loaf. Also when I tried the original recipe, I only made these substitutions:
• Substituted eggs with Yogurt + 2 tablespoons vinegar
• Increased the amount of butter and baking powder to help the elimination of egg
By making these changes, the cake had a great texture and cooked perfectly. But it was too sweet and very sour (not just lemony). So then the next time, I reduced the amount of sugar, vinegar and lemon juice in the recipe (the above recipe lists the revised measurements).
A couple of other combination I would like to try are 1) to use condensed milk instead of vinegar as an egg substitute & 2) to try to bake these in a large loaf pan instead of a mini loaf pan. I am wondering whether the cake will hold the shape if cooked in a bigger pan and cook evenly like it did in the mini loaf pan. Both the times I baked these, I was going to have company and didn't want to risk the results. Hence I baked them in the mini loaf pan. But I will try to bake it in a larger loaf next time.
This cake has the best taste an eggless lemon cake can have. It has a great texture, cuts nicely into slices and looks great.