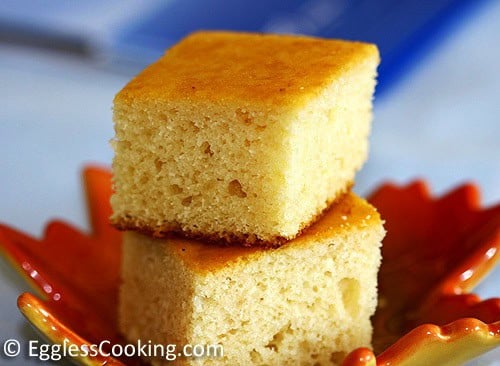 | | | |
| --- | --- | --- |
| Eggless Vanilla Cake Recipe | | |
Preheat the oven at 350F/180C for 15 minutes. Lightly grease a 9x13 inch pan and line it with parchment paper.
In a large bowl sift together the flour, baking powder, baking soda and salt. Mix in the sugar.
Make a well in the center of the dry ingredients and stir in the the wet ingredients one by one. Stir the mixture together using a whisk. Some lumps is okay.
Pour the batter in the prepared pan and tap the pan to even it out and break the air bubbles if any.
Bake it for 25-35 minutes. The first time I baked this eggless cake I checked it for doneness after 30 minutes and felt that I could have taken it out 2-3 minutes earlier.
The bottom had started to brown more than it is required to. So I did that the next time and took the pan out the oven after 27 minutes itself and the cake turned out to be perfect.
Transfer the pan to a cooling rack and remove the cake after 15-20 minutes. Place the cake on the rack for it to cool down completely before slicing it.
The texture of this eggless vanilla cake is neither too fluffy nor too dense making it a perfect base for shaped cakes and decorating. It slices off beautifully without crumbling. The sweetness of the cake is just right if you are going to frost it. Actually, we preferred this sweetness even without the frosting. But if you are looking for something very sweet then you have to definitely increase the quantity of sugar anywhere between 1/4 cup to 1/3 cup.
This cake was a huge hit in our family and with our friends. If you can't find Ener-G egg replacer and try the best eggless vanilla cupcake recipe then this plain eggless cake with condensed milk is the way to go.
As mentioned earlier try cake flour for the all purpose flour used in the recipe to get a fluffier cake.
Freshly squeezed orange juice and grated orange zest can be used instead of water to give a nice flavor to the cake.
In Canada we get a 300ml can of condensed milk unlike in the US where you can get a 14oz can (which is approximately 400ml). The original recipe uses a 14oz can and I think that's the reason my cake was not very sweet.