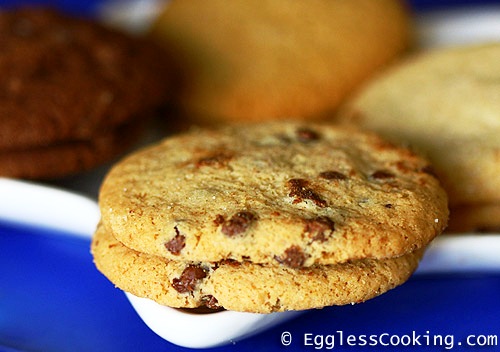 Reviewing Enjoy Life Foods' products is always a pleasure, so I was very happy to receive their new line of crunchy cookies. Their products are a true blessing for those having one or more food allergies. I have tasted a couple of their products and all of them were exceptional. It has got thumbs up from everybody in our family where none of us have any food allergies. I'm 100% confident that the chocolate granola, other flavors of granola, the chocolate chunks and chocolate bars will be loved by all people with or without food allergies. So how did these cookies fare?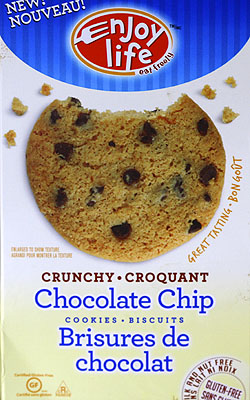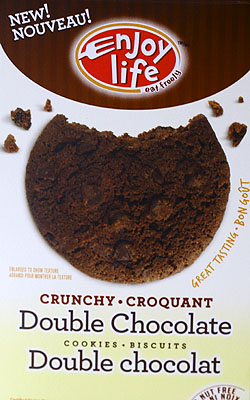 But before that, for those who are not familiar with Enjoy Life Foods; all their products are free of wheat, dairy, peanuts, nuts, eggs, soy, fish and shellfish. They also don't contain trans fat and artificial ingredients; it's kosher pareve, gluten free and casein free too. All their products are also prepared in a safe environment which means they are made in a dedicated nut-free, gluten-free and dairy-free facility.
The cookies under review are Chocolate Chip Cookies, Double Chocolate Chip Cookies, Vanilla Honey Graham Cookies and Sugar Cookies. All these cookies have the prefix "Crunchy". When I saw "crunchy", I was thinking that the cookies would be crispy, but they weren't. It's more like brittle, having a bite to it. It's neither soft/chewy nor crispy. Something in between. I'm not sure if everybody will like this texture.
All these cookies are made with a mix of rice flour, buckwheat flour and millet flour giving it a grainy texture. I have baked chocolate chip cookies using brown rice flour and I have experienced that the cookies baked with this flour has a different texture than the regular cookies. It will not be as smooth as cookies baked using all purpose flour or even whole wheat flour for that matter. So this also might be an issue for some of us.
I also felt that the chocolate chip cookies were too salty for "cookies". We as a family in general use very less salt in our food. So I don't know if it's just me or everybody else would feel the same about the cookies as well.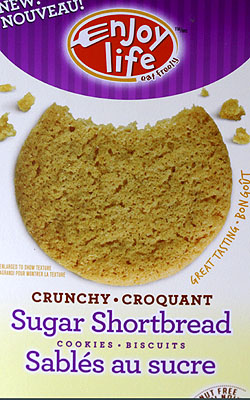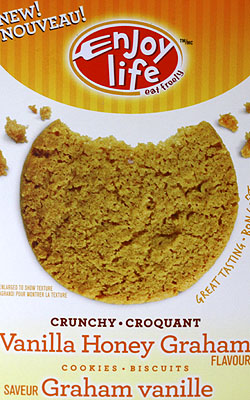 The Verdict: The cookies' got mixed reviews. My son and some other kids who tasted the cookies liked it. The adults (parents of those kids) not so much. They could feel that it was not like the usual cookies, which means it's okay for people with food allergies but not for others. That is so unlikely for Enjoy Life Foods' products because all the other samples I have tested so far would be loved by both the groups. Personally my favorite was the Double Chocolate Chip Cookies.
At the end of the day, these cookies are for those with food allergies and if they are able to pick up a box of cookies without spending time scanning the list of ingredients and worrying about what ifs?, it's definitely a winner.