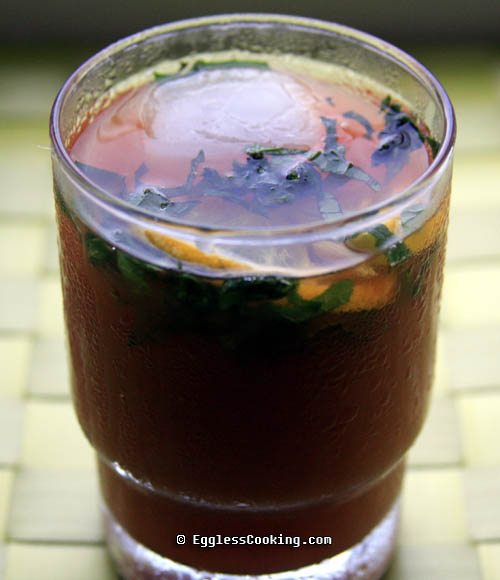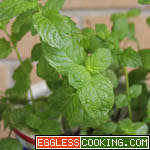 Mint is my favorite herb and until recently I didn't know that I can grow it myself. I usually buy mint from the grocery store. When my mother in law visited us last winter she took few thick mint stems (after using the leaves for cooking) and potted it. Both my husband and myself couldn't believe our eyes when it started growing small leaves. Initially it took sometime to grow but later it started leafing rapidly. One week I completely forgot about watering it. Because it was winter we had the pot indoors and we got the bulb which is available for indoor plants and we forgot to switch it on also. When one of our friends were visiting my husband was boasting about our mint plant and then only I really remembered about it and when we checked, the plant had dried out completely. I was so upset, but without losing heart I started watering it again and to our surprise it started growing.
As soon as my friend Dee announced Herb Mania, I prepared my favorite Mint Chapathis. But I was not satisfied with the photos so I did not write about it. What I do is I grind mint, coriander, ginger, garlic, green chillies and salt and mix this paste with whole wheat flour and prepare chapathis as usual. Alternately you can also prepare mint parathas like this.
Time was running out and I was wondering what to prepare with mint and finally found a recipe for Iced Mint Tea in a tamil magazine. The tea was very tasty and another reason which made me happy was the fact that I was able to use the mint from my own plant.

| | | |
| --- | --- | --- |
| Iced Mint Tea Recipe | | |
| Prep Time | Cook Time | Makes |
| --- | --- | --- |
| 05 Mins | 15 Mins | 2 Servings |
| Author | Category | Method |
| Madhuram | Beverages | Mixing |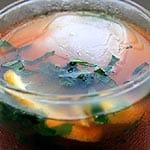 A simple recipe to prepare iced mint tea using mint leaves, ginger and lemon.

Ingredients:
2 Cups

Water

2 Teaspoons

Tea Powder

1 Small Piece

Grated Ginger

3 Teaspoons Or As Per Your Taste

Sugar

2 Tablespoons

Lemon Juice

10 Leaves

Finely Chopped Mint
Procedure:
Boil water in a saucepan.
Add the tea powder.
Grate the ginger root and let it boil for another 5 minutes.
Add the sugar for your taste.
Let it simmer for another 2 minutes.
Filter the tea.
Let it cool at room temperature. Add the lemon juice.
Then add the mint leaves and chill it in the refrigerator.
Serve it cold.
My Notes: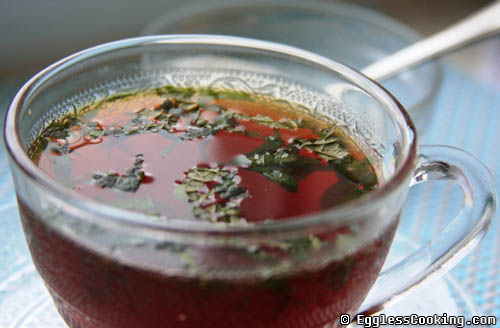 Above I have reproduced the recipe as it is in the magazine. I followed the recipe and found that the tea was little bitter to my taste. So I added a couple more teaspoons of sugar.
The tea tastes good even when it is hot, but is excellent when it's cold.
Check out the health benefits of mint here

Try this recipe, click a pic and hashtag it #egglesscooking - Proudly showcase your creations on Instagram, Facebook & Twitter!