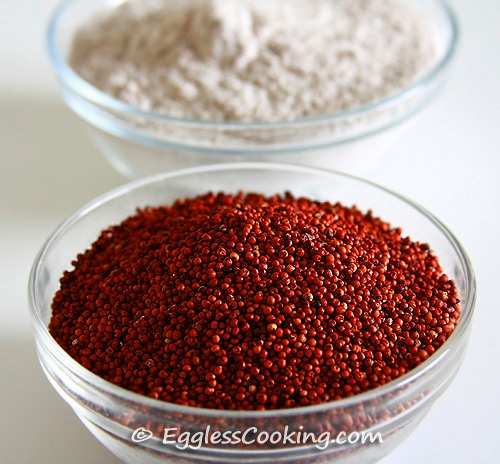 Wish you all a very happy and prosperous New Year 2010. JFI was the first food blog event I ever participated after starting this blog. Now I'm a proud host of the same. Thank you very much Indira for giving me this opportunity.
JFI means Jhiva for Ingredients and every month a natural ingredient relating to India or Indian cuisine is featured. I couldn't think of any ingredient other than Ragi (Finger Millet). I feel that this grain is being neglected by us (or at least by me) like many other healthy Indian food ingredients. We are generous enough to embrace ingredients from other parts of the world, not that its wrong, but I feel that we should do justice to cereals and grains grown in our home country too.
From this year on-wards I'm going to take a resolution to try at least one Indian ingredient every month, which I have been neglecting all these days, starting with Ragi in Jan 2010. Are you with me on this? Thanks to the Internet and food blogs, I'm seeing a lot of ragi recipes off late. So it should not be a problem to prepare at least one healthy meal, if not more using whole ragi or ragi flour.
Send in your entries (old and new) and let us create a hub for ragi recipes to benefit everybody. Please note that the ragi flour we get in Indian grocery stores is devoid of the bran which is rich in fiber. So its not a whole grain flour, but this should not stop us from using this quite often, because something is better than nothing. If possible try to use the whole ragi by soaking and sprouting it.
Now for the rules of the event.
Rules
1. Cook with any form of ragi (whole ragi, sprouted ragi, or store bought flour etc) and post it in your blog between Jan 1st 2010 and Jan 31st 2010. Any form of cooking is okay too; steaming, baking, frying, etc. Keep it lacto-vegetarian (egg free and vegetarian) or vegan.
2. Please DO NOT HESITATE to send more than one recipe or the recipes you have already posted in your blog. Remember, we are trying to create a database of ragi recipes. Reposting of the old recipe posts is not necessary but link it back to this event announcement.
3. Send in your entries, with your name, recipe URL and picture of the dish (250×250) to ragi[at]egglesscooking[dot]com.
4. Don't have a blog but would like to participate in the event? No problem, send me a mail to the above email address with your name, recipe and picture and I'll include it in the round up along with the other entries.