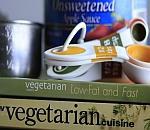 Hello friends, the round up for low fat baking recipes is finally here! It got delayed because my husband was quite busy the past week and he was able to help me only today. I would like to thank each and every participant for flooding my inbox with so many healthy baking recipes. I wish I could distribute prizes to everybody, but at this moment I'm restricting to two. Yes, we decided to choose 2 entries at random instead of 1 I had mentioned in the event announcement. Want to find out who the winners are and the prizes?
[tab:Cakes]
[tab:Cookies]
Recipe

Details

Meeta's Coconut & Milk Cookies
Very simple recipe for cookies made with non fat milk powder and powdered coconut. Prepare the dough while the oven is preheating and you can have freshly baked eggless coconut cookies in no time.
Recipe:


Ingredients:


1 CUP- ALL PURPOSE FLOUR
½ CUP- NONFAT MILK POWDER
3 tsp – UNSALTED BUTTER
1/3 CUP – SUGAR
2-3 tsp – WHOLE MILK
PINCH – BAKING SODA
1CUP- COCONUT POWDER
3-4- CARDAMOM

Procedure:
1) Mix all purpose flour and milk powder in a mixing bowl. See that they mix well and there are no lumps. Then add butter, sugar and baking soda.
2) Now add milk I tsp at a time and knead the mixture into a soft dough.
3) Preheat oven to 375 degree. Grease a cookie sheet now and then powder it with all purpose flour. Form small balls of dough and flatten them pressing coconut powder on top.
4) The mixture will form 30-35 cookies. But it depends on the size you choose.
5) Place the cookie sheet on middle rack. They will take 12-13 min to bake.
6) Take them out and let them cool for some time before taking them off the cookie sheet.

Priya's (France) Low Fat Oats & Dates Cookies
Bake these healthy cookies in a jiffy and see them vanishing within few minutes as well.
Priya's (France) Low Fat Strawberry Shortcake
In search of a low cal and quick fix dessert? Then look no further. Try this strawberry shortcake.
Renu's Low Fat Date Cookies (Mamoul)
Enough of the same old chocolate chip cookies. Be daring and try these exotic date filled cookies full of Middle Eastern flavor.
Sadhana's & Muskaan's Low Fat Oat and Almond Meal Cookies
Gluten free and a healthy version of the classic thumbprint cookies.
Sadhana's & Muskaan's Low Fat Oats and Peanut Butter Cookies
These cookies are not only egg free but gluten free too. A combination of oat flour and quick cooking oats has been used to bake these healthy cookies.
Sowmya's Low Fat Butter Cookies
Baking butter cookies cannot get any easier.
Sowmya's Low Fat Oatmeal Raisin Cookies
The traditional oatmeal raisin cookies gets a healthy makeover by using whole wheat flour and very less fat.
Sweatha's Soy Date Cookies
A small batch cookie recipe with whole wheat flour, soy flour and iron rich dates.
[tab:Quick Breads]
Recipe

Details

Madhuram's Low Fat Oat Flour Cranberry Muffins
Oat flour, white whole wheat flour, dried cranberries and chopped walnuts. Perfect breakfast.
Priya's (France) Vegan Cornmeal Orange Scones
Scones made with heart healthy oats, almonds and good portion of applesauce. Is it not the best way to start your day?
Sadhana's & Muskan's Low Fat Banana Apricot Muffins
Muffins baked with whole wheat/pastry flour, oat flour, cracked wheat, apricots and walnuts. What better way to start your day?
Aarthi's Banana Raspberry Quick Bread
Check this recipe for moist and light egg free banana bread studded with fresh raspberries.
DK' Plum & Pecan Quick Bread
We may not be lucky like this girl to have a plum tree (and what not) in her backyard, but that's not going to stop us from baking this yummy and flavor packed quick bread, right?
Jaya's Banana Walnut Bread
Bananas, coconut, chocolate chips and walnuts. Mmm… yes, another banana bread recipe it is.
Madhuram's Low Fat Blueberry Coffee Cake
I can't believe that these light and spongy cakes are egg free and low in fat too.
Madhuram's Fat Free Mango Strawberry Quick Bread
This is a small batch recipe for a flavorful mango strawberry bread.
Mukta's Fat Free Vegan Banana Bread
Mashed bananas serve two purposes in the recipe. One as an egg substitute and another as fat substitute and the result is a very moist fat free and vegan banana bread.
Recipe:


Mukta's Comments:


I followed the exact recipe as mentioned in above link. The only change I made was, I baked it in a 9 inch round cake pan and I decorated it with Banana Slices. We had a 'Summer Dessert Bake Off' at work. I was really scared by the look of it; Nonetheless it was a huge hit. I did not add any nuts to keep it fat free. But for next time my parents have already advised me to add nuts and substitute Honey/Maple Syrup for half of the sugar. I was left with extra batter. I added Light Vanilla Soy milk, water and made pancakes.
Parita's Fat Free Banana Bread
Don't throw away the over ripe bananas sitting on the kitchen counter. Save it to bake this moist and fat free banana bread.
Pooja's Low Fat Persimmon Nut Bread
Whole wheat flour, sweet persimmons, ripe banana, chopped nuts, dates and honey to naturally sweeten the bread and tad olive oil. I can eat this all day.
Priya's (France) Low Fat Chocolate Banana Loaf
The classic banana chocolate bread gets a healthy makeover.
Vaishali's Low Fat Vegan Zucchini Bread
Whole Wheat flour, grated zucchini and toasted nuts come together and the result is this very moist and low in fat zucchini bread.
[tab:Spicy]
[tab:Yeast Breads]
Recipe

Details

Mukta's Vegan Dinner Rolls
Dinner rolls made with white whole wheat flour. Mukta also notes that she used soymilk and vinegar to replace the egg in the original recipe but feels flax meal replacement would be even better. She has also omitted the optional melted vegan margarine.
Mukta's Vegan Focaccia
Get a taste of Italy at home, by baking this super easy Vegan Focaccia bread.


Mukta's Comments:


The changes I made:

1. I used White Whole Wheat Flour.
2. I skipped the salt. (to limit sodium content)
3. My dough was bit dry and hence I added more water little by little. (approximately 2-4 tablespoon)
4. Before baking, I made many deep holes in the dough with fingers.
5. I baked it in a 9 inch round cake pan.
6. I did not add red chili flakes or any other seasoning. Thus we can not call it a Focaccia Bread but me and my roommates enjoyed it a lot with Indian Style Chick Pea Curry (Chole) and Black Eye Peas Curry.
7. I also like to eat it for my breakfast with homemade Hummus or Peanut Chutney.

Hope you all enjoy this Bread!

Pooja Sekar's Low Fat Curry Leaf Buns
Wish I had the patience to bake perfect buns like these! With curry leaf, parsley and sesame adding flavor, no doubt that it would taste great.
Priya's (France) Low Fat Moroccan Semolina Bread
Morocco's traditional semolina bread is on your way!
Priya's (France) Low Fat Sesame and Spinach Buns
With generous quantity of whole wheat pastry flour, oats and spinach, these buns are in top of my favorites list.
Priya's (France) Moroccan Whole Wheat Bread
Moroccan whole wheat bread flavored with anise and sesame seeds.
Usha's Low Fat Oat Pav Bread
Pav Bhaji fans here comes the healthy version of the pav with oat flour and quick cooking oats.
[tab:Others]
[tab:END]