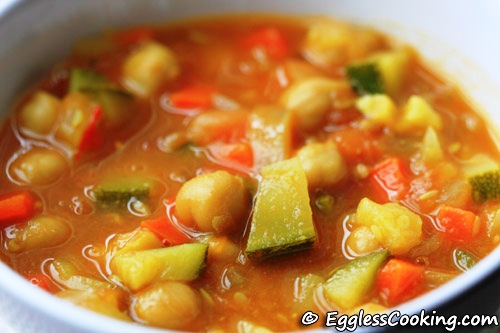 It's long time since I posted for the "Your Recipe Rocks" series. It's not that I have not been trying out recipes from all your fabulous blogs. Don't laugh, but the real reason is I'm not able to get good pictures of the dishes. Fall has started and we really don't have enough sunlight in our place to take good photos. It may sound like a lame excuse, but believe me or not that's the truth. Even the stew which I'm posting today, I had to reserve a small quantity of the stew, to take a decent picture the next day.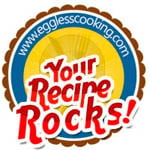 This chickpea stew can be prepared in no time, if you have all the vegetables in hand. The recipe mentions to soak 15 red chillies for 2 hours to prepare the harissa paste and I totally forgot about it. Moreover the measurement will also yield a lot of paste. Instead I just soaked 3 chillies, while the vegetables were cooking for the stew. The taste was phenomenal. We had it with whole wheat bread toasts and couldn't get enough of it. My husband was so close to emptying the pot, but as I have mentioned above I had to reserve a small portion to get a picture. Vaishali Your Recipe Rocks!
Subscribe To Eggless Cooking
Don't miss our new eggless recipe updates in your email inbox! Sign up now.