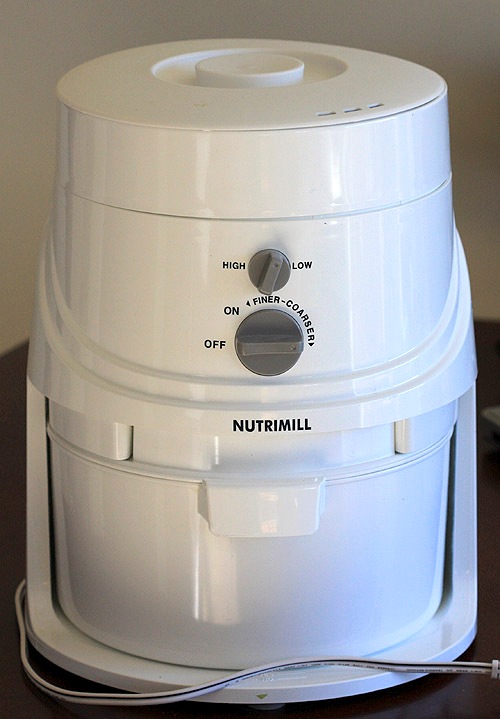 A couple of weeks ago I was contacted by Pleasant Hill Grain to review their fast moving grain mill, the Nutrimill. Being very much into baking and cooking with whole grains, I couldn't resist the offer. Also after doing a search on Nutrimill on the Internet I found that its the #1 grain mill. The excellent rating and reviews in Amazon.com was enough for me to believe that this is definitely worth trying. Moreover they were also giving away the $240 value Nutrimill to one lucky visitor (US residents only) of egglesscooking.com! How can I say no to this?
How to participate in this Giveaway?
1) Go to Pleasant Hill Grain and check out the Nutrimill Grain Mill and its natural companion machine, the Bosch Universal Mixer.
2) Look at the various kitchen equipments on their website, then come back here and leave a comment telling me which appliance you want and why. The comment has to be entered by Dec-14th, 2010.
I will choose a comment at random and that person will receive the Nutrimill absolutely free of cost. Please note that this giveaway is open to US residents only.
Before receiving the Nutrimill, I was aware that grain mills existed and milling flour at home would be cool, but I would be lying if I tell that I always wanted to own one. I didn't give it much of a thought especially after moving to Canada because I had easy access to a variety of whole grain flours. The store is literally at my door step. This was the key factor which kindled my passion to incorporate more and more whole grains while baking and cooking. But let me tell you something, once you start using freshly milled flour there is no going back to store bought flours. This I came to know after using the Nutrimill. I made a whole wheat flour, sugar free, fat free, vegan carrot cake using freshly milled whole wheat flour and I'm not exaggerating when I tell that the cake tasted "out of this world". I have baked a lot using whole wheat flour and have experienced that with the combination of cocoa/chocolate the baked good comes out quite decent but most of the time it leaves a not so pleasant after taste and smell. I'm quite confident that the same recipe if made with store bought wheat flour wouldn't have tasted as good as this one. So that's the difference between store bought whole grain flours and flour milled at home. I will post the recipe for the carrot cake in another post, now more about the Nutrimill.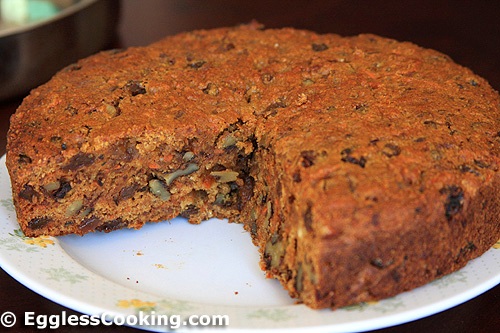 The Nutrimill is very easy to put together. The manual comes with operating instructions which is pretty straight forward and easy to follow. Just one small information is missing which I will talk about it shortly. When I first checked out their website to find out how the mill looks, I was wondering if it would fit under the kitchen cabinet on the counter, how heavy it would be, etc. So I was pleasantly surprised when I received it because the Nutrimill is just an inch taller than my food processor and it's lighter in weight than the food processor. Even with the hopper extension fitted, it is well below my kitchen cabinet, but you could also dissemble the parts and store it easily.
While assembling the Nutrimill I noticed a small circular black sponge in the bowl and thought that it was some packaging material. I didn't know that it was a vital part of the mill until I read the manual. Its actually the air filter which helps the machine breathe and should be cleaned after each use. It can be washed, but should be definitely dry while using it. When I read about this in the manual I thought that they should have provided with 2 of these filters. Actually they did, it was in the paper bag and I had missed it. So if you wash one and if it is wet, you could still use the mill with the other filter.
The bowl in which the flour is collected comes with a lid and as mentioned in the manual it is quite tight to fit, so using some cornstarch definitely makes it much easier. After closing the bowl with the lid, the bowl has to be fit under the milling unit properly. It has to be pushed all the way inside. To make it easier the base actually comes with the markings YES and NO. This is what I was referring previously about not being mentioned in the manual. The bowl should be pushed to the YES spot. If it remains on the NO spot, expect the milled flour to be sprayed all over the place. I did this mistake twice. When the bowl was snapped in place, there was no puffing of flour whatsoever. It was mess free.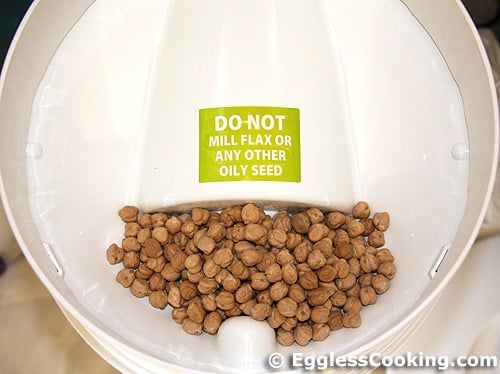 The next important part is the hopper extension, which allows you to mill large quantity of grains. When the mill arrives, the hopper extension comes inside the flour bowl. The extension has 3 teeth like projections around it which has to be snapped in the holes provided in the milling unit. This is not quite clear in the manual. It also has a lid, which helps in quieter milling.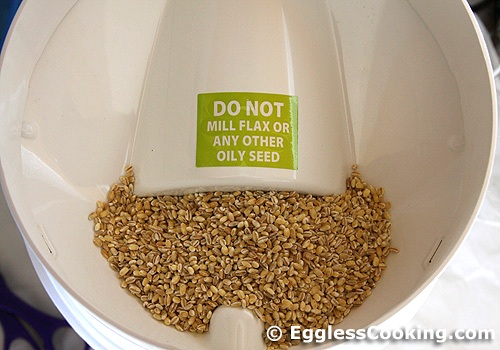 So how loud is the mill? Let's be frank here, we are milling whole grains so don't expect it to be like the humming of your air conditioner. Its pretty much like the noise of a vacuum cleaner. If the noise from the vacuum cleaner doesn't stop you from cleaning your house, so should the noise of the mill should not stop you from using it. The very first time I used it, I found it a bit noisy, but from the subsequent use onwards it did not bother me at all. Initially I was worried that it would startle my new born, but he didn't seem to mind it at all. The more the grains you use the lesser is the noise.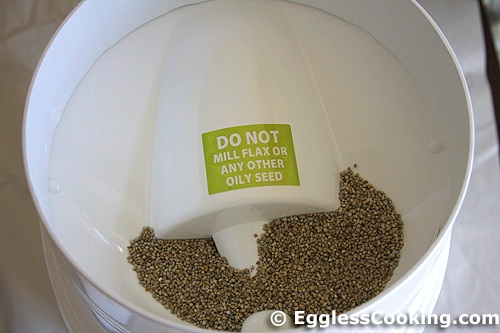 What are the things that can be milled in the Nutrimill? This is not only a grain mill but also a bean mill. Yes, its true indeed. You can mill grains like wheat, rice, millet, popcorn, rye, etc but also dry beans (pinto, green beans, mung beans, chick peas, garbanzo beans etc), barley, spelt, quinoa etc. Some caution has to be exercised while milling beans though. You should not overfill the hopper with the beans and it has to be completely dry. Coffee, sugar, flax seed, nuts, oatmeal, seeds, dried fruits should not be milled. Also the mill cannot crack grains. Study the manual for the complete list of do's and don'ts.
Whole Wheat Flour

Millet Flour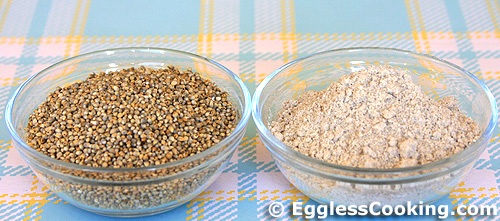 Barley Flour

Garbanzo Bean Flour

The Nutrimill is also very powerful and fast. It took little less than 2 minutes to mill 2 cups of wheat. I couldn't find whole barley and the closest I got was pot barley and it was also milled in just 2 minutes. The texture control ranges from finer to coarser and is precise. So you can mill a wide range of flour textures. I was able to get very fine flour from wheat, barley and millet using the finer setting. The control has to be set to coarser for milling large items like beans. Even though I read that it could mill dry beans, I couldn't believe it until I tried it myself. I tried milling garbanzo beans and was wowed by it. This feature is a boon for those who have a celiac allergy. The setting differs and there is a bit of learning curve to mill beans. You have to play around a little with the control knobs. I would suggest starting with 1/4 cup of beans and slowly increase the quantity once you get the hang of it. Don't expect this to be as fast as milling grains like whole wheat, millet etc.
It is stated that the flour bowl capacity is 20 to 21 cups which is approximately about 13 cups of hard wheat. But you can also mill smaller quantities, which I tried myself. I milled just 1/4 cup of millet without any problem.
As I gather from my research over the Internet, another cool feature of the Nutrimill which the other mills in the market lack is that you can turn on the machine even after filling the grains. You may also stop the milling mid cycle and restart it without the mill clogging. I did test these features and its true indeed.
If the instructions in the manual is followed, cleaning is also a snap. It is advised to run the mill for 5 more seconds after the grains are milled to enable self cleaning. Even otherwise I would suggest using a clean pastry brush to clear the crevices.
Is it a must in every kitchen? Will you be using it regularly? The answer depends on the style of your cooking/baking. Before getting into baking I was (ab)using the oven as a storage. I used to store over sized pressure cookers and what not in it. For somebody who lives on take out, even a range is too much of an appliance. So if you are into eating healthy, would like to incorporate whole grains in your diet without compromising on the taste or a passionate cook/baker interested in trying out new things, the Nutrimill is a boon. Or if you are looking to buy a grain mill, I'm sure that Nutrimill will satisfy all your milling needs.
So don't miss the golden opportunity to own this super mill. Follow the instructions given on top of the post for a chance to win the Nutrimill absolutely FREE!