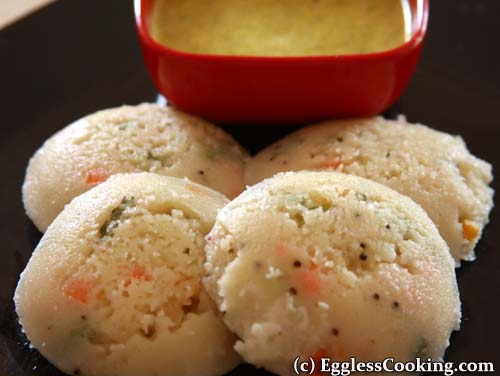 Last Tuesday I prepared Priya's Rava (semolina) Idly for dinner.  It's so much easier than the traditional idli recipe which requires soaking of idli rice and urad daal, grinding them and then fermenting the batter.  No doubt that the traditional idlies are soft and tasty, but rava idly is a quick fix breakfast/dinner.  Even though I was born and raised in southern India, I have not tasted these earlier.  We all loved the taste.  It's definitely going to be a regular in our house.  Thanks for the recipe Priya.  Your recipe rocks.
My Notes:
For the side dish I prepared coconut chutney.  Always in my chutney I also add half a carrot, grated and lot of coriander (cilantro) reducing the quantity of coconut.  As I have mentioned earlier in my Beet Greens Daal recipe, carrot is a very good substitute for coconut.  Instead of grinding grated coconut, cumin, chillies for the masala for any kootu (daal) recipe, you can simply replace it with carrots.
Subscribe To Eggless Cooking
Don't miss our new eggless recipe updates in your email inbox! Sign up now.