A couple of days back I received a bag of double chocolate crunch granola and mega chocolate chunks from Enjoy Life Foods. I'm going to share my views about the granola in this post and the review for the chocolate chunks will follow shortly. I'm always a fan of Enjoy Life Foods' products. Although their products are gluten free (and also free of all other common allergens including wheat, peanuts, tree nuts, milk, egg, soy, fish, sesame just to name a few), they do not compromise on taste.
The double chocolate crunch granola is no exception. I have never tasted a chocolate flavored granola before so I was sold on the idea even before tasting it. Yes, I'm a chocoholic! (I)We snacked on it dry and it was over in no time. It was crunchy, not over the top sweet, had a subtle chocolate flavor. I didn't miss the nuts, coconut or dried fruits which are the usual frills in most of the granola. My son had it with milk and I could see why he went for seconds.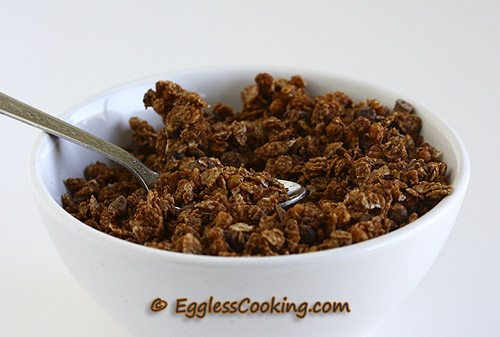 Granola and oats are inseparable but not in this case. Brown rice flakes is used instead of oats. As the name suggests, there are two chocolate components in this yummy granola. One in the form of cocoa mixed with the rice flakes and the other in the form of mini chocolate chips. These chocolate chips are also dairy free (and other allergens) and it is really very difficult to believe the same because it tastes as good as the usual chocolate chips. This granola is also trans fat free and cholesterol free. As always with all Enjoy Life Foods' products this granola is also made in a dedicated nut and gluten free bakery. So no need to worry about cross contamination.
I'm confident that everybody (people with or without food allergies) will love this granola as we did. I'm also happy for those with food allergies because at last they have a wide range of products to choose from which are not only safe for them to consume but also incredibly tasty.
Check here to locate a store nearby you to buy Enjoy Life Foods' products.