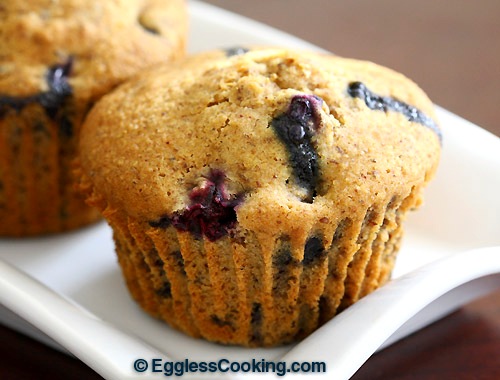 | | | |
| --- | --- | --- |
| Vegan Whole Wheat Blueberry Muffins Recipe | | |
1/4 cup

Ground Flaxseed

1 and 3/4 cups

Whole Wheat Pastry Flour

1 and 1/2 teaspoons

Baking Soda

1/2 teaspoon

Cinnamon

1/4 teaspoon

Salt

1 cup

Almond Milk

1 tablespoon

Apple Cider Vinegar

1/4 cup

Vegetable Oil

1/2 cup

Maple Syrup

1 teaspoon

Vanilla Extract

2 teaspoons

Orange Zest

1 and 1/2 cups

Blueberries (fresh or frozen)

As needed

Sugar for sprinkling on muffin tops (optional)
Preheat oven to 375F/190C for 15 minutes. Line a muffin tin with paper liners and grease it well with non stick cooking spray.
Mix together the almond milk and vinegar; set aside.
In a large bowl combine together the ground flax seed, flour, baking soda, cinnamon and salt.
In a medium bowl, whisk together the maple syrup, oil, milk mixture, vanilla extract and orange zest.
Make a well in the dry ingredients and stir in the wet ingredients with a rubber spatula until just moistened. Fold in blueberries.
Scoop the batter into the prepared muffin cups; about 3 tablespoons in each. Sprinkle the tops with sugar.
Bake the muffins until the tops are golden brown and a toothpick inserted in the center of the muffins comes out clean which is about 15-20 minutes. I took out mine after 17 minutes.
Transfer the tin to a cooling rack and leave it there for 5 minutes. Then remove the muffins out of the tin and let it cool completely.
If you are not able to find whole wheat pastry flour, then you can use 1 cup of whole wheat flour and 3/4th cup of all purpose flour as mentioned in the original recipe.
If using frozen blueberries, do no thaw it because it will bleed.
I guess you could use any non dairy milk instead of almond milk.
If you are a spice fan you can use up to a teaspoon of cinnamon.
Since we prefer mildly sweet treats, I did not sprinkle sugar on top of the muffins.