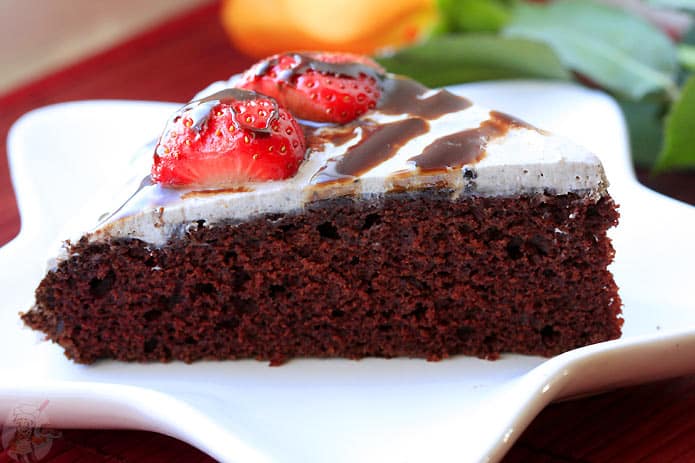 | | | |
| --- | --- | --- |
| Vegan Chocolate Cake Recipe | | |
Cook time:
32 Mins + 1 Hr Cooling
Yields:
One 8 or 9 Inch Cake OR 8 Cupcakes.
Are you looking to make a very easy eggless chocolate cake? This chocolate cake recipe is not just eggless but vegan too. Don't worry hearing the word vegan, because it doesn't call for any special ingredients or difficult process. This is the easiest cake you will ever bake whether egg free or otherwise. Seeing the ingredients you might wonder, "what? chocolate cake with vinegar?" Try it for yourself and be ready to be surprised.
1 and 1/2 cups

Unbleached All Purpose Flour (I used Bleached)

3/4 cup

Sugar

1/2 teaspoon

Salt

1 teaspoon

Baking Soda

1/4 cup

Unsweetened Cocoa Powder (I used Hershey's)

1 and 1/2 teaspoons

Vanilla Extract

1/3 cup

Canola Oil

1 tablespoon

White Distilled Vinegar

1 cup

Cold Water
1 cup

Cold Milk

One 4oz Pack

Instant Pudding Mix, Any Flavor (I used Oreo's cookie flavor)

One 8oz Container

Thawed Cool Whip (I used Fat Free)
Preheat the oven at 350F/180C for 15 minutes. Lightly oil the cake pan you are using.
Stir together all the dry ingredients (flour to cocoa powder) and create a well in the center.
To the well add all the wet ingredients one by one. Mix until just combined. Don't over-mix. It's OK to have some lumps.
Pour the batter in the prepared pan and bake for 25-30 minutes or until a toothpick inserted into center comes out clean. Mine was done by 24 minutes. If baking cupcakes, check around 13-15th minute.
Cool completely on a wire rack. I left it for an hour.
To remove the cake from the pan, run a sharp knife around the inside of the pan to loosen the cake.
Cool completely before frosting. Actually frosting is not even necessary for this moist cake. You may simply dust with confectioner's sugar and top with fresh raspberries.
For vegan frosting recipes, Check out Vegan Butter-cream Frosting and Vegan Cream-cheese Frosting.
Pour milk into a large bowl. Add the pudding mix. Beat until fluffy for 2 minutes.
Blend in the thawed Cool Whip thoroughly.
Frost the cake/cupcakes and refrigerate it at least for 3-4 hours before serving.
For Cake: I read that apple cider vinegar is better than white distilled vinegar when it comes to baking, because you will not even have that very mild smell or after taste I was referring earlier.
For Frosting: This frosting is not very sweet, but it was perfect with the cake and for us. We don't like overly sweet cakes and frosting.
For Frosting: This measurement will be right for a 13x9 inch cake or a layer cake. I had at least a cup of frosting left over, which I intend to serve in ice cream cones for my son.
Recipe by
Madhuram's Eggless Cooking
at https://www.egglesscooking.com/whacky-vegan-chocolate-cake/