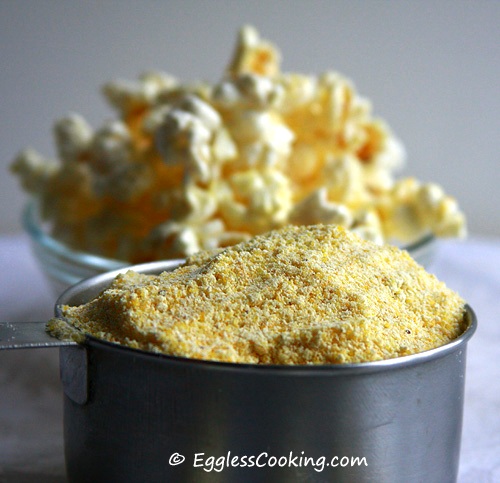 This month in the whole grain baking series we are going to experiment with whole grain forms of corn. Corn is a good source of vitamin A, manganese and potassium and it contains protein. In fact a new study shows that corn has the highest level of antioxidants of any grain or vegetable – almost twice the antioxidant activity of apples.
List of whole grain forms of Corn:
Whole Cornmeal/Stone Ground Cornmeal

(fine, medium or coarse)(Note that most of the cornmeal (read Quaker brand's) found in regular supermarkets in the hot cereal aisle is de-germinated, in the sense, it is not whole grain. You can find whole cornmeal in the organic aisle or health food stores. The label should mention either whole or stone ground.)

Popcorn

Whole Grain Corn Grits

(whole kernels chopped into bits. For whole-grain corn grits, search for those labeled "speckled heart grits", one of the few types processed from whole kernel corn. Cooks in about 50 minutes).

Hominy

(a type of dried corn that has been cooked with an alkali to separate the inedible hull from the kernel. Cooks in about 90 minutes after overnight soaking. Available forms: whole kernel, grits).
Storing:
Like any other whole grain flour whole cornmeal too should be stored in an airtight container in the freezer, to keep the oils in the germ from going rancid. This would give a shelf life from 4 to 6 months. Store dried whole kernels and popcorn in sealed plastic or glass containers. This should keep good for a year.
Baking with corn:
Since cornmeal is gluten free, it has to be accompanied by some wheat flour. I was able to find Bob's Red Mill brand medium grind whole corn meal in the organic aisle of the grocery store. What I noticed was the corn meal being medium grind the cake I baked was gritty. It did not cook completely. So I processed the remaining in the food processor a couple (this is an understatement, I had to do it a lot) of times to get a finer texture. So I would suggest getting the finer one or have the patience to grind it.
Sources for the above information:
King Arthur's Whole Grain Baking
Recipe Ideas:
King Arthur's Whole Grain Baking (This book is worth buying or at least borrow it from your local library. The collection of recipes is amazing).
Rules of the event:
1 Bake anything egg less using one or more of the whole grain forms of corn (whole corn meal, popcorn, hominy).
2 Post it in your blog between Dec 10th 2009 and Jan 10th 2009. The dish can be anything sweet, salty or spicy. The recipes must be either vegetarian and eggless or vegan. If the recipe is from books/blogs/websites, please link back /mention the original source.
3 Multiple entries are more than welcome. Recipes posted prior to the announcement of this event are also welcome provided it qualifies the above criteria and is linked back to this event. Reposting is not necessary. As always there is prize for this event too and old entries will also be considered.
4 Email me your name, blog URL, name of the recipe, recipe URL, photo in 150w x 120h size to wholegrains(at)egglesscooking.com with Corn as the subject.
5 Non-bloggers you can submit your entries in Eggless Cooking Forums under Share Egg Free Recipes. You have to register first and it's free! Send me an email after updating there and I'll include it in the round up.