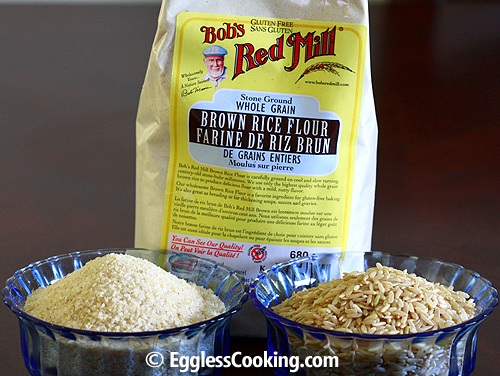 Shall we bake with whole grain rice this month? Whole-grain rice is usually brown – but, unknown to many, can also be black, purple, red or any of a variety of exotic hues. So for this event you can bake with any whole grain rice which is easily available.
Why brown rice is considered to be nutritionally superior to white rice when both have similar amounts of calories, carbohydrates and proteins? Like any other whole grain, brown rice (or any other whole grain rice) has the bran and germ intact. The outermost layer of the rice (husk) is only removed in brown rice whereas the husk, bran and germ are all removed leaving the starchy endosperm alone in white rice. In this refining process several vitamins and minerals are lost too, thereby making brown rice the best. To know more about the benefits and nutritional value of brown rice check here.
Whole grain forms of brown rice (or any rice) includes long or short grain rice, brown rice flour, cream of brown rice and even brown rice puff cereal. Make sure that the package reads whole grain or 100% whole grain. Recently I discovered brown rice farina also known as cream of brown rice. Bob's Red Mill has a huge collection of whole grain stuff. So be sure to check for this brown rice farina too in the organic aisle of grocery stores or health food stores. Brown rice flour is also available from the same company. I have used both brown rice flour and cream of brown rice in Indian cooking instead of its white counterpart and the dishes turned out very good. Can't wait to use it while baking.
Recipe Ideas:
Rules of the event:
1 Bake anything egg less using one or more of the whole grain forms of rice (whole grain rice, whole grain rice flour, cream of whole grain rice, whole grain rice puff cereal etc).
2 Post it in your blog between Jan 18th 2010 and Feb 17th 2010. The dish can be anything sweet, salty or spicy. The recipes must be either vegetarian and eggless or vegan. If the recipe is from books/blogs/websites, please link back /mention the original source.
3 Multiple entries are more than welcome. Recipes posted prior to the announcement of this event are also welcome provided it qualifies the above criteria and is linked back to this event. Reposting is not necessary. As always there is prize for this event too and old entries will also be considered.
4 Email me your name, blog URL, name of the recipe, recipe URL, photo in 150w x 120h size to wholegrains(at)egglesscooking.com with Rice as the subject.
5 Non-bloggers you can submit your entries in Eggless Cooking Forums under Share Egg Free Recipes. You have to register first and it's free! Send me an email after updating there and I'll include it in the round up.