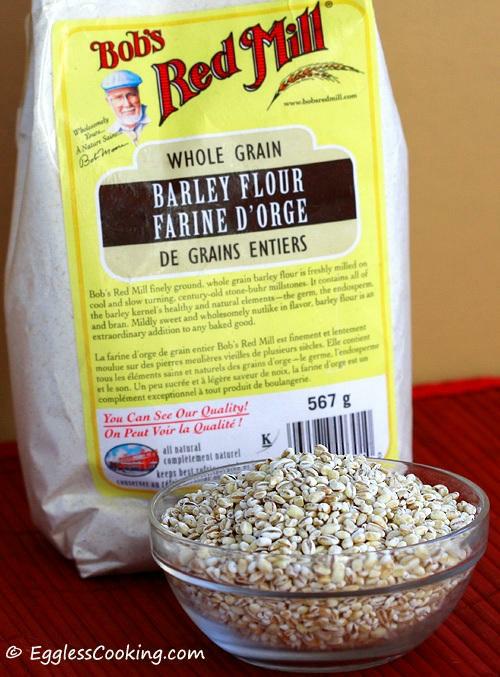 In the whole grain baking series, we are going to experiment with barley this month. I request you all to extend your support you have given for the past 2 events, whole wheat and oats. Barley contains twice as much soluble fiber as oats and also is a high-protein whole grain. Whole (hulled) barley is the whole grain. Only the outer indigestible hull is removed, leaving the bran, germ and endosperm in tact. Pearled barley which is most commonly found in the supermarkets is nutritionally inferior to hulled barley because most if not all of the bran and germ layers are removed. So pearled barely is not classified as whole grain. Nevertheless, cooked peraled barley contains nearly twice the amount of fiber as the same size serving of cooked brown rice. So let us continue to include it in our diet regularly.
The next close thing to hulled barley is pot barley. Although it isn't quite a whole grain, it undergoes minimal amount of refining that leave some of the bran and germ intact.
List of whole grain forms of Barley:
Whole (Hulled) Barley
Hull-less Barley (A new variety which is not widely available and supposedly even more nutritious that hulled barley)
Barley Grits (Bits of whole barley. Cooks in half time of whole barely.)
Barley Flour (Most barley flour is made from pearled barely, so read the label carefully to ensure it's whole grain. Store it in the freezer)
Barley Flakes (Equivalent of oats)
Barley Couscous
Baking with barley flour:
Barley is high in protein but not as glutenous as whole wheat, so it is not suitable for building structure. So it's better to pair it with either whole wheat flour or all purpose flour. Since cookies don't rise much, substituting barley flour up to half the flour in a cookie recipe should not be a problem. For high-rising baked goods like muffins, quickbread and cake try substituting barley flour for one-fourth (1/4th) of the flour in the recipe. Yeasted breads too don't rise higher if too much barley flour is used.
Sources for the above information:
The Complete Whole Grains Cookbook by Judith Finlayson and King Arthur Flour's Whole Grain Baking book.
Recipe Ideas:
Rules of the event:
1 Bake anything eggless using one or more of the whole grain forms of barley (hulled barley, hull-less barley, barley girts, barley flour, barley flakes, barley couscous). Even though pot barley and pearled barley is not whole grain, I will accept recipes using this because the listed whole grain forms of barley may not be accessible for everyone.
2 Post it in your blog between Nov 6th 2009 and Dec 5th 2009. The dish can be anything sweet, salty or spicy. The recipes must be either vegetarian and eggless or vegan. If the recipe is from books/blogs/websites, please link back /mention the original source.
3 Multiple entries are more than welcome. Recipes posted prior to the announcement of this event are also welcome provided it qualifies the above criteria and is linked back to this event. Reposting is not necessary. As always there is prize for this event too and old entries will also be considered.
4 Email me your name, blog URL, name of the recipe, recipe URL, photo in 150w x 120h size to wholegrains(at)egglesscooking.com with Barley as the subject.
5 Non-bloggers you can submit your entries in Eggless Cooking Forums under Share Egg Free Recipes. You have to register first and it's free! Send me an email after updating there and I'll include it in the round up.