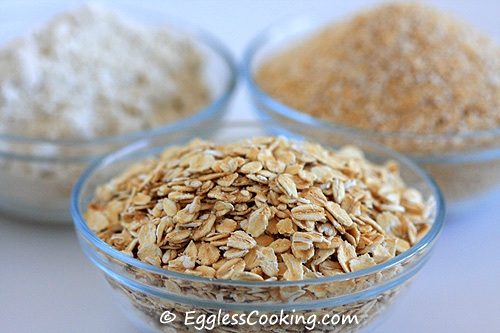 Some of y'all must be wondering what's with the event announcement without posting the Whole Wheat round up! I'm sorry participants, I'll be posting it in a week's time. As promised there is definitely a giveaway for one entry selected at random. With all your support and enthusiastic participation I would like to continue this Whole Grain (Eggless) Baking series with Oats as this month's theme.
For some Oats might be foreign, but we have been consuming oats regularly for the past 4 years, at least my husband. He takes only oatmeal for breakfast everyday. We prefer the South Indian style salt porridge (kanji) to the Western sweet oatmeal. It's nothing but mixing cooked oatmeal (quick cooking oats) with buttermilk, salt and a small pinch of asafoetida (hing). Recently our favorite is my mother's recipe for oats pongal, Usha's instant oats idli and Anu's instant oats dosai (crepes). These dishes are very easy to prepare and very tasty too. Once I started baking, oats has found its presence quite often in my baked goods too.
Earlier I have mentioned that a Whole Grain comprises 3 parts: the Bran, Endosperm and Germ. Unique among grains, oats almost never have their bran and germ removed in processing. So if you see oats in a food label, whether it is old-fashioned or regular, quick cooking or instant oatmeal, steel cut oats and also oat flour, it is whole grain. Oats also contain a special kind of fiber which is found to be effective in lowering cholesterol. It also has a unique antibiotic which helps protect the blood vessels from the damaging effects of LDL cholesterol (Source:www.wholegrainscouncil.org). If these health bonuses are not appealing enough simply consume it for its taste, especially the chewy texture it brings to the baked goods.
So shall we bake with oats this month? Now for the rules:
1. Bake anything eggless using oats (old fashioned/regular, quick cooking, instant oatmeal, oat flour, steel cut oats) and post it in your blog between
Sept 18th 2009 and October 18th 2009
. Even though oat bran alone is not whole grain I will accept recipes which has considerable quantity of oat bran. The dish can be anything sweet, salty or spicy. The recipes must be either vegetarian and eggless or vegan. Use of refined flour is also allowed, but make sure that you use a considerable amount of oats (not just 2 tablespoons of oats but 2 cups of all purpose flour). If the recipe is from books/blogs/websites, please link back/mention the original source.
2. Multiple entries are more than welcome. Recipes posted prior to the announcement of this event are also welcome provided it qualifies the above criteria and is linked back to this event. Reposting is not necessary. As always there is prize for this event too and old entries will also be considered.
3. Email me your name, blog URL, name of the recipe, recipe URL, photo in 150wx120h size to wholegrains(at)egglesscooking.com with Oats as the subject.
4. Non bloggers you can submit your entries in Eggless Cooking Forums under Share Egg Free Recipes. You have to register first and it's free! Send me an email after updating there and I'll include it in the round up.