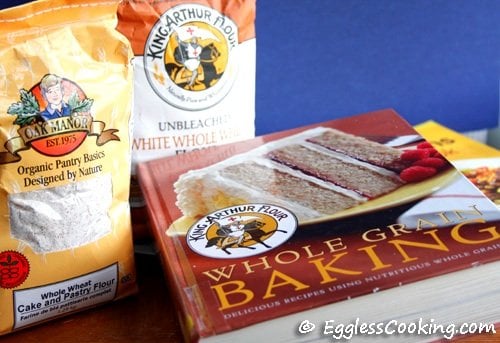 I'm very happy to inform everybody that the Low Fat Eggless Baking Event has been a grand success with 49 entries (excluding my 7 recipes). I think that it's a huge number considering the limitations; low fat and eggless. I would like to thank each and every participant for making this happen. The round up will be posted shortly and I have not forgotten about the giveaway!
So what's next? It's now time for Whole Grain (Eggless) Baking event! I have been thinking about this for quite sometime now. To tell the truth, I got this idea even before the Low Fat Baking idea. I sort of wanted to test the waters with the low fat event. Seeing the positive response I'm pretty sure that the Whole Grain Baking event will also be well received.
There are a lot of whole grains and flours easily available in the market today. To do justice to the goodness of each grain, I have decided to feature one or two grains every month. So we can have a good number of baking recipes using each grain. More about the rules of the event after a small introduction about whole grains.
Whole grains are seeds of certain plants and are considered whole because they contain all three parts of the grain: bran, germ and endosperm. Most of the grains we consume are highly refined, meaning the bran and the germ, which contain valuable nutrients, are removed leaving the endosperm which has the fewest vitamins and minerals. Even though the refined grains are subsequently enriched they are far less nutritious than whole grains.
The health benefits of consuming whole grains is multitude. It reduces the risk of stroke, heart disease and type 2 diabetes and also helps in better weight maintenance.
The recommended amount of whole grain intake every day is at least 3 servings (16 gms each). To make it more clear, check the following suggestions in the 2005 Dietary Guidelines for Americans, where a serving of whole grain is defined as any of the following: (for more details check www.wholegraincouncil.org)
1/2 cup cooked brown rice or other cooked grain
1/2 cup cooked 100% whole-grain pasta
1/2 cup cooked hot cereal, such as oatmeal
1 ounce uncooked whole grain pasta, brown rice or other grain
1 slice 100% whole grain bread
1 very small (1 oz.) 100% whole grain muffin
1 cup 100% whole grain ready-to-eat cereal
List of Whole Grains
Amaranth
Barley
Buckwheat
Corn, including whole cornmeal and popcorn
Millet
Oats, including oatmeal
Quinoa
Rice, both brown rice and colored rice
Rye
Sorghum (also called milo)
Teff
Triticale
Wheat, including varieties such as spelt, emmer, farro, einkorn, Kamut®, durum and forms such as bulgur, cracked wheat and wheat berries
Wild rice
More about the amount of liquid required for cooking and the time it takes to cook for each grain.
Now for the rules of the event:
1. Let's experiment with Whole Wheat this month. So bake anything eggless using whole grain forms of wheat which includes bulgur, cracked wheat, farro, Kamut flour, spelt flour, wheat berries, whole wheat flour, white whole wheat flour and whole wheat pastry flour and post it in your blog between
July 6th 2009 and August 5th 2009
. Recipes which use considerable quantity of wheat germ and wheat bran are also welcome. It can be anything sweet, salty or spicy. The recipes must
be either vegetarian and eggless or vegan. Use of refined flour is also allowed, but make sure that you use a considerable amount of whole wheat flour. (not just 2 tablespoons of whole wheat flour but 2 cups of all purpose flour). If the recipe is from books/blogs/websites, please link back/mention the original source.
2. Multiple entries are more than welcome. Recipes posted prior to the announcement of this event are also welcome provided it qualifies the above criteria and is linked back to this event. Reposting is not necessary. But …. (check it below)
3. Email me your name, blog URL, name of the recipe, recipe URL, photo in 150wx120h size to wholegrains(at)egglesscooking.com with Whole Grain Baking as the subject.
4. Non bloggers are also welcome to send your recipes, tips and picture of your creation and I will include it in the round up.
There is a giveaway this month too. One entry will be selected at random to receive a small gift. Attention bloggers:
You can send in your old recipes and I will include it in the round up but only new recipes will be entered for the giveaway.
Resources for Whole Grain Baking recipes:
Whole Grain Council (They have an interesting collection of recipes from various websites)
King Arthur's Whole Grain Baking (one tip I found worth mentioning, replace 1/4th liquid in the recipe with orange juice (I assume it's freshly squeezed) to mellow the whole wheat taste/flavor)