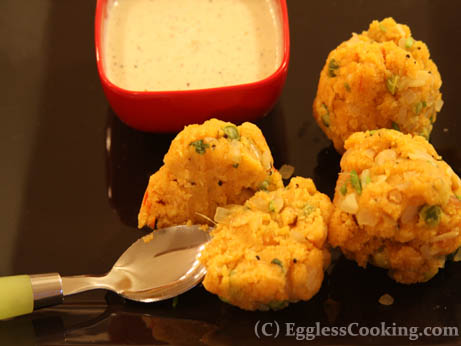 Earlier this week my friend Smitha, left a comment in my blog saying that she tried the oven baked zucchini fries and it came out very well.  Couple of weeks back she also mentioned that she tried the Easy Basundi for a party and it was a hit too.  When I posted a recipe for making Easy Baklavas another friend SS prepared baklava the traditional method and sent me a picture also, telling that it was inspired by me.  Last week another visitor A also mentioned that she tried the Zucchini Dal and Zucchini fries.  Thanks a lot buddies.
I'm mentioning all this because, even though I started this blog as a hobby to pursue my passion for baking/cooking, I feel very happy when I read each and every comment and exhilirated when somebody tells me that they tried the recipes in my blog and it came out well.  So I thought why not pass this happiness to other food bloggers too.  Even prior to starting my own blog, I have visited many blogs and have kept bookmarking interesting recipes but tried only a very few.  Call it laziness or lack of time.  Since I have a food blog now, I know how happy I would be if somebody tried my recipe and complimented it.  So I want to make a conscious effort to try at least one recipe every week from other blogs and hence this ode to the food blogging community.  There are so many food blogging sites which have great recipes!!!
I know what you all are thinking, this is very similar to MBP (Monthly Blog Patrol) created by Coffee of The Spice Cafe.  Yes it is, but I want to make it more current. Since we all know that there is a shortage of rice supply in the US, I thought why not try to go on a rice strike for atleast one meal every week.  Even now in my family we eat rice only for lunch and it's a light meal in the evenings. But again being a south indian our light meals are limited to idli, dosa, pongal, arisi (rice) uppuma and it also has rice as the main ingredient.  I do make soups and salads regularly but considering the pressing issue of increase in the price of rice I wanted to do something more.  So I thought why not try one more non-rice main dish from other food blogs once a week (more than 1 meal would be great too) and post the final picture/pictures every Sunday.  This is my own way of thanking all the food bloggers for the wonderful recipes produced in their kitchens and reproduced in their virtual kitchen.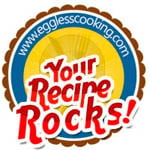 By cooking 4 non-rice main dishes a month we will not only limit our rice consumption but we will also be experimenting various other cuisines, food grains, and increase the consumption of fruits and vegetables which is healthy as well.  More than anything we can bring a smile in the face of our blogging friends more often.  I don't want to call this an event, instead a tradition and name it Your Recipe Rocks (YRR). 
The rules are:
1.  Just make a conscious effort of recognizing your fellow bloggers' efforts and make a Non-Rice dish you like from their recipes atleast once a week and post it in your site and link it back to the parent site and to this post.  If you could mention "Your Recipe Rocks (YRR)" in the title of your post, it would be easy to check it out while browsing the entries in the RSS feed aggregators.  Posting the recipe is not necessary, but mentioning any variations done to the original recipe should be fine. Also email me your name, recipe title, 125 x 125 pixel photo URL and the permalink of your post using the contact page.
2.  It has to be a wholesome, stomach filling main dish without rice.  Those who are already not eating rice and the main dish is either chapathis, parathas or bread, you can try different types of parathas from other blogs or a side dish in case of chapathis or add a salad/soup to your meal.  The recipe should be from another food blog and not any cooking/recipe website.  There are so many things we can come up with, like soup, salad, pizza, sandwich, pasta, bread, use couscous, quinoa, barley, oats, millets, beans etc.
3.  As I have mentioned earlier you need not limit to one rice free dish a week, more than that is also fine.
4. If you don't have a blog you can send the picture/pictures and links to the recipes you have tried via the contact page.  I will do the round-up in the first week of the following month.
Anybody interested in joining me to start this small tradition?
P.S: Everything said I would like to add one final note.  This is neither a competition nor compulsory. I know how tedious food blogging can get, having to cook/bake something interesting regularly and taking pictures, participating in so many food events and other stuff.  So don't stress yourself too much.  It's ok if you are not able to cook something new every week.  Just consider what I have written and do it whenever you find time, and post it in your blog the following Sunday.
Dee, thank you very much for your time and support.
This week I tried Cham's Idli Rava Kichidi.  Cham had prepared this kichidi and chutney for JFI: Garlic.  Instead of using idli rava I prepared the kichidi with regular rava (semolina), crushed tomatoes instead of fresh ones and added a handful of frozen peas while the water was boiling.  The kichidi tasted very good.  I added only one 1 garlic clove in the chutney to suit our palette.  My husband loved the flavor of garlic both in the kichidi and in the chutney.  
Thanks Cham for the wonderful recipe.   Looking forward for many tasty recipes from you.  Your Recipe Rocks 😉
Subscribe To Eggless Cooking
Don't miss our new eggless recipe updates in your email inbox! Sign up now.