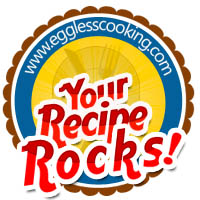 I'm back from a short trip to New York and New Jersey.  Since it's my mother's first visit to US, we started off our sight seeing agenda with New York.
We wanted to avoid the queues and traffic of the long weekend, so we shifted our trip to Wednesday and Thursday.  It clearly was a very good idea, because we did evidence the unbelievable traffic jam towards New Jersey, when we were heading back home.
I have received 18 entries for Your Recipe Rocks event, for the month of June 08. Thank you very much all the participants. I really appreciate your enthusiasm in trying out recipes from other blogs.
From July I would also like to include pictures in the round up so please send me a 125×125 pixels photo (just the URL), along with your name, the recipe title, and the Permalink of your post using the Contact Page.  Also link your post to the event announcement.
[tab:June 08 YRR Entries]
[tab:END]