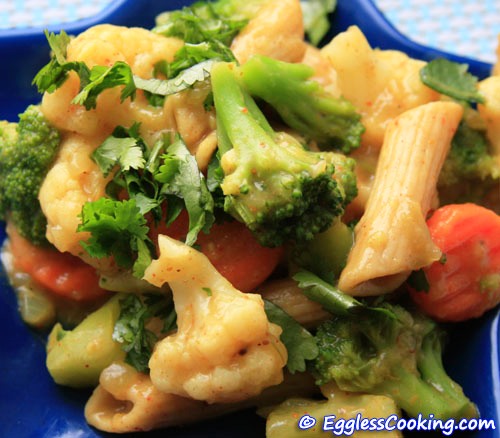 Recently I have been seeing a lot of Indian/Indianized recipes in the Western cookbooks. The Curried Pasta and Vegetables is one such recipe from the book "1001 Low-Fat Vegetarian Recipes". As the name suggests the book has 1001 low-fat vegetarian recipes; from appetizers to desserts the recipes are classified under 17 categories. I think I have to keep renewing this book in the library at least for 2-3 months.
Coming to this recipe, I adapted it from one of the recipes in the book. This is also a vegan pasta dish, without any cheese. Since the pasta gets it's flavor from the curry sauce, the taste gets even better the next day. So you can prepare this on Sunday evening and have it for Monday's dinner. The curry sauce can also be prepared ahead and it's also versatile. Just throw in the vegetables you have at hand, the curry sauce and the pasta, you have a wholesome and nutritious meal ready in no time.

| Prep Time | Cook Time | Makes |
| --- | --- | --- |
| 05 Mins | 20 Mins | 2 Servings |
| Author | Category | Method |
| Madhuram | Pasta/Spaghetti | Cooking |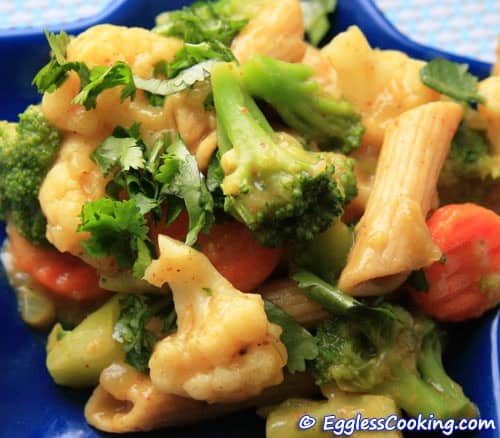 A very simple recipe to prepare a satisfying vegan pasta dish using whole wheat pasta, mixed vegetables and curry sauce. The beauty of this recipe is its simplicity which doesn't call for any special vegan ingredients, although adding some nutritional yeast would elevate the taste and flavor.

Ingredients For Pasta:
2 Cups

Vegetables Of Your Choice (I Used A Combination Of Broccoli, Cauliflower And Carrots Readily Available In The Frozen Food Section, 16Oz Pack)

1 Cup

Dry Pasta Of Your Choice (I Used Whole Wheat Penne)

1/4 Cup

Chopped Cilantro

To Taste

Salt And Pepper
Ingredients For Curry Sauce:
1 Teaspoon

Olive Oil

1/4 Cup

Finely Chopped Onion

4 Cloves

Minced Garlic

2 Tablespoons

All Purpose Flour

2 Teaspoons

Curry Powder

1/4 Teaspoon

Cayenne Pepper/Chilli Powder

2 Cups

Vegetable Broth

1 Tablespoon

Cornstarch

1/4 Cup

Dry White Wine Or Water (I Used Water)

To Taste

Salt And Pepper
Procedure for Curry Sauce:
Add 2 teaspoons olive oil to a medium saucepan; saute onion and garlic for 2 to 3 minutes.
Stir in flour, curry powder and chilli powder. Cook 1 minute, stirring.
Add broth and heat to boiling.
In a small vessel combine the cornstarch and water, until the cornstarch dissolves without forming any lumps. Add this mixture to the boiling broth and bring it to a boil, stirring, until thickened, about 1 minute. (Actually it took more than a minute for the mixture to thicken.)
Season to taste with salt and pepper.
Assembling the Pasta:
Steam the vegetables for 8-10 minutes if using frozen vegetables. If using fresh ones 6-8 minutes should be fine. Sprinkle some salt and toss the vegetables once, while steaming.
Cook pasta as per the instructions in the package. Drain it, reserving around 1/4 to 1/2 of the pasta cooked water.
Combine together the steamed veggies, pasta and the curry sauce. Check for seasoning and sprinkle cilantro.

Nutrition Facts
Servings: 2
Per Serving
% Daily Value*
Calories

247

Total Fat

4.7g

7%
Saturated Fat

0.8g

4%
Trans Fat

0g

Cholesterol

0mg

0%
Sodium

1354mg

56%
Potassium 306mg
9%
Total Carb

37.4g

12%
Dietary Fiber

6.7g

27%
Sugars

1.5g

Protein

13.3g

Vitamin A 5% – Vitamin C 6%
Calcium 5% – Iron 17%

Try this recipe, click a pic and hashtag it #egglesscooking - Proudly showcase your creations on Instagram, Facebook & Twitter!