Wondering how to make cake without eggs? You have landed in the right page. Making egg free cakes shouldn't be a problem anymore. I have a huge collection of recipes with tips and tricks for you to bake eggless cakes and eggless cupcakes without any difficulty.
How to substitute eggs in Cakes?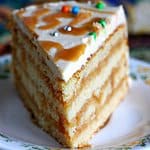 The most commonly used egg alternatives for cakes will be silken tofu, yogurt, pureed fruit, vinegar (in specific recipes, strictly not for recipes that uses more than 1 egg).
Personally, I found a winning combination to substitute for eggs in cakes, which is a mix of yogurt and pureed silken tofu. It works out beautifully, especially in plain vanilla sponge cakes.

All these recipes have step-by-step procedure with pictures. Without further ado, here is the list of eggless cake and cupcake recipes that I tried and came out good.