Here is the list of eggless brownies and eggless bars that I tried and came out good. All these eggless brownie recipes have step-by-step procedure with pictures.
How to substitute eggs in Brownies?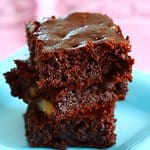 Eggs are mostly used in brownies as a binding agent.
1/4th of a cup of pureed fruit (applesauce recipe , mashed bananas, pureed prune), pureed silken tofu, yogurt/buttermilk or flax egg can be used.