Here is the list of eggless cookies that I tried and came out good. All these cookie recipes without eggs have step-by-step procedure with pictures.
How to substitute eggs in Cookies?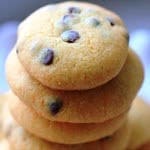 The best substitutes for eggs in cookies are Ener-G egg replacer (or any other brand of commercial egg replacer powder), flax egg, sweetened condensed milk.
In rare cases, vinegar too works in cookies.
Unsweetened applesauce will make the cookies very soft.
My favorite is Ener-G. Follow the directions given in the pack. For each egg to be replaced, you will have to use about a teaspoon of the egg replacer powder whisked with 3 tablespoons of preferably warm water. You can replace up to 4 eggs using this ratio.
Sometimes I even use about 1.5 to 2 teaspoons of Ener-G as the pack reaches the expiry date.