Check out this page for awesome eggless pancake and eggless waffle recipes which is easy to make without compromising on the taste. These are recipes even approved by egg lovers!
How to substitute eggs in Pancakes?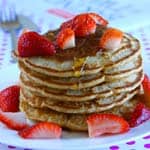 Baking powder is a good replacement for eggs in pancakes, but it might not work if a recipe calls for more than 1 egg. I have got the best eggless pancake recipe already on the blog (see below). Do try it.
If you are looking at a pancake recipe that has eggs and you want to make the pancake without eggs then most probably flax egg, 1/4 cup of mashed banana or unsweetened applesauce for each egg to be replaced should work fine.
Also, you might have to tweak the measurement of leavening agents depending upon the recipe and depending upon the substitute that you are planning to use.

Other Eggless Breakfast Recipes