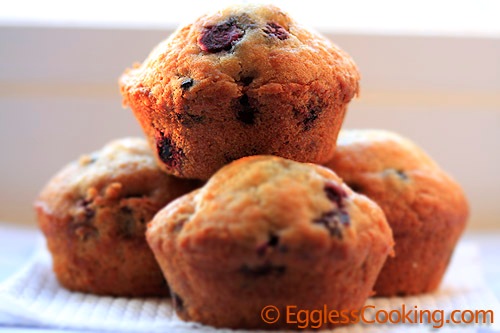 Here comes another amazing vegan recipe from The Joy of Vegan Baking. I'm pretty sure that this is the best eggless/vegan blueberry muffins one can bake.
The recipe does have a minor flaw (the oven temperature), which can definitely be taken care of. The texture of this muffin is unbelievable.
It's as light as an angel food cake, which is made purely with egg whites. You can imagine how light that cake would be.
So this blueberry muffins which uses vinegar as an egg substitute is also equally light and airy.
I used apple cider vinegar this time and did not get any aftertaste or smell from the vinegar. I made two batches of these muffins, used dairy milk (2%) and lemon zest for the first batch; rice milk and orange zest for the second batch.
A few days back I baked a cake using white vinegar and soy milk and was not at all satisfied with the result. It had a strong smell of vinegar and the soy milk made it sticky too.
That's the reason I chose to use rice milk and apple cider vinegar for these blueberry muffins. I've baked using soy milk before and didn't have this issue. I think the brand of soy milk and the recipe matters for getting the desired result.
Even though I have used lemon zest in this vegan blueberry muffin recipe I'm very confident that using some orange juice instead of the milk and orange zest in place of the lemon zest would be awesome in this recipe because I'm an oranges fan.
If you too are an orange fan like me don't miss a chance to try this orange cookie recipe. You will love it!

| | | |
| --- | --- | --- |
| Vegan Blueberry Muffins Recipe | | |
| Prep Time | Cook Time | Makes |
| --- | --- | --- |
| 15 Mins | 22 Mins + 5 Mins Cooling | 12 Muffins |
| Author | Category | Method |
| Madhuram | Muffins | Baking |
It's unbelievable that these light and airy blueberry muffins are made with vinegar and not eggs.

Ingredients:
2 cups

Unbleached All Purpose Flour (I used bleached)

1 and 1/2 teaspoons

Baking Soda

1/2 teaspoon

Salt

2 Lemons

For Lemon Zest

3/4 to 1 cup

Sugar

1 cup

Milk, any (I used Rice Milk)

1/3 cup

Canola Oil

1 teaspoon

Lemon Extract (I did not use it)

1 tablespoon

White Vinegar (I used Apple Cider Vinegar)

1 and 1/2 cups

Fresh OR Frozen Blueberries
Procedure:
Preheat the oven to 375F (see My Notes) for 15 minutes. Lightly grease a muffin tin.
In a medium bowl, combine together flour, baking soda, salt and lemon zest.
In a large bowl, combine the sugar, milk, oil, extract, and vinegar. Mix well.
Add the dry ingredients to the wet ingredients, stir until just combined. Don't over stir.
Gently fold in the berries using a rubber spatula.
Fill the muffin tins about 2/3rds full.
Bake until a wooden skewer inserted into the center comes out clean, about 22 minutes.
Remove from the oven and let it cool for 5 minutes. After that remove the muffins from the tins and cool on a wire rack.
My Notes:
I didn't want to bake 2 batches when I started. What happened was I didn't read the recipe properly and poured the measured sugar on top of the flour instead of mixing it with the wet ingredients. I continued with it anyway and saw that the muffins began to brown very much around 12 minutes itself. The original recipe had mentioned to bake it at 400F. So I reduced the oven temperature to 375F. I thought that adding sugar to the flour was the reason and so I baked another batch following the instructions correctly. Even then the same thing happened. That's when I realized that the oven temperature was the culprit. That's the reason I have changed the temperature to 375F in the procedure. Later I was going through a whole wheat banana muffin recipe in The Joy of Baking website and there it was mentioned that baking that muffin directly in a muffin tin without the paper liner would yield crusty and brownish muffins but it would soften later. The same thing happened in these blueberry muffins too. So you may also try lining the muffin tins with a paper liner, instead of pouring the batter in the greased molds.
Regarding sugar, the original recipe itself mentions 3/4-1 cup. For the first batch, I used 3/4 cup because the vegan strawberry cupcakes which I tried earlier from the same book used 1 cup sugar and was very sweet. The sweetness of the blueberry muffins were perfect for us, but it may not be enough for everybody, especially if the blueberries are very sour. So for the second batch (I had already decided to give it to my neighbors because I didn't want to have it at home and gain weight), I decided to increase the quantity of sugar. I used little more than 3/4 cup and little less than 1 cup. That was good too.
I used frozen blueberries. Thawing is not necessary. Add it to the muffin batter directly from the freezer, but do not over mix, or else it would start bleeding.

Nutrition Facts
Servings: 12
Per Serving
% Daily Value*
Calories

198

Total Fat

6.5g

10%
Saturated Fat

0.5g

2%
Trans Fat

0g

Cholesterol

0mg

0%
Sodium

263mg

11%
Potassium 44mg
1%
Total Carb

33.2g

11%
Dietary Fiber

1g

4%
Sugars

14.4g

Protein

2.3g

Vitamin A 0% - Vitamin C 5%
Calcium 1% - Iron 7%

Try this recipe, click a pic and hashtag it #egglesscooking - Proudly showcase your creations on Instagram, Facebook & Twitter!
I know that it's easy to get tempted to replace the oil/fat in a baking recipe with applesauce to make it fat-free, but that would result in dense and dry muffins. It won't be as airy as using oil alone. So I would suggest just replacing half the quantity of oil with applesauce.
Since the acidic content of lemon juice is less when compared to vinegar you might have to double the quantity of vinegar. For example, if recipe calls for 1 teaspoon of vinegar, use 2 teaspoons of lemon juice.
Lemon zest is nothing but grating the skin of the lemon. Care should be taking while doing this so that the inner white sheet from the skin does not peel away because it will be bitter. Lemon extract is like vanilla, almond extract which is in liquid form. I wouldn't say that it's compulsory but it definitely will give a nice flavor to the muffins. You may choose to use orange zest/extract instead of simply vanilla extract will be good too.
Opening the oven door quite too often while it is baking makes cold air enter in the oven and might be the reason for the muffins to sink. Another reason can be that you used little too much batter for each muffin.
No it doesn't work like that . You would have to use xanathan gum. I haven't baked this recipe gluten free and have read that simply substituting the all purpose flour with gluten-free flour would not work especially in baked goods which has to rise, like muffins, cupcakes and cakes. Brownies and cookies should not be that much of a problem to bake gluten-free and can be done without xanathan gum too. Gluten-free and egg free is a lot of trial and error method only. But some of the readers did mention that they tried this recipe gluten-free using rice flour and gluten-free mix (which already has the xanathan gum in it). You may try it at your discretion. I will try to bake a gluten-free version shortly and blog about it soon.
Just use dairy milk and if you prefer butter, melted butter instead of oil. One of the readers suggested that the muffins turn out better if oil is used instead of melted butter though.
Any oil of your choice which has a neutral flavor. Peanut oil, sunflower oil, (refined) coconut oil, avocado oil, etc.
You can try it at 350F but bake it a couple of minutes longer.
Halving the recipe may not work out always. It's again for you to experiment and see. Another option is to bake all the muffins and freeze the remaining and use it later. If you decide to halve the recipe and if you are using a 12 cup pan then you will have to fill the rest of the cups with little water so that the muffins will bake evenly and doesn't get dried out.
You can try flax seed meal but I'm pretty sure that the muffins won't be as airy and as light as the ones with lemon and vinegar. You can try blending a teaspoon of flax seed meal with 3 tablespoons of warm water.
There are a couple of reasons for this:
1) If you try to peel off the wrapper while the muffins are still warm
2) If you make it low-fat or fat free 3) If you don't lightly grease the liners with non-stick cooking spray.
The temperature does not change but you need to bake it for a lesser time than you would bake regular sized muffins. Somewhere between 12-15 minutes.
Rice milk is derived from cooked white/brown rice. You can use any other non-dairy milk like almond milk, oat milk, hemp milk etc. I personally don't prefer using soy milk because it gives a sticky texture to the baked goods. For vegan baking my choice is either rice milk or almond milk.
Yes you can use any other berries or fruits of your choice. Or even add ons like nuts, chocolate chips, dried fruits etc.