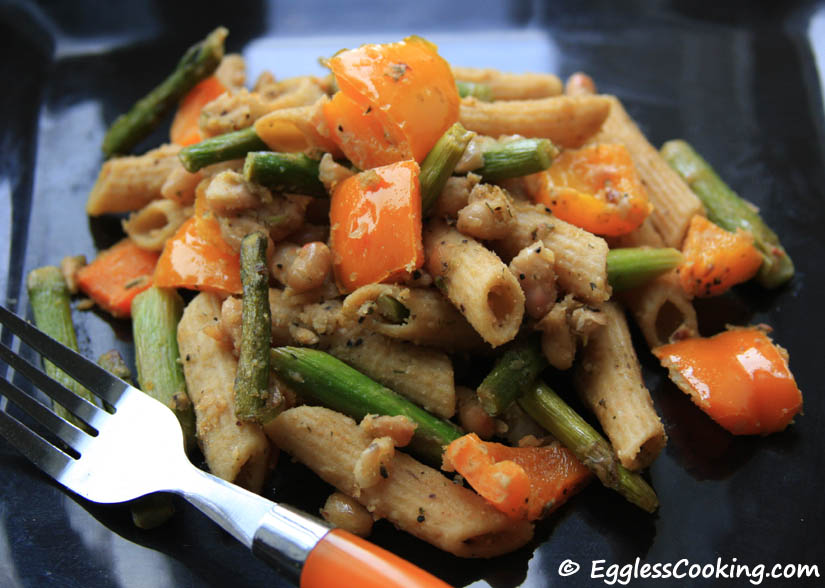 Recently we had been to Olive Garden for the first time. I think they should rename it as "Salt Garden" instead. Right from the appetizer bread sticks to the main entree, every dish was very very salty. Even though I have to agree that we as a family have restricted our intake of salt and chillies/spicy stuff, the amount of salt used by the restaurant was way too high.
The breadsticks, minestrone soup, and the salad had the highest sodium content. When inquired the waitress about this, she told us that this is how it's prepared every day and it made us feel like we were from a strange planet. It really made us wonder if the average American is eating so much salt? But on the good side, the prices were definitely reasonable. With so much awareness about health in general and specific issues too, I cannot understand why they would use so much salt?
I don't think that we will be going there again anytime soon for 2 reasons. a) it's too far away from our place and b) we don't want to consume so much salt. So in the meantime to satisfy my husband's "pasta cravings", I have to find pasta recipes which are easy to prepare, tasty and healthy as well.
On the mission, I borrowed Betty Crocker's Easy Everyday Vegetarian book from the library. This "Lemon Pepper Pasta" recipe caught my eye because it used very fewer ingredients and no cheese at all.
Since Divya's Diet Foods event came to my mind, I decided to make it even more healthy by using whole wheat pasta instead of regular pasta and also reduced the amount of oil mentioned in the original recipe.
Whole wheat pasta, asparagus, and navy beans are rich in fiber, so we felt full very soon, ended up eating less. This dish is also protein rich, which again is key when it comes to "diet food". Whole wheat pasta does taste good, nothing as I dreaded and we also didn't miss the cheese.

| | | |
| --- | --- | --- |
| Vegan Lemon Pepper Pasta Recipe | | |
| Prep Time | Cook Time | Makes |
| --- | --- | --- |
| 05 Mins | 15 Mins | 4 Servings |
| Author | Category | Method |
| Madhuram | Pasta/Spaghetti | Cooking |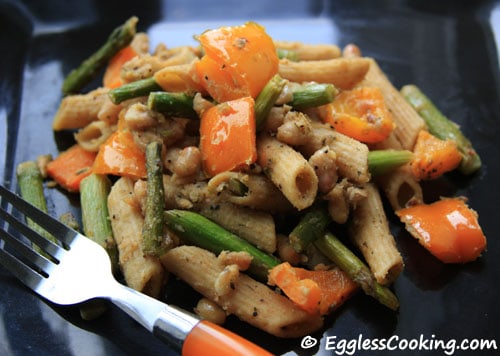 A very simple recipe to prepare a vegan pasta main dish using whole wheat penne pasta, asparagus, bell pepper and seasoned with lemon juice, salt and pepper.

Ingredients:
2 Cups

Uncooked Penne Pasta (I Used Nature's Promise Organic Whole Wheat Penne)

2 Tablespoons

Olive Oil/Vegetable Oil (1/4 Cup Of Oil Mentioned In The Original Recipe)

1

Chopped Medium Orange Bell Pepper (Red Pepper Used In The Original Recipe)

1 Pound

Asparagus Cut Into 1 Inch Pieces

As Needed

Salt And Pepper

As Needed

Mrs Dash Sodium Free Lemon Pepper Seasoning (See My Notes)

As Needed

Lemon Juice

1 Can (15 To 16Oz)

Drained And Rinsed Navy Beans
Procedure:
Cook and drain pasta as directed on package.
Meanwhile in a skillet, heat oil over medium-high heat.
Add bell pepper, asparagus, lemon pepper, salt; cook, stirring occasionally until vegetables are crisp-tender.
Stir in lemon juice and beans. Cook until beans are hot.
Add pasta; toss with vegetable mixture.
My Notes:
If you have doubts about using whole wheat pasta, you can start with 1 cup of regular pasta and 1 cup of whole wheat pasta. Then slowly try increasing the ratio and in no time you would prefer only whole wheat pasta.
Grated lemon zest was used in the original recipe. Since I had the lemon pepper seasoning, I used it instead. So you can simply use a combination of salt, pepper and lemon juice to suit your taste.
I would also suggest using any other hard beans instead of navy beans. Navy beans are very soft and it becomes mushy when you toss the pasta a couple of times. I think either Kidney beans or Chickpeas would be perfect.

Try this recipe, click a pic and hashtag it #egglesscooking - Proudly showcase your creations on Instagram, Facebook & Twitter!