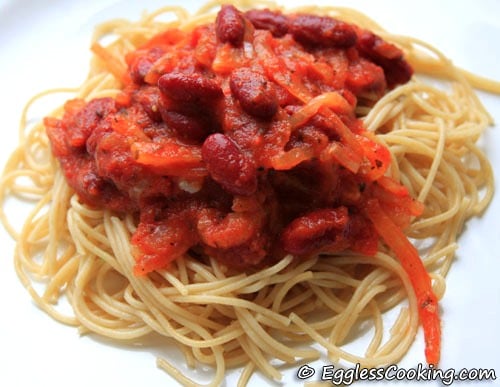 Couple of months back I tried a spaghetti recipe. I prepared some rajma using red kidney beans, cooked whole grain spaghetti as per package directions and topped the pasta with rajma. That was one satisfying meal.
I wanted to prepare something similar with Italian flavors. I came across a sauce recipe with borlotti beans in a book called Vegetarian Bible. I didn't have that beans in hand, so I thought I would use canned kidney beans instead, add some Italian seasoning and top it over the cooked spaghetti. And that's how this spaghetti recipe was born.

| | | |
| --- | --- | --- |
| Spaghetti With Kidney Beans Sauce Recipe | | |
| Prep Time | Cook Time | Makes |
| --- | --- | --- |
| 15 Mins | 30 Mins | 2-3 Servings |
| Author | Category | Method |
| Madhuram | Sauces | Cooking |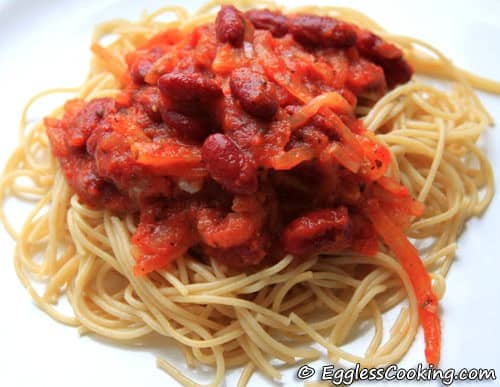 A simple yet satisfying vegan spaghetti recipe with kidney beans sauce.

Ingredients:
Half A Pack Of 13.5oz Pack

Uncooked Spaghetti

2 teaspoons

Olive oil

1

Thinly Sliced Large Onion

One 15.5oz Can OR 2 Cups Cooked Beans

Kidney Beans

2 cups

Tomato sauce, I used Prego Heart Smart Italian Sauce

As Per Taste

Itaian Seasoning OR Fresh/Dried Herbs of your choice

To Taste

Salt and Pepper

A pinch

Baking soda (Optional)
Procedure:
Heat the olive oil in a large skillet over medium heat. Simultaneously boil water in a large stock pot to cook the spaghetti.
Add the onion and cook, stirring occasionally for about 5 minutes, until softened.
Stir the tomato sauce into the skillet with the cooked beans and seasoning of your choice. I used 1 teaspoon of dried Italian seasoning.
While the sauce is cooking, cook the pasta as per package directions. Once the pasta is cooked, drain it, reserving 1/2 to 1 cup of the water. Add the reserved water to the sauce if required.
Increase the heat and bring the sauce to a boil, stirring. Add baking soda, if using and lower the heat, partially cover, and simmer for about 10 minutes, or until the sauce has slightly reduced.
Add salt/pepper to the sauce as per taste, transfer to a serving bowl. Serve the sauce over pasta and enjoy a hearty meal.
My Notes:
For the pasta I used Barilla whole grain thin spaghetti. It tastes so good and is healthy too. My tall stockpot is buried somewhere in the closet and I didn't have the patience to take it out. So I broke the spaghetti into half and cooked it in a big saucepan.
I read in a magazine that adding baking soda to tomato sauce or any other tomato dish would reduce the acidity of the tomatoes. Since we are slightly sensitive to excessive tomatoes I added it.
The above measurement makes a lot of pasta and sauce. It was definitely more than enough for the 2 of us. So you may want to halve the measurements to make a smaller serving. I found out another way to use the leftovers, will post it shortly. Actually that leftover spaghetti recipe was a bigger hit with my son than the original one.

Try this recipe, click a pic and hashtag it #egglesscooking - Proudly showcase your creations on Instagram, Facebook & Twitter!