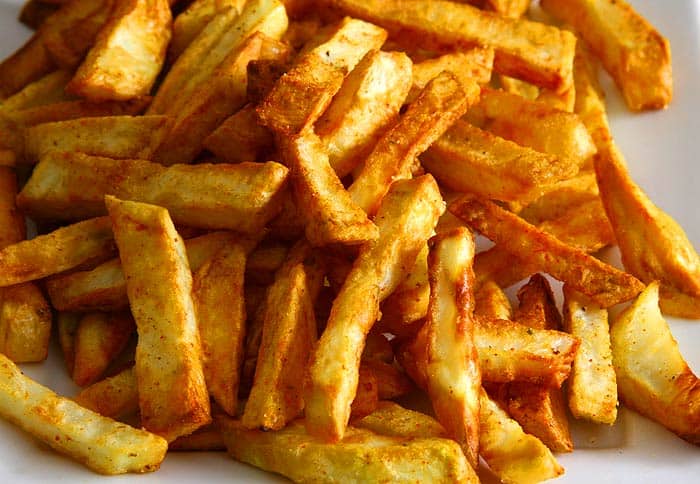 Air Fryer French Fries: First post of the year 2022! I'm excited to talk about my new addition to the kitchen. I have been eyeing an air fryer for God knows how long! Until a few years back I used to have this uncontrollable urge to buy new kitchen equipment or products and would act upon it immediately without knowing for sure if it really is inevitable. I had to have it.
Over the years I guess I finally got the maturity to be prudent with such purchases and buy things that are only absolutely necessary and avoid impulse purchases.
Being a vegetarian I was not sure if an air fryer was an absolute necessity for me because all I would use it for was to make French Fries. Do I need another piece of equipment in an already full kitchen just to make French Fries? Can't I just do it in my oven?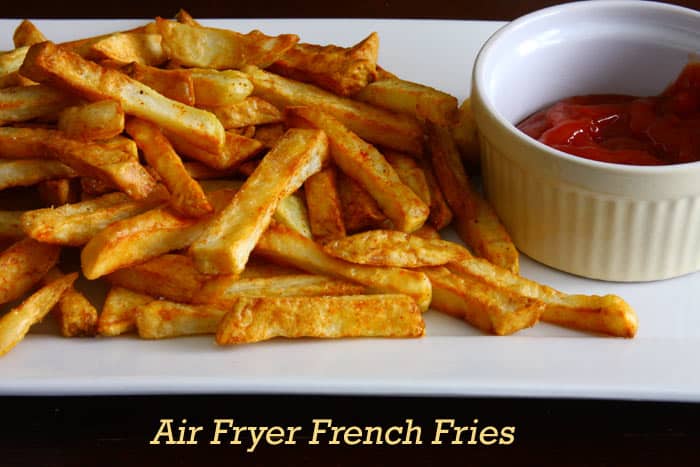 Then I did some research about the type of things that I can make using an air fryer and the results looked promising. Also, another factor was, living in a small townhouse I'm using my oven as storage too due to lack of space. I have kept a lot of baking sheets, casserole dishes, etc inside the oven.
Every time I have to bake I have to remove all these put them aside do my baking, and once it is cool enough then put back everything inside. The thought of this itself puts me off from baking these days.
So I thought maybe an air fryer can save me this hassle and also I might be using it more often to roast broccoli, cauliflower, asparagus, and of course French fries too.
Finally made the purchase with the money my mom gifted because I found an awesome deal on Amazon. The Innsky brand air fryer had raving reviews and was on sale so just went ahead and bought it.
Last week I test fried/roasted a few veggies I had at home. Roasted broccoli turned out crispy like chips. Sweet potato and potato French fries were a hit with the kids.
I made French fries with some yellow potatoes, which are of the mashy kind so I felt that it didn't have the texture or firmness of the French fries we are used to. Wanted to try Russet potatoes which are perfect to make French fries.
So that's what I did today and simply wow! The air fryer fries were amazing! It had the perfect crunchy texture with just a fraction of oil we would normally use to deep fry. Totally unbelievable! I think I can get my money's worth even if I just make french fries in the air fryer and nothing else. I can't wait to try my oven-roasted cauliflower recipe and baked tofu recipe in the air fryer.
How To Make Air Fryer French Fries?
Here is the step-by-step instruction on how to make delcious and super-easy/healthy French fries from scratch: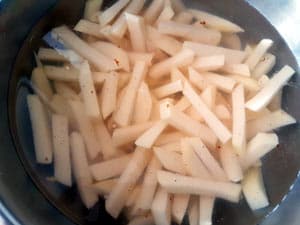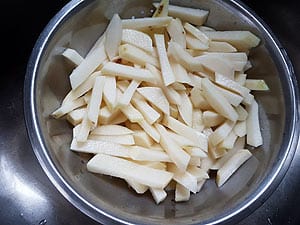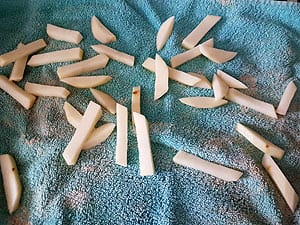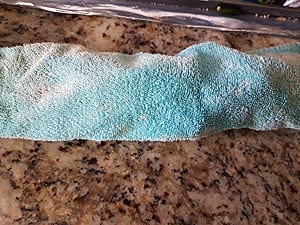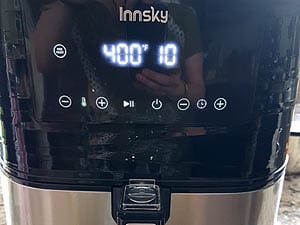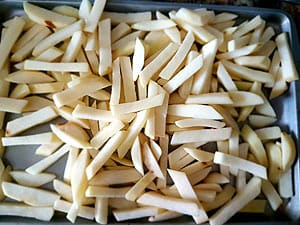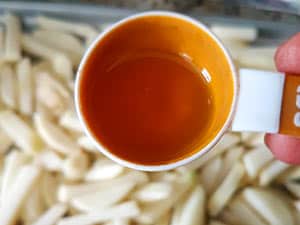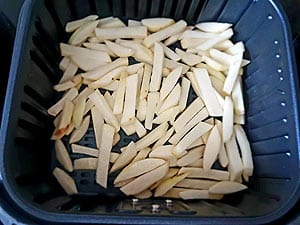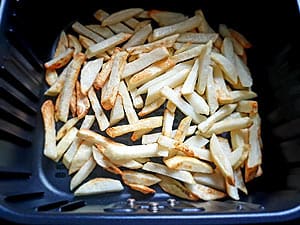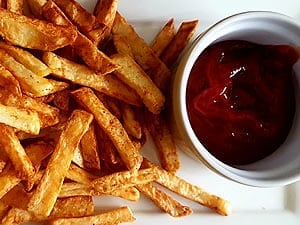 | | | |
| --- | --- | --- |
| Air Fryer French Fries Recipe | | |
| Prep Time | Cook Time | Makes |
| --- | --- | --- |
| 30 Mins | 28 Mins | 5 Servings |
| Author | Category | Method |
| Madhuram | Snacks/Appetizers | Baking |
Want to make almost fat-free French fries that have the perfect crispy texture and that tastes like store-bought deep-fried French fries? Then air frying is the best solution you've got!

Ingredients:
5

russet potatoes, peeled and cut into strips

2 liters

cold water

1.5 tablespoons

oil (I used sesame oil)
Seasoning:
As per your taste

Salt and/or cayenne pepper
Procedure:
Cut the potatoes into strips and soak them in water for at least 15 minutes. More is fine too.
Drain the potatoes, rinse with cold water, and dry it with paper towels or a kitchen towel.
Meanwhile preheat the air fryer. Please follow the instructions of the brand of air fryer you are using.
Once preheated adjust the temperature to 380F/190C and press Start/Pause.
Add oil to the potato slices and toss well until they are evenly coated.
Add the potatoes to the air fryer basket. Do not crowd the basket. Place the potatoes in a single layer. If you have more air fry it in the next batch.
Select the French Fries option, change the time to 28 minutes, and press Start/Pause.
Make sure you shake the basket once halfway through cooking. See how well it is cooked and adjust the time accordingly.
Once done cooking, remove the basket and season the fries with your choice of herbs, spices and salt.
Serve with ketchup.
Taste:
I can't believe that these crispy French fries came out of an air fryer and were made with the least amount of oil possible. The kids devoured it and I didn't restrict them because it was not deep-fried in oil.
My Notes:
The time it takes to fry the potatoes depends upon the quantity of the potatoes you add to the basket. The first batch took 28 minutes while the second batch which had only half as much as potatoes as the first batch took only 23 minutes to get the perfect color and texture.
The temperature of the air fryer and the time it takes to cook will vary according to the brand of air fryer you are using. So keep that in mind while trying out the recipes. All the settings, temperature, and time I write about will be based on the Innsky Air Fryer that I am using.
Nutrition Facts
Air Fryer French Fries
Amount Per Serving
% Daily Value*
Potassium 711mg15%
Total Carbohydrates
30.8g
11%
* Percent Daily Values are based on a 2000 calorie diet.


Try this recipe, click a pic and hashtag it #egglesscooking - Proudly showcase your creations on Instagram, Facebook & Twitter!