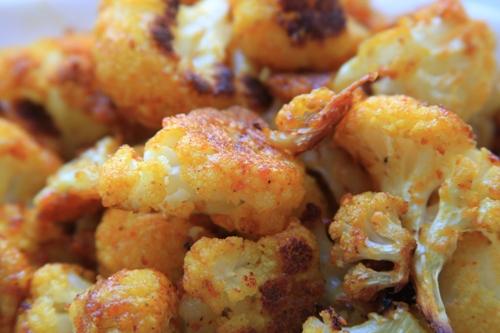 Cauliflower is our family favourite, so I try to make a variety of Indian cauliflower recipes. Roasted cauliflower was one thing I have wanted to try forever. Ever since I made this cauliflower soup, it has become a regular at our home. So we started buying cauliflower just to make that soup and never got to try the roasted cauliflower.
But finally decided to get to it and searched how to roast cauliflower and OMG! that's a lot of recipes throughout the net. So went through a couple of oven roasted cauliflower recipes and came up with a version of my own. Unlike the western recipes, I added some Indian spices, flavor to make this South Indian recipe.
Even though we are using the oven to make this, I don't prefer calling it baked cauliflower because I feel that calling it so doesn't justify how good the texture of this cauliflower is! Baked cauliflower sounds more like a baked pasta dish with cheese etc.
But if you are looking to make a crispy cauliflower recipe but without deep frying it in oil, then this oven roasted cauliflower is the way to go. The cornstarch, mixed with some oil and the roasted method of cooking does the trick and what you get is crispy cauliflower with a slightly charred effect (which I love!). Trust me when I say this, kids LOVE it! My sons can't have enough of this!
Roasting the cauliflower considerably reduces the quantity, I mean, even though you use a large cauliflower, cut it into small florets, which will look like a LOT when its raw, but when roasted it shrinks and looks very less in volume and is gone in no time. The kids gobble it like it is French fries. I'm not kidding! So these days I use two large heads to make this recipe.
I would suggest that you first try this recipe with one cauliflower because sometimes it might get soggy if you don't get the oil/cornstarch combination and baking time right. So first master it with a small cauliflower and then increase the proportions. I have used South Indian spices, but feel free to use herbs and spices of your choice. I also do a combination with tofu to make this roasted cauliflower and tofu curry.
If your kids love this oven roasted cauliflower then I'm pretty sure that they will devour this roasted chickpeas recipe too. Try it out.

| | | |
| --- | --- | --- |
| Oven Roasted Cauliflower Recipe | | |
| Prep Time | Cook Time | Makes |
| --- | --- | --- |
| 20 Mins | 30 Mins | 4 Servings |
| Author | Category | Method |
| Madhuram | Snacks/Appetizers | Baking |
Can't get your kids to eat enough vegetables? Then this oven roasted cauliflower recipe is your savior! Try it and you will be surprised how quickly it vanishes from the plate.

Ingredients:
1

Big Cauliflower (Cut Into Medium Size Florets)

1/4 Cup

Oil

2 Tablespoons

Sambar Powder

1 Teaspoon

Red Chili Powder

1/4 Teaspoon

Turmeric Powder

1/4 Teaspoon

Hing

As Per Taste

Salt

1 Tablespoon

Cornflour
Procedure:
Cut the cauliflower into medium size florets and clean it by soaking in a mixture of warm water and salt.
In a large mixing bowl combine all the other ingredients and whisk it.
Now add the cauliflower florets little by little and toss it well to coat thoroughly with the mixture.
Spread it evenly on a greased baking sheet.
Preheat the oven at 425F for 15 minutes.
Roast the cauliflower for 25 minutes, tossing it once around 15 minutes.
To get a crispy texture, turn the oven switch to broil mode for 3-5 minutes, again tossing once in the middle. While doing this make sure that you keep the oven door open and keep your kids out of the kitchen.
My Notes:
Using the same procedure you can experiment with different flavors like garam masala, curry powder or use a variety of herbs.

Try this recipe, click a pic and hashtag it #egglesscooking - Proudly showcase your creations on Instagram, Facebook & Twitter!

PS: The recipe has been updated & republished from the 2008 archives.