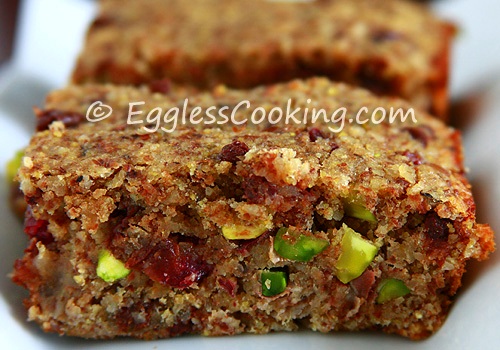 I was looking for some cornmeal recipes for the Corn event and remembered that I had bookmarked one healthy snack cake recipe from my friend Viji's blog.
Her blog has an amazing collection of traditional and innovative recipes. I have made a couple of changes to the original recipe keeping the measurement same. Since her blog is private, I'm reproducing her recipe (along with changes made by me) here with her permission.
To make it vegan friendly, I used brown rice milk instead of dairy milk, canola oil and unsweetened applesauce instead of butter in the original recipe. If you are able to find vegan chocolate chips or use carob chips this snack cake recipe will be 100% vegan. Even after all these changes the cake tasted very good.
Speaking of which, brown rice milk is a new addition in our diet. Earlier I have baked with regular rice milk and almond milk, but this is the first time I have used brown rice milk.
I prefer rice milk to soy milk, especially while baking. I feel that some brands of soy milk leaves an unpleasant odor in baked goods. I have tried a couple of vegan cake recipes with soy milk and felt that the texture was not good too, very sticky. So I usually go with rice milk or almond milk. Now brown rice milk is my favorite too. It tastes good by itself too. My son has it with his cereal. So if a 4-year-old likes it, then it should be definitely good, right?

| | | |
| --- | --- | --- |
| Almost Vegan Cornmeal Snack Cake Recipe | | |
| Prep Time | Cook Time | Makes |
| --- | --- | --- |
| 15 Mins | 25 Mins | 9×13 inch pan (16 Pieces) |
| Author | Category | Method |
| Madhuram | Cakes | Baking |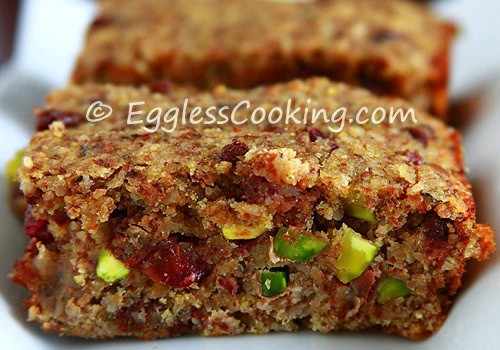 If you are looking for a healthy snack cake recipe or just a healthy snack idea, then this is the one you should be trying. Don't hesitate looking at the long ingredients list, because its all easily available and in general the recipe is very flexible. So you can substitute one for another.

Dry Ingredients:
1 cup

Whole Wheat Pastry Flour

1 cup

Whole Cornmeal (use only fine grind)

1 cup

Quick Cooking oats

1 cup

Almond Meal

1 cup

Walnut Meal

1 cup

Raisins

1 cup

Coarsely Chopped Pistachios

1/2 cup

Dried Cranberries

1/2 cup

Flax Seed Meal

1/2 cup

Brown Sugar

1/2 cup plus 1 tablespoon

Mini Chocolate Chips

3/4 teaspoon

Baking Powder

1/2 teaspoon

Baking Soda

1/2 teaspoon

Cardamom Powder
Wet Ingredients:
1/3 cup

Canola Oil

2/3 cup

Unsweetened Applesauce

1 and 1/4 cups

Mashed/Pureed Bananas with little water

1 cup

Brown Rice Milk

As Needed

Water/Milk
Procedure:
Preheat the oven for 15 minutes at 175C/350F. Grease a 9×13 inch baking pan with butter/non stick cooking spray. I lined it with parchment paper and then greased it also with cooking spray.
In a large bowl combine together all the dry ingredients reserving the 1 tablespoon of chocolate chips.
Mash 1 large ripe banana with a fork. I chopped the banana and used some of the milk to grind it into a creamy paste. Mix together all the wet ingredients together and stir it well.
Pour the wet ingredients to the dry ingredients and combine it well without any lumps. I used another 1/4 cup of water to get the required consistency.
Spread the batter in the prepared pan. Smooth it out with a spatula dipped in hot water and top it with the reserved chocolate chips.
Bake it for 20-25 minutes or until a toothpick inserted in the middle of the cake comes out clean. Mine was done in 22 minutes.
Transfer the pan to a wire rack and let it cool completely before you can remove the cake from the pan. After it is completely cooled, invert the cake pan to remove the cake and cut it into pieces.
My Notes:
I have included a couple of healthy substitutes to the already healthy snack cake. Instead of 1 cup of regular size butterscotch chips, I have used 1/2 cup of mini chocolate chips. Instead of 1 cup of melted butter I have used 1/3 cup of oil, 2/3 cup of unsweetened applesauce and increased the quantity of mashed bananas from 1 cup to 1 and 1/4 cups.
I have also used brown rice milk instead of dairy milk. The original recipe used whole wheat flour and regular cornmeal, which I have substituted with whole wheat pastry flour and whole cornmeal.
Where I live I was able to fine almond meal and walnut meal ready made. If you are not able to find it readily, process nuts of your choice in a food processor until its finely powdered.
The sweetness was just right for us. Viji had used 1 cup of dates, which I replaced with 1/2 cup of dried cranberries and also included 1 cup of chopped pistachios. Maybe that's the reason my cake was not very sweet. I think if I had used the dates the cake would have been very sweet.
With so many ingredients in the cake, we couldn't feel the presence of cardamom. So if you are a spice fan increase the quantity to 1 teaspoon instead of 1/2 teaspoon.
I was on a tight schedule on the day I was going to bake this cake. So I prepared the dry ingredients the previous night itself. So it was just mixing in the wet ingredients and baking the next day.

Try this recipe, click a pic and hashtag it #egglesscooking - Proudly showcase your creations on Instagram, Facebook & Twitter!