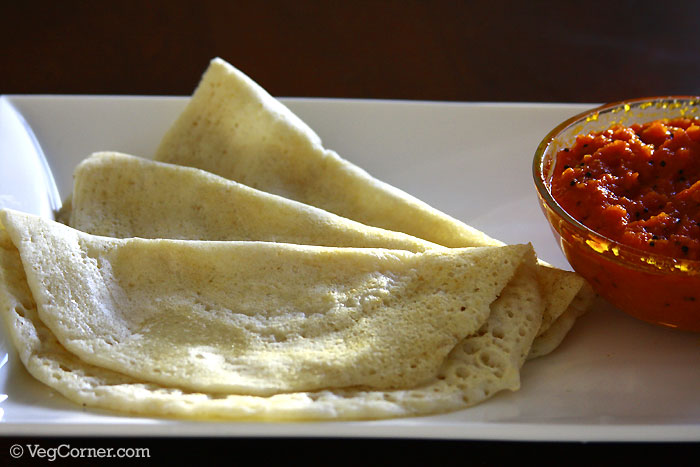 When I saw the barley dosa recipe in Champa's blog I decided to try it immediately because we try to incorporate more whole grains and healthy ingredients in our daily meals. I didn't have whole grain barley so I used pot barley instead. The dosas came out very good and the only one issue I had was that it was a bit sour.
So the next time I tried the same recipe with brown rice instead of barely keeping the measurements same. I was very thrilled because the dosas tasted so good. In fact, my husband mentioned that these were the best dosas he ever had. What else a cooking fanatic needs to hear?
This brown rice dosa batter is so versatile that it is good for making thick spongy dosas or paper-like thin dosas. I have never gone back to white rice after preparing this dosa. Why would I, when it tastes even better than the usual dosa and is healthier too! Champa, thank you very much for the wonderful dosa recipe.

| Prep Time | Cook Time | Makes |
| --- | --- | --- |
| 24 Hrs (Soaking, Grinding & Fermenting) | 3 Mins | About 15 Dosas |
| Author | Category | Method |
| Madhuram | Tiffins/Main-Course | Fermenting/Cooking |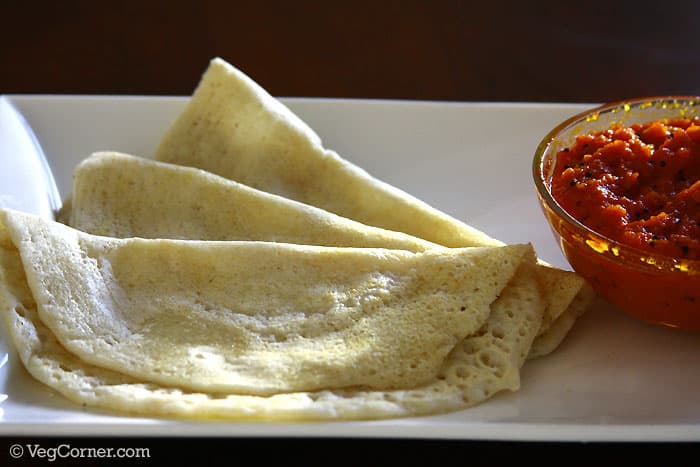 Healthy and tasty brown rice dosas for any occasions!

Ingredients:
Brown Rice (I Used Long Grain)

2 Cups

Urad Dal

1/2 Cup

Fenugreek Seeds (Methi)

1 Teaspoon

Salt

1 Teaspoon Or As Needed

Sesame Oil

1/2 Teaspoon
Procedure:
Soak together the brown rice, urad dal and fenugreek seeds (if using) in water overnight or at least 5-6 hours.
The next day morning, grind together all the soaked ingredients until you get a smooth batter. Add water as required. This takes quite some time than grinding for the usual dosas using white rice. That's why a longer soak time is also suggested for easier grinding.
Transfer the batter to a big bowl which has enough space for the batter to rise. Mix in the salt and sesame oil (optional) and place it on a plate to let it ferment. Ferment the dosa batter in a warm place overnight or for at least 12-15 hours before you can prepare the dosas.
Heat a dosa tava and pour a ladleful of batter and spread it out as thick or as thin as you want with the back of the ladle. The beauty of this batter is that both thick and paper thin dosas come out so well. Drizzle some oil around or use a non-stick cooking spray and flip to the other side to cook it thoroughly.
My Notes:
If you prefer oil free dosas, once you pour the batter on the tava cover it with a frying pan lid and wait until you see sponge like holes on the dosa and then flip it the other side. These dosas are thick and spongy without any oil.

Try this recipe, click a pic and hashtag it #egglesscooking - Proudly showcase your creations on Instagram, Facebook & Twitter!