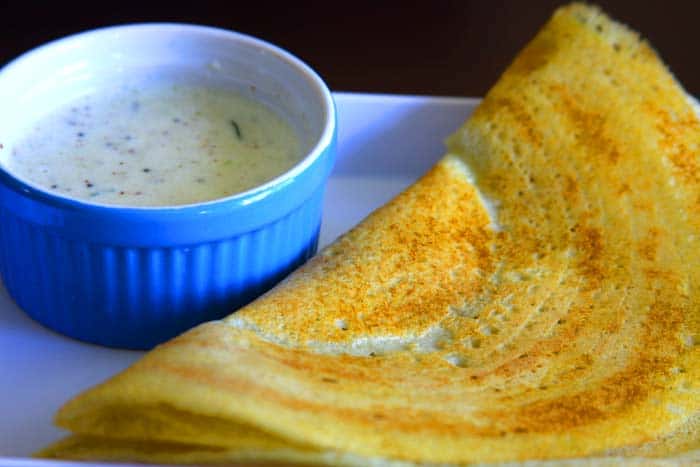 Brown Rice Okra Dosa: Being the true South Indian that I am it is no surprise that I love dosa more than any other dish that our rich cuisine has contributed to the culinary world.
What is it with this dosa and dosai terminology confusion? Is it dosa or dosai? Why is it mostly known as dosa when some of them use dosai, are some of the questions I usually get even from my fellow Indians who are not from my State of Tamil Nadu.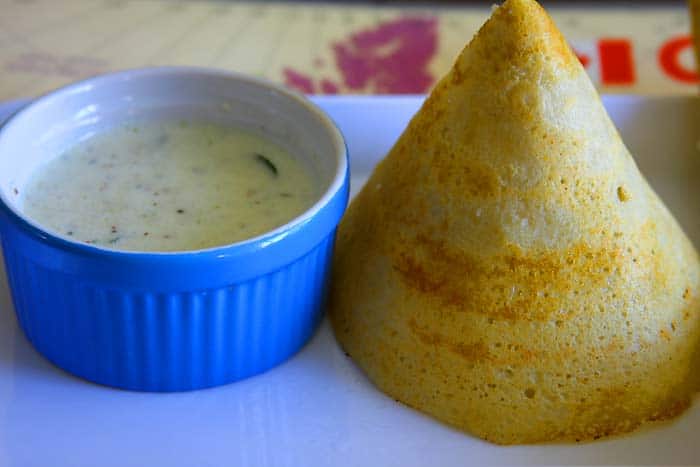 The origin of dosa aka dosai is credited to two states in India namely Karnataka and Tamil Nadu.  Historians trace back to the mention of dosai in Tamil literature as early as 1 A.D. It was referred as "dose" in Karnataka and "dosai" in Tamil.  Interestingly none of these names gained popularity but "dosa" has become prevalent.
Dosa is very versatile in the sense one can use "n" number of ingredients to make it wholesome and delicious.  You can make it thick as pancakes like this super soft sponge dosa and thin as crepes like this crispy pearl millet dosa.  Each is good in its own way.  There are no hard and fast rules.
Today's dosa recipe is brown rice and okra (lady's finger in India) dosa. This was a recipe which I came to know when my mother-in-law once mentioned that in her early days when urad dal was expensive they used the ends of okra as a substitute by reducing the quantity of the dal.
I tried a few variations by tweaking the quantities of rice, dal, and okra and arrived at this measurement. Normally I would use equal quantities of boiled rice and raw rice, a small portion of urad dal and okra pieces.
This time around I used brown basmati rice to make this dosa instead of the raw rice because I had a big bag of brown basmati rice that we didn't like for pulav/biriyani recipes and I started using it for idli/dosa recipes instead to finish it.
I was sure that brown rice would work in dosa recipe because I already have a brown rice dosa recipe here, but this was the first time I was using brown basmati rice.
The batter was very fragrant because of the basmati rice. Other than that I didn't find it any different from the usual okra dosa I make with raw white rice. The beauty of this okra dosa recipe is that you can make both sponge-like soft dosa and also thin and crispy brown rice dosa.

| | | |
| --- | --- | --- |
| Brown Basmati Rice and Okra Dosa Recipe | | |
| Prep Time | Cook Time | Makes |
| --- | --- | --- |
| 12-15 Hrs (soaking, grinding and fermenting) | 3 Mins Per Dosa | 15-20 Dosa (depending on size) |
| Author | Category | Method |
| Madhuram | Tiffins/Main-Course | Fermenting/Cooking |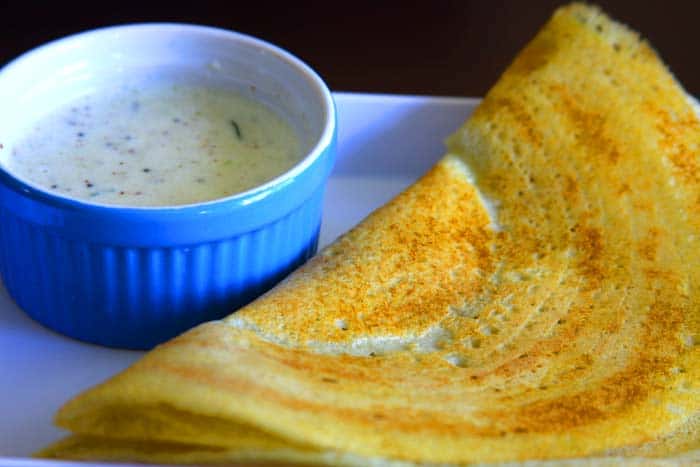 Make fiber-rich brown basmati rice dosa batter with pureed raw okra pieces. Trust me it wouldn't taste, smell or look weird! Makes soft or crispy dosas!

Ingredients:
1 cup

boiled rice

1 cup

brown basmati rice

2 tablespoons

urad dal

3/4 cup

okra pieces

1/2 tablespoon

fenugreek powder (optional)

salt

as needed

2-3 teaspoons

sesame oil (optional)
Procedure:
Wash, rinse and soak the boiled rice, brown rice, and urad dal together in a large bowl for at least 3 hours.
After washing and cutting the okra reserve both the ends and soak it in water.
Grind the soaked rice and dal in the wet grinder preferably as you do for any dosa batter. Also, add the fenugreek powder if using.
Meanwhile, grind the soaked okra pieces with water in a blender into a smooth puree and add this to the rice/dal.
Grind all this together into a smooth batter. The grinding time may be little more than the usual because it is brown rice.
Transfer the batter to a big bowl which has enough space for the batter to rise. Mix in the salt and sesame oil (optional) and place it on a plate to let it ferment. Ferment the dosa batter in a warm place overnight or for at least 7-8 hours before you can prepare the dosas.
Heat a dosa tava and pour a ladleful of batter and spread it out as thick or as thin as you want with the back of the ladle. The beauty of this batter is that both thick and paper thin dosas come out very well. Drizzle some oil around or use a non-stick cooking spray and flip to the other side to cook it thoroughly.
My Notes:
Long grain brown rice or plain white raw rice can be used instead of the brown basmati rice. I have tried all these combinations and it works out very well.
The urad dal which I use is of a very good quality and hence the 2 tablespoons is enough. If you think that the urad dal you are using doesn't give that much fluffiness you will have to increase the quantity by another 1-2 tablespoons.
I am using the ends of okra instead of tossing them away which is generally not used in cooking. You can use the whole okra as well by cutting them into pieces. Cucumber pieces can also be used instead of okra. I have tried that too and it's absolutely yummy!
The time taken for fermentation depends on where you live. In hot temperatures like India 4-5 hours should be enough. But in cooler countries overnight fermentation might be required. Also in hotter climates, this batter tends to become sour too quickly. So be mindful of this and store the batter in the fridge immediately when you know that it has fermented enough. The longer it stays out in room temperature the quicker it will turn sour.

Nutrition Facts
Servings: 15
Per Serving
% Daily Value*
Calories

101

Total Fat

0.2g

0%
Saturated Fat

0g

0%
Trans Fat

Cholesterol

0mg

0%
Sodium

156mg

7%
Potassium 59mg
1%
Total Carb

21.6g

8%
Dietary Fiber

1.3g

5%
Sugars

0.1g

Protein

2.6g

Vitamin A – Vitamin C 0mcg
Calcium 9mg – Iron 1mg

Try this recipe, click a pic and hashtag it #egglesscooking - Proudly showcase your creations on Instagram, Facebook & Twitter!