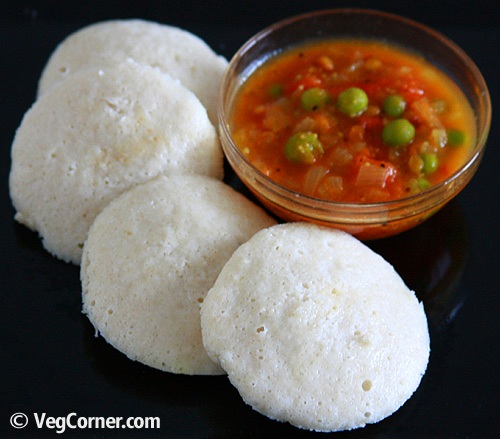 For an "idli-hater" that I was, it is a big surprise to me that I'm trying so many types of idlis. Over the past couple of months, I have been affected with "whole grain fever" and this has made me include whole grains in almost all the dishes I cook.
I'm going to blame a lot of food blogs for this condition of mine. This includes DK, Usha, Priya just to mention a few.
I started incorporating brown rice while grinding for idils after seeing Jai and Bee's whole grain idli recipe.
I started with 1/2 cup then moved to 1 cup and now 2 cups of brown rice. I have still used 1 cup of white rice. These brown rice idlis were as soft as their white counterpart. No difference in texture but a change in the color though. The idlis are not as white as the usual idlis. I don't think there is any reason to hesitate using brown rice while preparing idlis.

| Prep Time | Cook Time | Makes |
| --- | --- | --- |
| 24 Hrs | 8 Mins | 40-50 Idlis |
| Author | Category | Method |
| Madhuram | Tiffins/Main-Course | Steaming |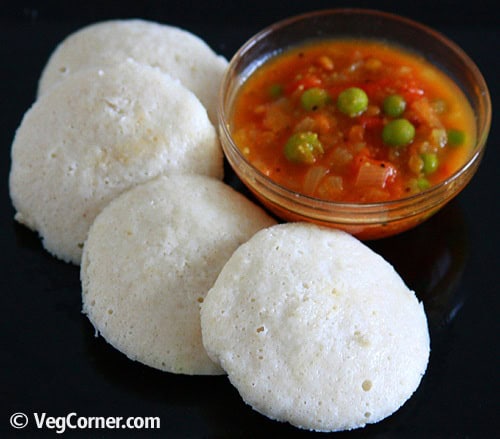 Here comes another whole grain idli recipe. The first one I posted was using whole cornmeal and in this recipe I have used long grain brown rice. For the quantity of brown rice I have used, surprisingly these idlis were very soft and had a texture similar to that of idlis prepared with white rice.

Ingredients:
Brown Rice (I Used Long Grain)

2 Cups

White Raw Rice

1 Cup

Urad Dal (Preferably Whole Dal And Not Split)

2/3 Cup

Salt

As Per Taste

Sesame Oil (Optional)

1 Tablespoon
Procedure:
Wash and soak the brown rice and white rice together in water overnight. Add water until its 1 inch above the level of rice in the vessel.
Wash and soak the urad dal just an hour before you intend to grind it.
Using a wet grinder will yield softer idlis. Switch on the grinder; add half a cup of water. To this add the drained urad dal little by little. Do not add a lot of water. Adding enough water to ensure the smooth running of the stone is enough. Grind until the urad dal batter is smooth and fluffy. This may take anywhere between 25-30 minutes. Transfer the batter to a vessel.
Now following the same process above; switch on the grinder and 1/2 cup of water and start adding the rice little by little. The same holds good for water too. Since it is a lot of whole grain, the rice may get stuck in between the stone and the grinder vessel and stop operating, so keep adding water in small quantities to ensure that it doesn't stop. This rice batter should not be very smooth. Grind it until it reaches the consistency of fine semolina. I noticed that this batter took a lot more time to grind than if I used white rice alone.
To this rice batter add the prepared urad dal batter and let the grinder run for another 2 minutes so that both the batters are blended well.
Then transfer the idli batter to a big vessel. This vessel should have enough space for the batter to rice while it is fermenting. Add salt, oil and mix well and store it in a warm place. Leave it undisturbed for at least 12-15 hours. Then prepare idlis as usual following this cornmeal idli recipe. Since it was brown rice idlis, I gave extra time while steaming the idlis.
My Notes:
If you don't have a wet grinder you can prepare the batter in a food processor or an Indian mixie too. In that case, it is suggested to keep the soaked urad dal in the refrigerator so that the motor of the blender does not get spoiled due to the heat it may generate to grind the urad dal into a very smooth batter. I think it is advisable to leave the brown rice in the refrigerator as well because it takes a lot of time to grind even in the wet grinder.
Place the vessel which contains the idli batter on a big clean plate. Sometimes the batter may ferment too much and it may start overflowing creating a mess on the surface; then you would have spend extra time cleaning the counter and will also be in a dilemma if you want to use that batter or not. If it is on a plate, even if the batter overflows you would have to just clean the plate and there should not be any problem to use that batter.
I see to that I grind idlis on the day I bake something because after baking the oven is still hot and this warmth is perfect for the idli batter to ferment. Even otherwise you can switch on the oven at the lowest setting for 5-10 minutes. Then store the batter inside the oven. Or you could simply leave the oven light on and store the batter near it. The heat from the light is itself enough in some cold places.
I also grind the rice batter less coarse than it is usually suggested for idlis because I use the same batter to prepare dosas on the second day. This recipe yielded very good dosas as well.

Try this recipe, click a pic and hashtag it #egglesscooking - Proudly showcase your creations on Instagram, Facebook & Twitter!