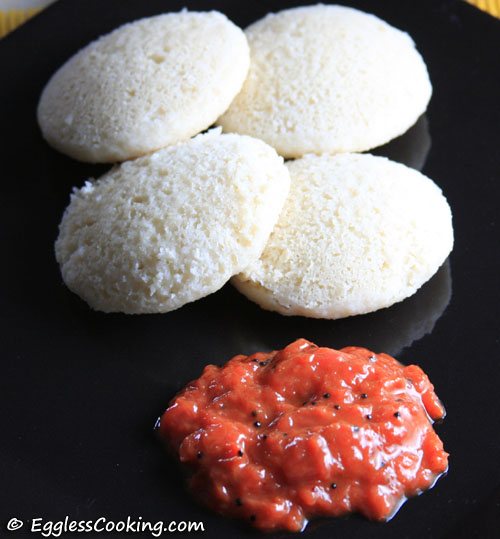 I don't remember exactly how I got this idea of including mashed chickpeas in the idli batter. I guess I was inspired by Red Chillies' soy bean dosa or my chickpeas poori.
I decided to grind one can of chickpeas (15.5oz) into a smooth paste and mix it with the regular idli batter. A can of chickpeas has approximately 23-25 grams protein and fiber each. That's a lot of nutrition.
I do agree that to get the entire benefit one has to consume about 40 idlis which are not possible. But I believe that healthy additions like this even in small quantities if done on a daily basis would help us in achieving overall well being. Another bonus if you have kids who don't eat their legumes this is a nice trick. My son couldn't tell any difference and he ate more than usual.
Chickpeas Idli
If using idli rava for preparing the batter I use 2 cups of rava and 1 cup of urad dal. (Idli batter recipe). I was going to do the same for the chickpeas idli as well.
But what I did was while grinding the chickpeas I guess I had added extra water and when I mixed it with the idli batter I felt that it was not in the right consistency. So I added another 1/4 cup of idli rava to make it right.
You can use canned chickpeas or soak dried chickpeas in water the previous night and cook it the next day in a pressure cooker. I used a 15.5oz can which is approximately 2 cups of cooked peas. If using canned ones, drain it in a colander and rinse it with cold water and then grind it into a smooth paste adding very little water.
Prepare the idli batter as usual and mix the chickpeas paste to it and combine well with your hand. Canned chickpeas already have salt in it so add accordingly.
Chickpeas idli have a light yellow hue instead of the regular white color, but it tasted like any other idli only even healthier.
Plum Thokku
I got a bag of plums from the store and it was so sour I thought I had to just throw it away. I was wondering what to do with it and suddenly remembered Cilantro's tomatilo thokku recipe.
Tomatiloes are also very sour than the regular tomatoes. So I decided to make plum thokku substituting plums for the tomatilo. I used 4 plums.
Wash it, cut them in half feeling the pit inside (like you would cut an avocado) and twist it so you would get two halves. Remove the pit and cut each half into cubes like you would cut a tomato and prepare it in the same way you would make tomato thokku. If you don't have a recipe follow Cilantro's directions.
Nice tangy pickle is ready in no time. It cooks just like tomatoes and no need to remove the skin.