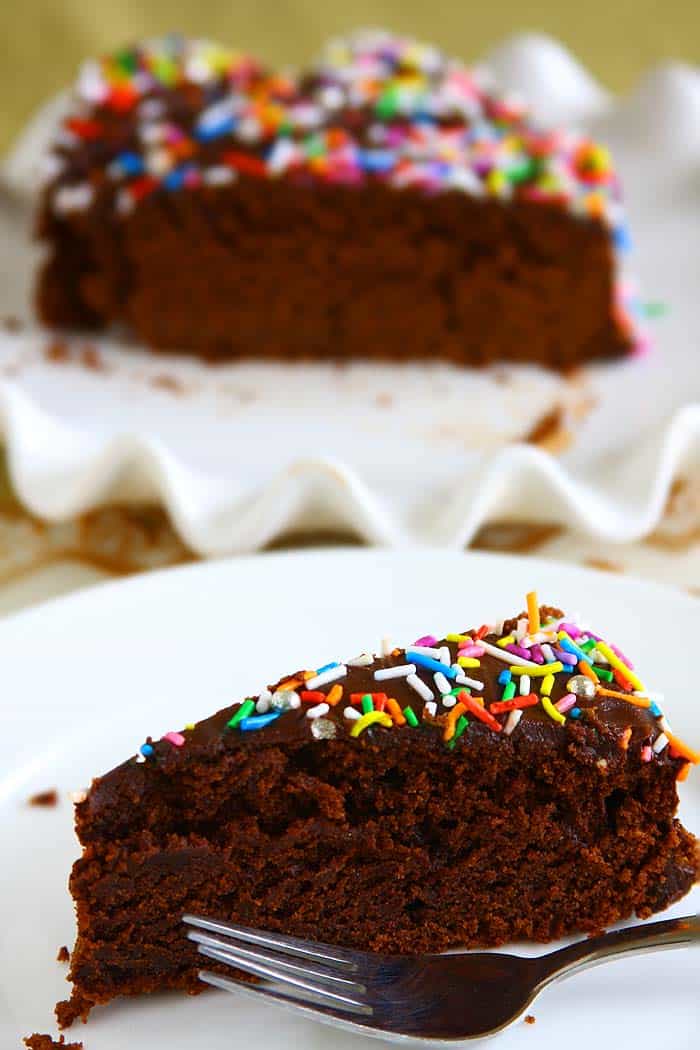 I made this moist and dense eggless chocolate fudge cake recipe 2 months back for my uncle's birthday. Didn't get a chance to blog about it until now. Also captured the video while I was making the cake. Hope to upload it shortly.
I was already too excited that my favorite uncle was visiting us from India and to add to the excitement he was celebrating his birthday too during the short visit! Now that definitely requires a cake and not any ordinary cake but this rich chocolate fudge cake without eggs.
As much as I was planning to bake him a wonderful birthday cake, that was also exactly the time for yet another important religious ceremony at our house and I couldn't get to the cake as early as I wanted to. That's when I was searching Pinterest for simple birthday cake ideas and I landed on this one layer fudge cake recipe.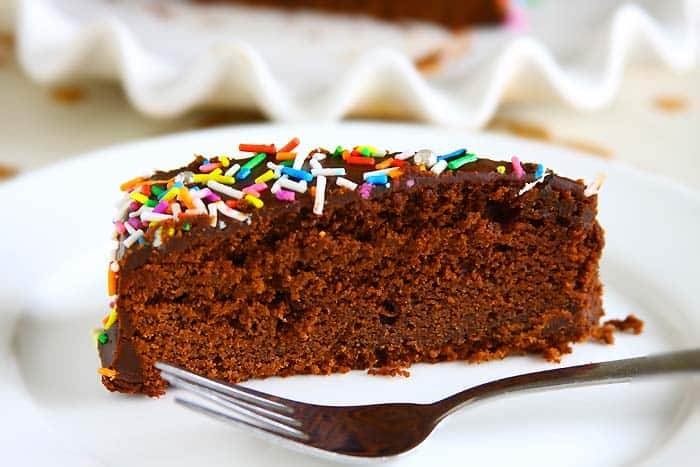 It was perfect because I had just 3 more hours until the evening to bake and frost the cake and making an elaborate two or three layered cake was ruled out. I needed a quick fix recipe which looked and tasted great too. This chocolate fudge cake recipe fit the bill and I began the cake prep.
I had a lot of Kefir at home and decided to use that as an egg substitute for the 2 eggs used in the original recipe. I didn't make much changes other than that, except for topping the ganache frosting with sprinkles. I have a big list of the best eggless chocolate cake recipes in the blog and this no egg, moist and rich chocolate fudge cake definitely joins the list especially that it's so easy to put together in a short span of time and yet delivers big on taste and texture.

| | | |
| --- | --- | --- |
| Chocolate Fudge Cake Recipe | | |
| Prep Time | Cook Time | Makes |
| --- | --- | --- |
| 30 Mins | 36 Mins | 12 Servings |
| Author | Category | Method |
| Madhuram | Cakes | Baking |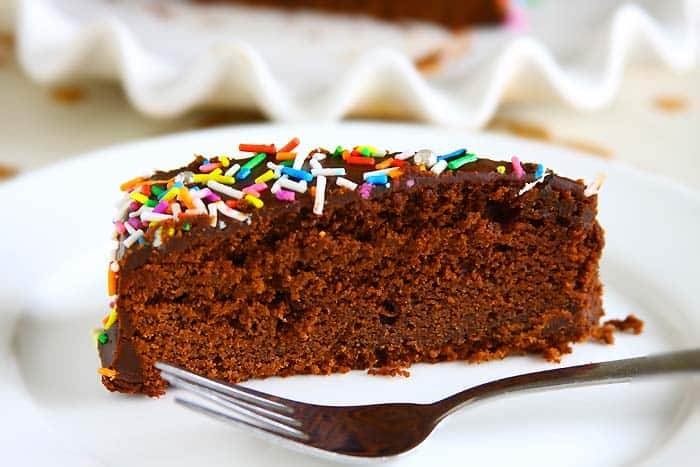 Are you short of time to bake a decadent chocolate fudge cake? Then try this best ever, moist chocolate fudge cake recipe and be wowed and wow others too. It's surprising how easy it is to put together this cake and yet how great it tastes!

Ingredients:
For the cake:
1 cup

all-purpose flour

1/4 cup plus 2 tablespoons

unsweetened cocoa powder

1/2 teaspoon

baking soda

1/8 teaspoon

salt

1/2 cup

butter, melted and warm

1-1/4 cups

brown sugar

1/2 cup

kefir

1 teaspoon

vanilla extract

1/2 cup

hot water
For the ganache frosting:
6 ounces

semisweet chocolate, finely chopped

1/2 to 3/4 cup

heavy cream

1/2 tablespoon

sugar
Procedure:
Preheat the oven at 350F/180C for 15 minutes. Line an 8-inch round cake pan with parchment paper and lightly grease it with non-stick cooking spray and set aside.
In a medium size bowl sift together the flour, cocoa powder, baking soda and salt.
In a large bowl mix together the melted butter, brown sugar, kefir and vanilla extract.
Stir in the flour mix into the wet mix and stir until just moistened.
Pour in the hot water over the chocolate fudge cake batter and stir until the batter is smooth.
Pour the batter into the prepared pan.
Bake it for 35-40 minutes or until a toothpick inserted in the centre of the cake comes out clean.
Remove the pan from the oven and cool it on a wire rack for at least 10 minutes before removing the cake from the pan.
After 10 minutes run a knife around the cake and remove it from the pan and let it cool completely on the wire rack.
Once the fudge cake is cool, set the rack over a baking sheet or foil. Pour the warm ganache over the cake and use an offset spatula to spread it over the top of the cake and down the sides. Let set for about an hour before serving.
Ganache Frosting Recipe:
Put the chocolate in a medium size heatproof bowl. In a saucepan or in a microwave oven, heat cream to a simmer. Pour the hot cream over the chocolate and whisk gently until the chocolate is completely melted and smooth. Add sugar and whisk to combine. Set aside. Start with 1/2 cup cream first, see the consistency of the ganache and then add more warm cream if required to get the ganache to a spreadable consistency.
If planning to top it with sprinkles do it so while the ganache is still warm, so that it will stick to it.
My Notes:
I followed the ganache recipe as it is in the original recipe and it was way too much for the cake. I ended up throwing away a lot of it not wanting to consume so much sugar just to finish it. So I have cut down the recipe in half. You can always make some more if required than wasting.
Add some semisweet chocolate chips to the cake batter to make it a double chocolate fudge cake recipe and some white chocolate chips too to make it a triple chocolate fudge cake recipe.
Nutritional Information for 1 Slice
Calories:

267


Total Fat:

15.7g


Saturated fat:

9.7g


Unsaturated fat:

6g


Cholesterol:

34mg


Total Carbohydrate:
Sugars:

22.9g


Dietary Fiber:

1.1g


Protein:

2.0g


Sodium:

140mg


Potassium:

93mg

Try this recipe, click a pic and hashtag it #egglesscooking - Proudly showcase your creations on Instagram, Facebook & Twitter!