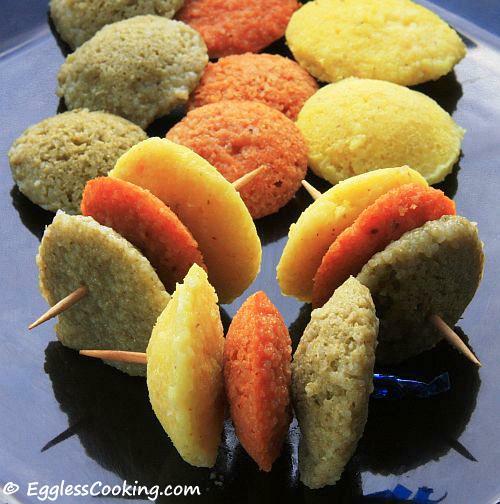 I have had this idea of mixing chutney with the idli batter for long time now, especially when we pack idlis while going on a tour/picnic. I used to think that doing so, it's easy clean up and no need to carry extra utensils, but never got to do that until recently. When SunshineMom announced that she is hosting this month's Recipes for the rest of us – Starters event, I decided to try the idli idea. I also got the idea of trying it with different color chutneys.
The idea behind the event is getting newbies interested in cooking, so no exact measurements, complicated steps or special equipments should be used. What can be more easy than preparing chutney and steaming idlis? To make it even simple one can even buy idli batter from the store, prepare chutney spicier than usual, mix it and prepare the idlis. As simple as it is. Any chutney should be fine. For different colors you could use tomatoes, coriander/mint, beets, carrots etc. The only thing is you have to make it spicier so that when mixed with the batter and steamed the spice is right. Anyways I'm giving the measurements and recipe for preparing idly and chutneys.
Colorful Idlis
Ingredients
Idli batter (homemade or store bought) – As Needed
Any spicy chutney – As Needed
Procedure
1 If you are using more than one chutney divide the batter in two or three bowls according to the number of chutneys you are using.
2 Mix each chutney with the batter and combine it well. Taste the batter and check for salt and spice. If it's not spicy enough add some chilli powder or ground green chilies. I added a spicy paruppu podi (dal powder which is mixed with rice) to increase the spiciness.
3 Grease idli moulds with oil/ghee. I spray it with a non stick spray. You could choose to use either mini idli moulds or the regular ones. If you have only the regular size idli moulds, pour the batter, steam it as usual (for 10-15 minutes). After sometime remove the idlis from the moulds and cut each idli into 4 pieces. Mini idlis can be served as it is.
4 Use a toothpick to skewer idlis, one of each color or arrange it in a platter.
My Notes
1 I had little leftover batter and chutneys the next day. So to the batter I added some rice flour, all purpose flour, semolina and all the chutneys and mixed it with enough water to get a pancake/dosa batter consistency. Then prepared dosas and it tasted so good with all the chutneys and spices together.
Idli Recipe
Ingredients
Idli Rava – 2 Cups
Urad Daal – 1 Cup
Salt – As Needed
Sesame oil – 1 Tablespoon
Procedure
1 Soak urad daal in water for 3-4 hours. You can either soak the idli rava or not. My grandmother used to soak it in lukewarm water. I have tried both methods and have not found any difference in the idlis. After at least 3 hours drain the urad daal, reserving some of the water.
2 If using a wet grinder, switch it on, add 1/2 cup of the water and let the grinder run. Then slowly add the urad daal. Grind it atleast for 25-30 minutes until it's nice and fluffy.
3 Add the idli rava to the urad daal batter while it's still in the grinder and let the grinder run a couple of minutes more so that everything is combined well.
4 Transfer the batter to a bowl, add salt and the oil and mix it well. Use a big size bowl so that there is enough room for the batter to rise while it ferments. Ferment it for at least 12-15 hours and use it the next day.

My Notes
1If using rice instead of idli rava, the measurement I follow is 2 cups of par boiled rice, 1 cup of raw rice and 3/4th-1 cup of urad daal. Soak the rice together. Soak the urad daal separately. First grind the urad daal as mentioned above and transfer it to the bowl. Then grind the rice to a coarse consistency. It should take only 5-8 minutes if grinding it in a wet grinder. Then mix both the batters, salt and oil and combine it well.
2 I also soak for adai whenever I'm going to grind for idlis. First I grind daal and rice for idlis, transfer the batter and in the same grinder grind for adai. So we have adai for dinner and idli/dosa for the next 2 days. So with extra 10 minutes of work 3-4 days' dinner/breakfast is taken care off. Also less clean up, because you have to wash the grinder only once as against twice if you soak for adai and idlis on two separate days.
Chutney Recipes
Onion Chutney (for red color)
Big Onion – 1
Red chillies (add 1 or 2 more than the usual) – As Needed
Tomato (optional, to get the red color) – 1
Tamarind paste (if not using tomato) – 1/2 Teaspoon
Salt – As Needed
I had a dried red chili at home which is not at all spicy but gives only the color. I used that in addition to the spicy chillies to get the red color. So I did not use tomato. Grind everything together to a smooth paste. Usually I fry this chutney in little oil to get rid of the raw smell from onions. I didn't do it this time because anyway I was going to steam it with the idlis.

Coriander Chutney (for green color)
Coriander – 1 Bunch
Green Chillies (add 1 or 2 more than the usual) – As Needed
Tamarind Paste (or Lemon Juice) – 1/4 Teaspoon
Salt – As Needed
Grind everything together adding little water as needed.

Coconut Chutney (for yellow color)
Coconut – 1/2 Cup
Green Chillies (add 1 or 2 more than the usual) – As Needed
Turmeric Powder – As needed to get the color
Salt – As Needed
Grind everything together adding little water as needed.