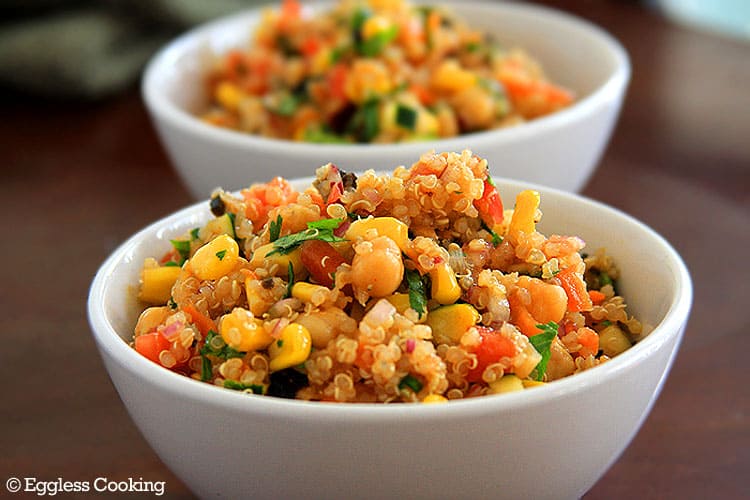 Quinoa Salad: I have not been able to keep track of healthful eating since August. It all started with my eldest son's birthday and from then on I have been slipping for some reason or the other.
I didn't make soups and salads as often as I used to do before. Three months of "not-so-clean" eating definitely has its negative effects and it clearly shows on the scale and in other "areas" too. If you know what I mean!
I realized that it's high time that I got back to my conscious eating schedule for good. The first thing which came to my mind was the quinoa which was sitting in my pantry untouched for quite a long time. The fridge was stocked up well with a lot of fresh vegetables. So I put together this colorful quinoa salad for lunch yesterday.

| | | |
| --- | --- | --- |
| Colorful Quinoa Salad Recipe | | |
| Prep Time | Cook Time | Makes |
| --- | --- | --- |
| 20 Mins | 15 Mins | 6 Servings |
| Author | Category | Method |
| Madhuram | Salads | Mixing |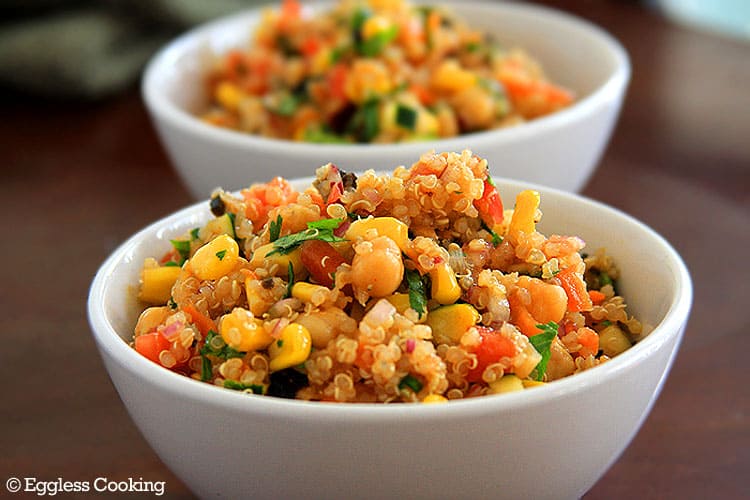 This vegan quinoa salad can be served as a main dish by itself because it is loaded with protein, fiber and tastes great too.

Ingredients for Salad:
3 cups

cooked quinoa

1 and 1/2 cups

corn

1 cup

cooked chickpeas

1/2 cup

sliced black olives, coarsely chopped

1/2 cup

diced zucchini

1/2 cup

cilantro, finely chopped

1 medium size

tomato, finely chopped

1 medium size

red onion, finely chopped

1 medium size

carrot, grated
Ingredients for the Dressing:
1/4 cup

extra-virgin olive oil

1 tablespoon

balsamic vinegar

1 tablespoon

lime juice

1

garlic clove, finely minced

1/4 teaspoon

red chili powder

salt and pepper

to taste
Procedure:
In a large bowl, toss together the salad ingredients.
Measure the oil in a measuring cup and add the rest of the dressing ingredients to it and whisk it well.
Pour the dressing over the salad and combine well. Serve immediately or refrigerate for at least 30 minutes for the flavors to develop.
Taste:
This quinoa salad tastes better the more it sits and absorbs all the flavors. So it's a very good "make-ahead" kind of recipe. Make the previous night and take it for lunch the next day and you save on time and have a filling, healthy lunch too. Add avocado cubes to make it, even more, heart healthy and tofu to pump up the protein. Paneer cubes can also be included if you don't want to keep it vegan.
My Notes:
I used 3/4th cup of dry quinoa. Rinse it a couple of times to get rid of the nutty flavor. Cook it 1 and 1/2 cups boiling water. Add a pinch of salt and little olive oil while the quinoa is cooking. Close the lid and cook it at medium heat for 15 minutes. After about 13 minutes remove the lid and let the remaining water evaporate. Rinse the cooked quiona under running tap water and drain it in a colander. This will ensure that the grain does not become sticky. Cool down the drained quinoa by spreading it on a large plate.
The measurements for the vegetables used can be increased or decreased to suit your taste and what's available in your fridge.
Fresh or frozen corn kennels can be used. I cooked frozen corn for about 2 minutes in the microwave oven and mixed it with rest of the ingredients.
You can use any herb instead of cilantro. Basil, parsley, mint are very good substitutes.
I chopped the sliced olives because I wanted to have the olive taste and flavor throughout the salad.
Nutrition Facts
Quinoa Salad
Amount Per Serving
% Daily Value*
Potassium 481mg10%
Total Carbohydrates
51.6g
19%
* Percent Daily Values are based on a 2000 calorie diet.


Try this recipe, click a pic and hashtag it #egglesscooking - Proudly showcase your creations on Instagram, Facebook & Twitter!