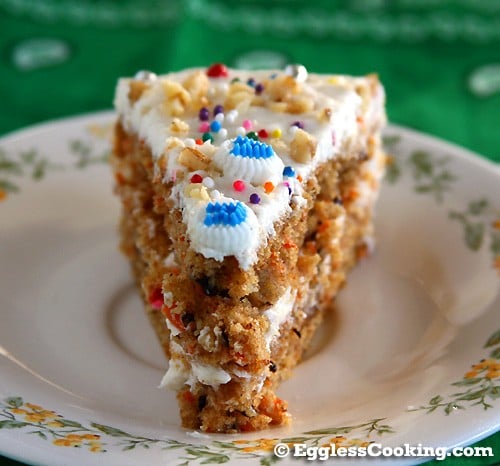 Vegan Carrot Cake: Last week was my eldest son's birthday, and I had fun planning and organizing the party. After much deliberation, I ended up baking a decadent vegan carrot cake. But the decision was not very easy.
He turned 7. I see a sudden change in his likes and dislikes. He was this little kid watching Max and Ruby, Caillou and Diego even 2 months back and suddenly everything changed. He is into Power Rangers, Avengers, rockets/spaceships, etc. I'm still wondering how all of this happened in such a short span of time. So I had difficulty figuring out what sort of party to plan.
Wish it was as easy as when he turned 3, and all I had to do was bake this gorgeous eggless chocolate cake.
I was thinking of making a rocket-shaped cake, but a trial run didn't work out as expected, and we had a lot of cake. I didn't want to keep testing it repeatedly and baking a lot of cake. Then we had the black-or-white debate. My son and I prefer chocolate cake but my husband and mother-in-law like vanilla cake. So my husband suggested baking a two-in-one cake; with vanilla on one side and chocolate on the other.
I started looking for ideas to bake a two-tone cake. That made me think about what frosting to choose. Would that be 2 flavors too or just one? I was literally pulling my hair to figure it all out.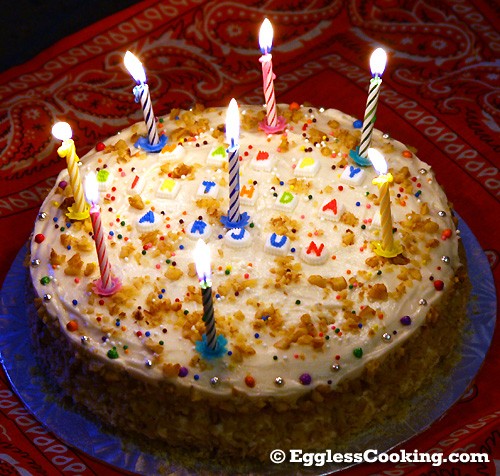 Then I had this "light-bulb" moment. I decided to bake one 9-inch round layer cake for adults and a few cupcakes both chocolate and vanilla for the kids. I would frost the 9-inch layer cake and my son would cut it and keep the cupcakes as it is for the kids to frost and decorate themselves. For the 9-inch layered cake, I decided to bake the vegan carrot cake from Sticky Fingers' Sweets by Doron Petersan. I also wanted to try the vegan cream cheese frosting recipe she had in the book.
For the cupcakes I used my eggless vanilla cake recipe (veganized it) and whacky vegan chocolate recipe. My original plan was to bake regular-size cupcakes, but then I decided to go with mini cupcakes.
I thought by doing so the kids could enjoy both flavors if they wanted to. I laid down a variety of sprinkles, buttercream frosting, and chocolate frosting on a tray and the kids had to do the icing by themselves. I was unsure if a cupcake party would go well with a group of 7-10-year-old boys. But I was surprised when I saw that they loved it. The kids had a fun time frosting and decorating the cupcakes. I wonder if they were able to settle down for bed that night after all that sugar rush!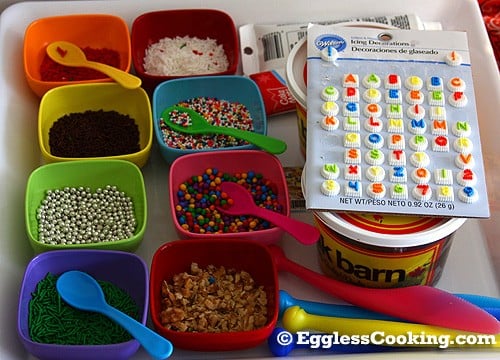 Even though I had planned everything well in advance, I had one issue. I would not be able to taste the carrot cake until it was cut by my son. So I was really worried and was even thinking of getting a cake from the store and keeping it ready just in case. As soon as the carrot cake came out of the oven I was eager to level it off for frosting so that I could taste the crumbs and make a decision.
Unfortunately, the cake did not bake with a big dome like the usual white/chocolate cakes. It was a very thin layer cake and almost flat without needing to be trimmed. Even then I did not let get off it. I slightly leveled it off and tasted the crumbs and was relieved. It was good, but I was not jumping up and down. Then I prepared the frosting too. The frosting tasted good on its own and later with the cake too. Once the cake was frosted it got a decent height. Otherwise, the 2 layers looked very small, making me doubt whether it would be enough for the 6-8 adults.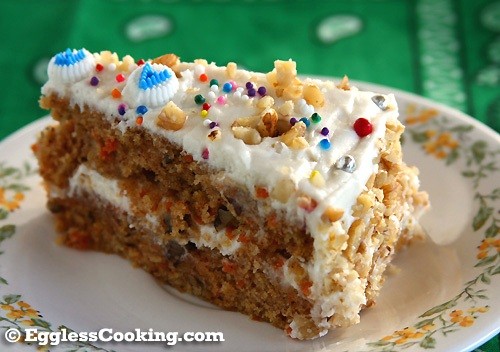 I had baked a big batch of the vanilla and chocolate cupcakes, anticipating the carrot cake not coming through as expected. I thought that if I screwed up with the cake, I would also serve the cupcakes for the adults. Fortunately, the vegan carrot cake did not disappoint me; it was a huge hit with everybody.
The adults asked, "are you seriously telling that this carrot cake is vegan?". It was that good. I'm glad I tried this vegan carrot cake recipe on such a special day.

| | | |
| --- | --- | --- |
| Vegan Carrot Cake w/ Cream Cheese Frosting Recipe | | |
| Prep Time | Cook Time | Makes |
| --- | --- | --- |
| 20 Mins | 18 Mins | Two 9″ Round Cakes/18 Cupcakes |
| Author | Category | Method |
| Madhuram | Cakes | Baking |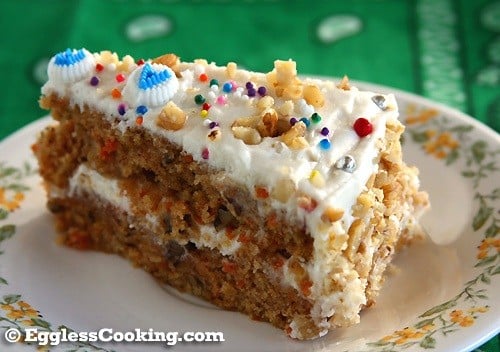 If you are not convinced about vegan baking and still have doubts about how it tastes, then do try this vegan carrot cake with vegan cream cheese frosting and be prepared to be blown away!

Ingredients For Cake:
Part 1:
2 cups

grated carrots

1/2 cup

white sugar

1/2 cup

brown sugar

1 teaspoon

vanilla extract
Part 2:
3/4 cup

almond milk

2/3 cup

coconut oil
Part 3:
2 and 1/4 cups

all-purpose flour

1 teaspoon

baking powder

1 teaspoon

baking soda

1/4 teaspoon

salt

1/2 teaspoon

ground cinnamon

1/4 teaspoon

ground allspice

1/2 cup

chopped walnuts (optional)
Substitutions:
almond milk – any non-dairy milk
coconut oil – any flavorless oil
Ingredients For Vegan Cream Cheese Frosting
1 cup

non-hydrogenated vegetable shortening (like Earth Balance)

12 ounces

non-hydrogenated vegan cream cheese (like Tofutti), softened

4 and 1/2 cups

powdered sugar

1 tablespoon

vanilla extract

1 and 1/2 teaspoons

lemon juice (I didn't use it)

2 to 4 drops

lemon oil, to taste (I didn't use this either)
Instructions For Cake:
Preheat the oven to 350F/180C for 15 minutes.
Line two 9-inch round cake pans with parchment paper.
Mix the Part 1 ingredients in a large bowl.
Add the milk and oil to the bowl and stir to combine.
In a separate bowl, whisk together the dry ingredients mentioned in Part 3.
Add the dry and wet ingredients and mix until just combined. It's okay if the batter is slightly lumpy.
evenly Distribute the batter between the two pans. I measured out the batter, and it was 3 cups in total. So 1.5 cups of batter in each pan. Bake for about 20 minutes or until a toothpick inserted in the center comes clean. Mine was done in 18 minutes itself. The cake started pulling out of the sides of the pan.
Place the pans on a cooling rack to cool for about 20 minutes. Turn the pan upside down to remove the cakes and cool it completely before frosting.
Instructions For Frosting:
In a large bowl beat the shortening until smooth using an electric mixer.
Add the cream cheese and beat until its thoroughly incorporated.
Add the powdered sugar, vanilla, and rest of the ingredients, if using, and beat until smooth. I added the sugar 1 cup at a time, beating well after each addition and scraping the sides of the bowl. You can dump everything in if you are using an electric stand mixer. But if you are using a hand-held mixer like me then add the sugar in small additions.
Taste:
Both the cake and the cream cheese frosting turned out to be DELICIOUS! Everybody at the birthday party enjoyed this cake very much. I personally felt that the cake tasted great the following day. I don't know if it was just me because, on the day of the party, I was already full of pizzas and other food that I could not judge the cake. Even when everybody else praised it I could not see it. But the next day I could fully appreciate the taste and texture, which was AMAZING! I'm 100% confident that nobody can guess that it is a vegan carrot cake with vegan cream cheese frosting.
My Notes:
The original cake recipe used 3/4th cup of whole wheat pastry flour. I didn't have it so I used all-purpose flour itself.
If you are a spice fan increase the quantity of ground cinnamon to 1 teaspoon.
The original frosting recipe suggests that the frosting can be made in advance and refrigerated and covered properly. Bring it back to room temperature to soften before using.
The frosting should be for a 9-inch layered cake, but I still have about a cup and a half of frosting left. I used a lot for the filling, sides, and top of the cake. I feel that using the entire recipe for that cake is way too much. Now I have to look for a way to use that frosting.

Try this recipe, click a pic and hashtag it #egglesscooking - Proudly showcase your creations on Instagram, Facebook & Twitter!

I also made these ricotta cheese sweet balls (doodh peda) from here and it was a huge hit too.