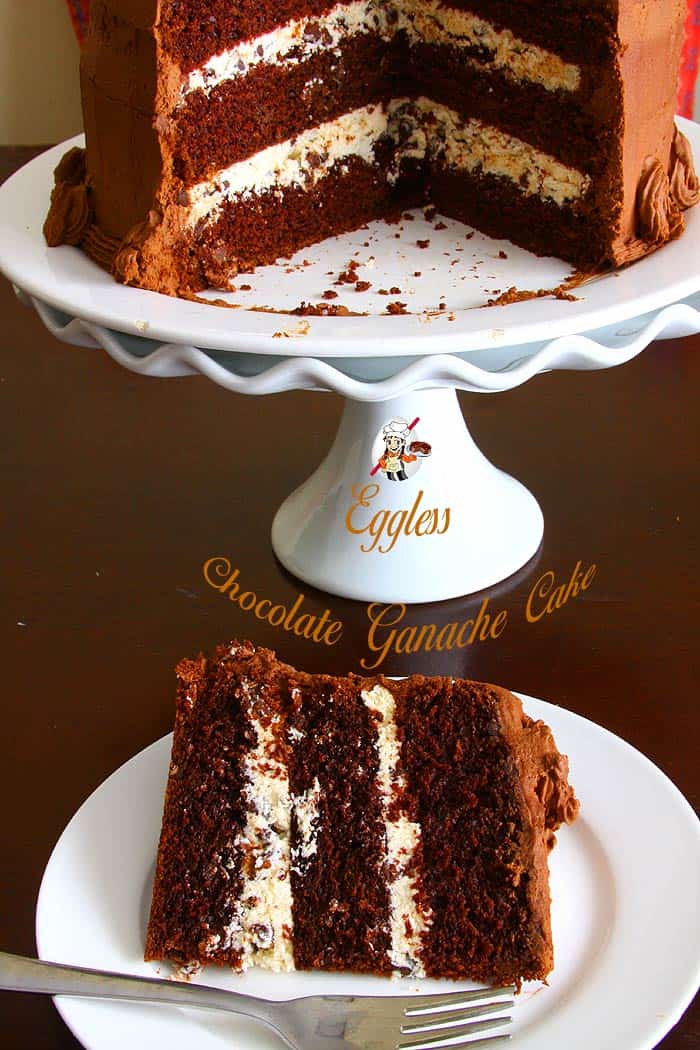 I wanted to make a special cake for my mom's birthday and was on a bookmarking spree collecting a ton of recipes and finally decided to make this three-layer chocolate ganache cake from my favorite website, Taste of Home.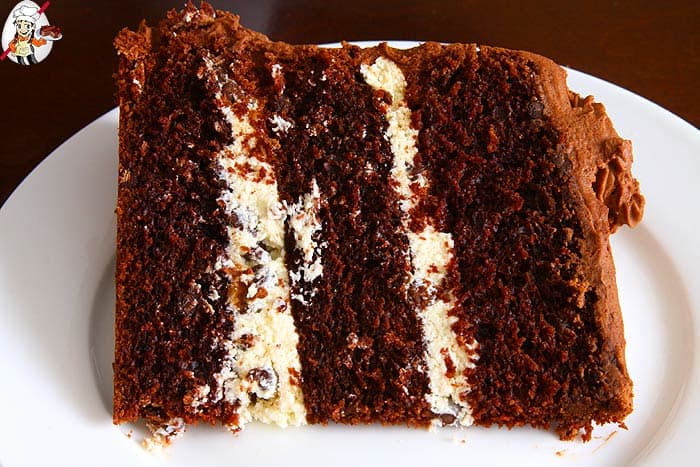 For my version of the triple layer chocolate cake, I used the whacky vegan chocolate cake recipe as the base for the cakes instead of the cake mentioned in the original recipe.
I wanted to use that vegan chocolate cake recipe because it's one of the easiest, lightest, and fluffiest chocolate cakes one can ever bake. This triple-layer cake also calls for the making of a custard filling and a ganache frosting, so I wanted to keep the cake recipe simple.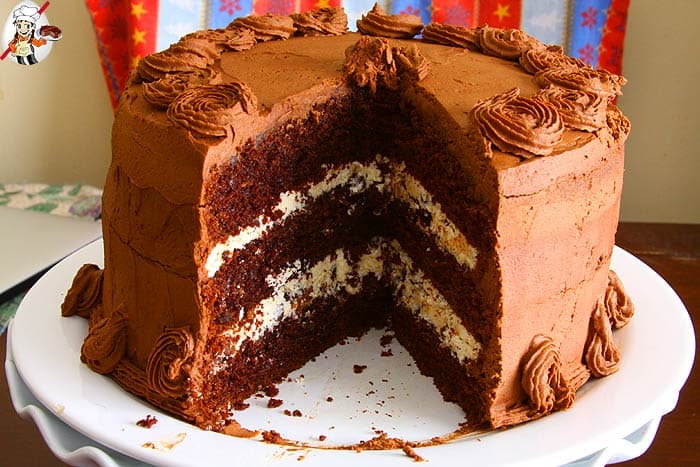 The original cake recipe also calls for a chocolate glaze, but I omitted it because I thought it would be too much chocolate for one cake. As much as a die-hard chocolate cake fan I am, sometimes chocolate overdose makes me nauseous.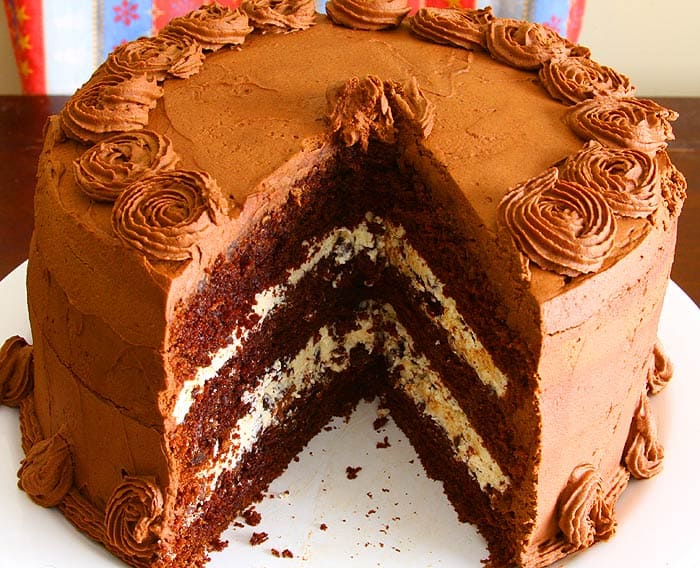 Truth be told, this triple-layer chocolate cake turned out absolutely perfect and delicious with just the filling and ganache frosting, and it was the right amount of chocolate for us.

| | | |
| --- | --- | --- |
| Triple Layer Eggless Chocolate Ganache Cake Recipe | | |
| Prep Time | Cook Time | Makes |
| --- | --- | --- |
| 2 Hr (including cooling, frosting) | 25 Mins | 12 Servings |
| Author | Category | Method |
| Madhuram | Cakes | Baking |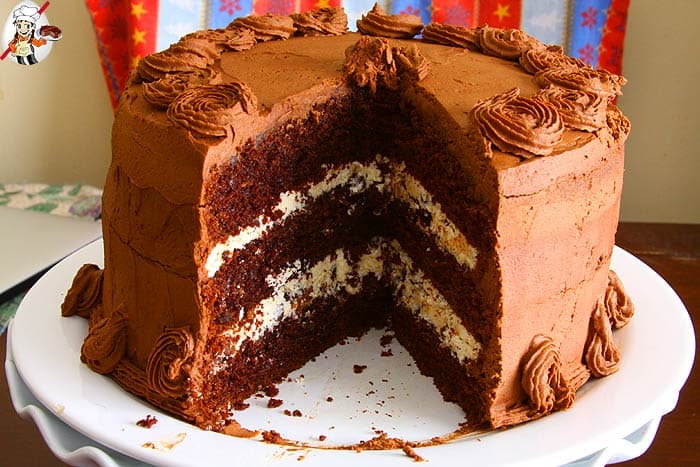 Have a special occasion coming? Want to bake a special cake? Try this triple-layer chocolate cake with custard filling and ganache frosting. It can't get any more decadent than this!

Ingredients:
Dry Mix:
4 and 1/2 cups

all-purpose flour

2 and 1/2 cups

granulated sugar

3/4 cup

unsweetened cocoa powder

3 teaspoons

baking soda

1 teaspoon

salt

1/2 cup

mini semi-sweet chocolate chips (optional, See My Notes)
Wet Mix:
2 cups

milk (I used 2%)

1 cup

hot water

2 teaspoons

instant coffee powder

1 cup

sunflower oil

3 tablespoons

apple cider vinegar

4 teaspoons

vanilla extract
Filling:
1 cup

granulated sugar

2 tablespoons

cornstarch

1 cup

2% milk

2 teaspoons

vanilla extract

1 cup

butter, softened (See My Notes)

3/4 cup

miniature semisweet chocolate chips

1/2 cup

confectioner's sugar (optional-See My Notes)
Ganache Frosting:
8 ounces

semisweet chocolate, chopped

2 cups

whipping cream

1 teaspoon

vanilla extract
Procedure:
Cake Procedure:
Preheat the oven to 350F/180C for 15 minutes. Line three 9-inch pans with parchment paper and lightly grease them with non-stick cooking spray.
In a large mixing bowl, stir together all the dry ingredients (except for chocolate chips, if used) and create a well in the center.
To the well, add all the wet ingredients one by one. Add instant coffee powder to the hot water, stir well and then add it to the dry flour mix.
Mix until just combined. Don't over-mix. It's OK to have some lumps. Stir in mini chocolate chips, if using.
Pour the batter into the prepared pans equally by scooping out 1 cup of batter in each pan. I think I was able to get close to 2.5 cups of batter per pan.
Bake for 25-30 minutes or until a toothpick inserted into the center comes out clean. Mine was done in 25 minutes.
Cool completely on wire racks for at least 30-45 minutes.
Remove the cake out of the pans and leave it on the wire rack until you begin to frost. Cover the cake, so the top doesn't dry out if it takes more time to frost.
Cool completely before frosting.
How to make the filling?
While the cake is baking you can start making the filling.
Mix sugar and cornstarch in a small saucepan. Whisk in the milk and ensure there are no lumps and the cornstarch is completely dissolved in the milk.
Cook and stir over medium heat until thickened and bubbly. Whisk it once in a while in the middle, so the mixture doesn't stick to the bottom of the pan.
Reduce heat to low; cook and stir 2 minutes longer. Remove from heat; stir in vanilla.
Cool completely. It will take at least an hour.
In a large bowl, cream butter. (See My Notes)
Gradually beat in the cooled mixture. Stir in chocolate chips.
How to make Ganache Frosting?
It is always a good idea to freeze the bowl and beaters when you plan to whip the whipping cream. I sometimes even keep it overnight. A minimum of 1 hour should be fine. This will ensure that you get fluffy whipped cream.
For the ganache, place chocolate in a large bowl.
In a small saucepan, bring cream just to a boil. Pour over chocolate; let stand 5 minutes.
Stir with a whisk until smooth. Stir in vanilla. Cool to room temperature, stirring occasionally.
Refrigerate, covered, until cold. Beat ganache just until soft peaks form, 15-30 seconds (do not overbeat).
Assembling the cake:
If the cakes have a domed top, slice it with a serrated knife and keep it aside.
Place one cake layer on a serving plate. Spread half of the filling. Place another cake layer, spread the remaining filling, and top it with the remaining cake layer.
Frost top and side of cake with ganache. Top it with chocolate curls or any other toppings of your choice. Refrigerate at least 2 hours before serving.
Taste:
This triple-layer chocolate ganache cake is one the fanciest and most tasty cakes I have ever baked, and it was a super-duper hit with family and friends. I think I will not bother finding out the nutrition information for this one because it seems pointless as it is loaded with so much fat and sugar. Restrict this cake only for special occasions and have a small slice, but I know it's hard to resist the urge to plunge in and binge eat because this cake is too good.
My Notes:
The original recipe uses 1 cup of butter and 1 cup of sugar for the filling. I started creaming the custard and butter and felt that it was not sweet enough, and I added 1/2 cup of icing sugar. Also, I felt that 1 cup of butter was too much. Next time I would try cutting that to 1/2 cup, and in that case, I think the 1 cup of sugar would be fine; it won't be loaded with so much fat.

Try this recipe, click a pic and hashtag it #egglesscooking - Proudly showcase your creations on Instagram, Facebook & Twitter!